This Issue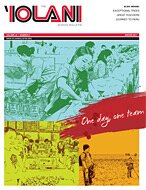 One Day, One Team
Read the full story »
Winter 2011 - Department
| Alumni Association News
News from the 'Iolani Alumni Association
As we celebrate the "One Day, One Team" spirit, and recognize ICAN and 'Iolani alumni, administrators, faculty, staff, parents and students for their wonderful deeds for communities around the world, I am reminded of the endless generosity, dedication and selflessness of 'Iolani alumni.
 In tough economic times, it is understandable when people focus on their own personal needs. So it is uplifting and inspiring to see 'Iolani alumni rally together to support each other, 'Iolani School and their communities in day-to-day activities, through their businesses, donations and volunteer work with various organizations and projects. And, as exemplified by those that participated in the "One Day, One Team" projects, you provide such support willingly, without expecting anything in return and with a sincere joy in helping others. Thank you. And, thank you for reminding me of how proud I am to be an 'Iolani alumna. 'Iolani is truly an amazing place, where good people, through support of their families, learn invaluable lessons and develop special friendships that help to build the caring and giving individuals that make up 'Iolani alumni.
One excellent example of alumni who exude the "One Team" spirit are the past and present members of the 'Iolani Alumni Association Board of Directors.  I am honored to have worked, and to continue to work, alongside such committed, sincere and dedicated people. People like our outgoing President,
Sherri Iha
'84, outgoing Treasurer,
Darryl Jung
'83, Vice President,
Kevin McCrary
'79 and Treasurer,
Davin Kazama
'94, who, despite their very busy schedules have committed their time to support the Association and carry out its mission. We are blessed with people like
Sara Murakami
'85,
Carter Siu
'92,
Norman Cheng
'95,
Kacy Nekoba
'00 and
Clifton Yasutomi
'00, who worked hard to make our recent Mahalo Dinner and "Indulge Yourself" events a huge success. And, of course, there is
Mike Moses
'93, whose commitment to serve alumni goes above and beyond the call of duty. All past and present members of the Board deserve special thanks for their tireless efforts to improve and expand the association's programs and bring alumni together.
I've experienced an incredible sense of fulfillment in volunteering for the Alumni Association and ICAN projects, and in reconnecting with old friends and building new relationships through alumni and school events. I hope to share my enthusiasm with you, and strongly encourage you to get involved with our board and organizations like ICAN, attend association and alumni events, and remain connected with and continue to support each other and 'Iolani School.
As I reflect on the above and the amazing people associated with the 'Iolani community, on rediscovering friendships with classmates at my 20th year reunion and on witnessing the spirit of the senior class at the Burning of the I ceremony, two phrases remain in my mind after hearing the alma mater and fight song at the ceremony – "Here friendships weave their mystic strands forever, a fellowship that time shall not defy," and "'Iolani No Ka Oi."
Sincerely,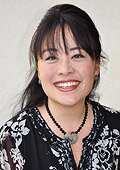 Adrienne Shimonishi Elkind '90
President
'Iolani Alumni Association 2010-11