This Issue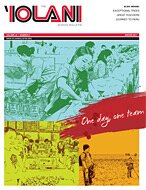 One Day, One Team
Read the full story »
Winter 2011 - Other News
| Alumni
More than 100 Celebrate '85 Silver Reunion


Gary Miyashiro '85, Christie Yoshida Setnan '85, Sara Haruki Murakami '85, Chris Shimabukuro '85, Eva Jenner '85, Matt Teho '85
by Matt Teho '85
The Class of 1985 held its 25th Year Reunion Weekend from July 31 to August 1. Twenty-five years after receiving their diplomas between the art building and chapel, over 100 classmates, joined by their spouses, reunited. While a quarter century had passed and we had all grown – some of us out, some of us up, some us grayer, all of us better – we found, in each other, the same friends we had so many years before.
The weekend started with a golf outing at Hickam, which was more revelry than golf, followed by a classmates-only outing at Kincaid's in Ward Warehouse. And while many of us hadn't seen one another since 1985, it was as though time had not passed except that adolescent barriers had fallen. Conversations were easy, laughter even easier between both those who were close and those simply acquaintances while at 'Iolani. Many remarked that they spoke more with some classmates while at Kincaid's than they had their entire time at 'Iolani. Friendships were strengthened, others renewed and still others made.

Aldric Hama '85, Claire Chun '85, Catherine Chun '85, Kevin Salsbury, Jenny Pochinski Tsiopou '86, Heather Cook '85 and John DeTurk

The next night the Class of 1985 and their spouses gathered at the Honolulu Country Club for its main event: dinner, cocktails and reminiscing. While the food was great, the company was better.  Classmates had a few moments to "introduce" themselves and reflect on the last quarter century, while we learned a bit of where life had taken each of us.
Our reunion concluded on Sunday with a family day at 'Iolani School, complete with potluck under the library and families swimming in the pool. Gone were the Speedos and scanty bikinis replaced instead with rash guards and our mother's one piece suits. Yep…we were adults, watching our children and accommodating their needs while trying to steal conversations here and there with fellow classmates.
Such is the cycle of life, I suppose. But for a few days, we were able to touch that carefree time in our life. A time when we said, "Mom, I'm so bored," instead of replying to our children, "Bored? I'll give you something to do if you're bored!"


Joanna Dunn '88, Hugh Dunn '85, Craig Katsuyoshi '85, Kalei Katsuyoshi, John Fujiwara '95
There certainly are no friends quite like childhood friends.
Thanks to
Gary Miyashiro
,
Kendis Teho
,
Nandana Kalupahana
,
Chris Shimabukuro
and
Sara Murakami
for organizing the various events. Thank you to the committee members – all thirty-five – for their efforts. And a special thank you to the Class of 1985 and 'Iolani School, with whom we share memories of decades ago and those from a few months ago at our reunion weekend.
See you all in Vegas next year! Contact
Grant Fusato
or
Chris Shimabukuro
for more information on the mid-year reunion event!