This Issue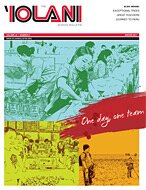 One Day, One Team
Read the full story »
Winter 2011 - Department
| Alumnus Profile
Alumnus Profile: Teacher of the Year credits his own Teachers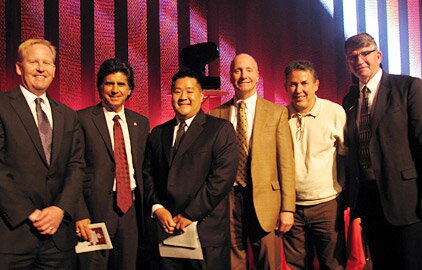 Jay Maebori '90, third from the left, was recognized as the 2011 Washington state Teacher of the Year.
Jay Maebori '90


Position:


Teacher, Kentwood High School in Washington state


Education:


University of Washington, B.A. journalism; Seattle Pacific University, Md. Education


Hobbies:


Golf and Fantasy Football

When
Jay Maebori
'90 stands before his students in his Kentwood High classroom, much of his enthusiasm and passion for teaching comes from his own 'Iolani teachers.
He has never forgotten their dedication and commitment. Like his own teachers, Maebori strives to be a role model and the best educator he can be.
He must be doing something right. Recently, he received Washington state's highest honor when he was named as the 2011 Teacher of the Year.
"The things I learned at 'Iolani have really influenced me in what I teach today," Maebori said by phone.
Yet he humbly adds that the award doesn't equal being the best teacher in the state. From his perspective, the award means he represents all of the great teachers in Washington.
Maebori has been teaching at Kentwood for ten years. There are 2,200 students in ninth to twelfth grades at the school situated between the Kent and Covington areas, just south of Seattle.  He now teaches sophomore English and is also the yearbook advisor.
Teaching is not a job for Maebori. It's his calling. He tries to incorporate references in students' lives to the class material, such as pop culture relating to Macbeth. He tries to be the bridge between what interests students and learning today.
"I try to live the life I want my students to live," he said. "Once the classroom door closes, it's just me and the students, and the responsibility hits me pretty strongly. It's my responsibility to be a good role model."
Maebori took on teaching after a career as a journalist. Upon graduating from the University of Washington, he worked for several newspapers, covering high school, college and professional sports. Of all the athletes he met, he enjoyed talking with high school students the most. He decided to volunteer as a teacher. Then he set out to earn his master's degree in teaching through night classes at Seattle Pacific University while working as a reporter for the South County Journal in Kent during the day.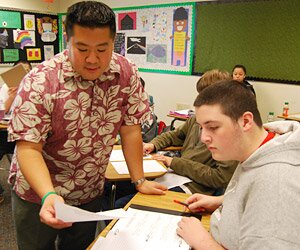 As an English teacher and the yearbook advisor, Jay Maebori continues the tradition of wearing Aloha shirts on Fridays at Kentwood High. Photo by Priscilla Gamit.
His experiences as a journalist make him an even better teacher. Over the years, his students have sent him cards and letters thanking him for making a difference in their lives. Many have shared that the lessons he imparted or the examples that he set have left lifelong impressions. Maebori keeps these notes in a "rainy day file" and, sometimes, after a long, tiring day, he'll read them.
As Washington's Teacher of the Year, he is busy attending and speaking at conferences. He will also attend the National Teachers Convention in Dallas where Teachers of the Year from other states will join for professional enrichment and sharing. One of them will be named National Teacher of the Year.
In May, he will travel to Washington, D.C., to meet President Obama, a trip he looks forward to though he will miss being in the classroom.     "When I meet President Obama, I will tell him that I'm an 'Iolani grad," he added.
His 'Iolani and Hawaii foundation runs deep. He likes to wear Aloha shirts to school on Fridays, continuing a Hawaiian tradition at Kentwood and spreading the Aloha spirit.
"When I have connected with, and made a difference in the lives of my students, I am a teacher with a living legacy of influence," he added.
Striving to teach the 'Iolani Way
"A calculus teacher who played nose flute before solving integral equations. A Japanese language sensei who taught vocabulary tirelessly and in perpetual motion. And a ceramics instructor who made me realize there was sometimes more than one right answer. These are just a few of the fabulous educators I was blessed with in my formative years. They were of the utmost importance in shaping my eventual decision to become a teacher like them: creative, passionate and full of energy. But their classrooms were not all "fun and games" – and neither is mine. I recognized, even as a teenager, that my teachers knew their subjects extremely well and instilled confidence in their students of their expertise. They also instinctively knew what they wanted me to learn and where they wanted to take me during the year. They all cared about me as a unique person. Furthermore, they all displayed fervor for their subject, and I strive daily to pass on that same enthusiasm in everything I teach."

- Jay Maebori (from an essay on his reason for becoming a teacher)
Comments from Readers
Murray G swindler

Congrats to you Jay M.It is nice to read of your success! A tip of my hat to you from one of your former Iolani Math teachers. Although you teach English,I am sure you remember--MATH IS FUN!

Patricia Rogers

What a wonderful article about the great accomplishment of one of your own. I'm sure you must be very proud of Jay as well you should be. I don't know Jay although we don't live that far from one another on the Mainland, but we are good friends of Jay's parents Stan & Martha Maebori. Stan & I graduated from the same high school, but a few years apart. I'm so happy that Stan & Martha shared this article with us from your school paper & we'll be rooting for Jay to now receive the honor of National Teacher of the Year award. That would be wonderful!