This Issue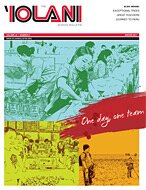 One Day, One Team
Read the full story »
Winter 2011 - Department
| Slice of Sports
Slice of Sports
ILH Champion Bowlers
The 'Iolani boys varsity bowling team "spared no effort" and "struck while it was hot" in capturing the 2010 ILH bowling championship.   The team completed the season with 36 wins and 3 losses. The last time an 'Iolani boys team won a championship was 30 years ago. They travelled to the 2010 HHSAA State Bowling Championships on Kauai from October 27 to 29. Team members are
Westin Fabro
'12,
Reid Gomoto
'11,
Alexander Ko
'11,
Trent Nakamura
'11,
Eland Tsubata
'11,
Tyler Ushio
'12 and
Curt Wong
'13.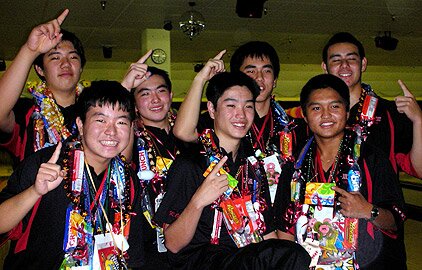 The 'Iolani boys varsity bowling team was crowned ILH champs.
College-Bound Student Athletes
Carlos Rodriguez-Ortiz
'11 on November 10 signed a National Letter of Intent to play baseball at Oregon State University.
Jensen Park
'11 on November 12 signed a letter to further his baseball career at the University of Northern Colorado. Both Rodriquez-Ortiz  and Park were selected as Under Armour Pre-Season All-Americans.
Kim Souza
'11 signed a letter to play softball for the University of Washington Huskies.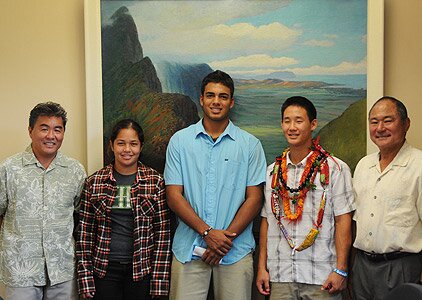 Athletic Director Eddie Maruyama, far left, and Headmaster Dr. Val Iwashita '67, far right, congratulation Kim Souza, Carlos Rodriguez-Ortiz and Jensen Park on their National Letters of Intent.
Welcoming Girls Water Polo Coach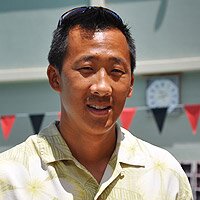 Brennan Shum is 'Iolani head coach for girls water polo.
'Iolani named Brennan Shum as the new varsity head coach for its girls water polo program. Shum was an assistant coach for the 'Iolani boys water polo team for the past five years and for the girls team at Mark Keppel High School in California. He played water polo for Alhambra High School in California and later at the University of Southern California in 1995 and 1996. USC was the Mountain Pacific Sports Federation champion and finished second in the NCAA in 1996. He has also been an official for high school girls water polo in Honolulu and southern California.
Boys Water Polo Wins ILH Championship
'Iolani defeated Punahou, 10-8, to win the ILH boys water polo championship title at the 'Iolani pool. It was 'Iolani's first championship since 1999.
"Plenty of hard work went into preparation of this season," coach
Randy Bart
'82 wrote in an email.
Kacy Johnson
'12 and
Connor Grune
'12 each scored four goals for the Raiders.
David Lim
'11 and
Chris Nichols
'11 each contributed a goal.
Austin Strong
'11,
Timmy Leong
'14, and
Zalman Bernstein
'12 played significant roles on defense, keeping Punahou's big shooters out of position and confused.
Tom Hartwell
'11,
Thomas Schowalter
'13, and
Jacob Butters
'11 logged significant minutes to make an impact. The rest of the team gave emotional and verbal support throughout the match.
The "One Team" spirit built up as the game progressed. The boys got big lifts from the cheering crowd.  The crowd played a big role in helping lead the team to its victory.
Kayakers Paddle Hard
The boys and girls varsity and junior varsity kayaking teams had a successful year, reports coach
Eric Chun
.
Logan Nowack
'11 finished the season by winning the varsity long distance race at the ILH championship competition.
Mikela Schwinn
'11 also performed well by placing third in varsity long distance race at the championship race.
HHSAA Cross Country Candids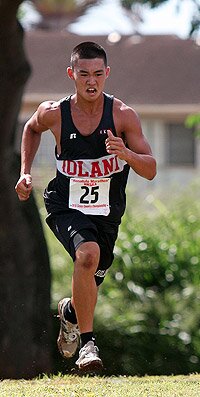 Troy Esaki '12 finished fourth overall in the HHSAA championship crosscountry meet on October 28.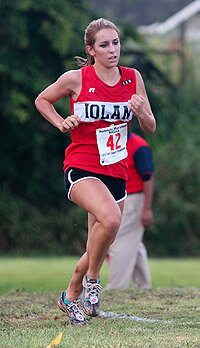 Breanne Ball '12 came in fourth overall at the HHSAA championship cross country meet. (Photos by Richard Wagner)