Current Issue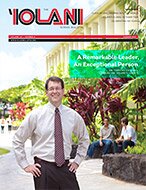 A Remarkable Leader, An Exceptional Person: Dr. Timothy Cottrell Carries on 'Iolani's Legacy
Read the full story »
About 'Iolani Bulletin
Director of Communications/'Iolani Bulletin Editor
Cathy Lee Chong -

Assistant Editor/Classnotes Editor
Jane Murphy Romjue -

Director of Alumni Relations
Kira Tamashiro '05 -

Head of School
Dr. Timothy Cottrell -

The mission of the 'Iolani School Bulletin is to unite the school community through a common interest in news and feature stories. 

The staff and volunteers of the Bulletin aim to provide interesting articles that not only inform, but also prompt reflection and introspection, while engaging the community and increasing awareness of 'Iolani's programs and mission.

Article submissions and comments are welcome and may be e-mailed to . Classnotes may be e-mailed to (see restrictions and deadlines under Classnotes).

The print magazine is currently designed by Stacey Leong Design & Associates with art directors Stacey Leong Mills and Karyn Yasui Lau. It is printed by Edward Enterprises, Inc.

The online magazine is designed and programmed by Bigger Bird Creative with Aaron Namba '98 and Annie Namba.

The school's Office of Institutional Advancement is responsible for mailing lists and distribution.