This Issue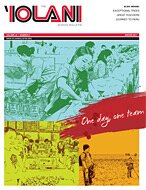 One Day, One Team
Read the full story »
Winter 2011 - Department
| Reunion News
Reunion News
A Touch of 'Iolani
August 6, 2011
Sponsored by the Alumni Association and Class of '92
On campus beginning at 5 p.m.
Great food, silent auction, entertainment
Tickets on sale in spring


50th Reunion
Class of 1961
June 3 to 6, 2011
Details TBA


Golden Reunion
June 8, 2011
For members of classes that graduated more than 50 years ago
Reunite for campus tours and brunch at the Headmaster's Home (a chapel service is also held for classmates who have passed away).


Reunion Weekend Dinner
August 4, 2011 at 'Iolani School at 6:00 p.m.
All members of reunion classes (graduation year ending in a 1 or 6) are invited to this free event.  Enjoy campus tours, live entertainment, and a sumptuous dinner buffet.