This Issue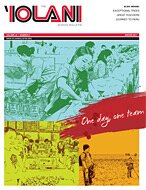 One Day, One Team
Read the full story »
Winter 2011 - Department
| Faculty & Staff File
Faculty and Staff File
Music and Math
Math teacher
Dave Masunaga
'75 presented his classical music "Desert Island Discs" on Hawaii Public Radio (KHPR) on October 15. KHPR also feature the 'Iolani choir in a recording of chorus director
John Alexander
's "Requiem."
On Stage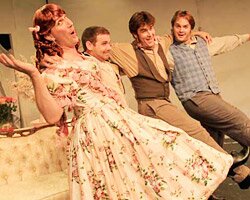 Hawaii Pacific University Photo
Theater teacher
Rob Duval
played the main character in the Hawaii Pacific University production of the Mark Twain play, "Is He Dead?" Written in 1898, the play was not  produced until David Ive's adaptation opened on Broadway in 2007. Honolulu Star Advertiser reviewer
John Berger
wrote on November 16 that Duval delivered "a winning performance."
Welcoming New Teacher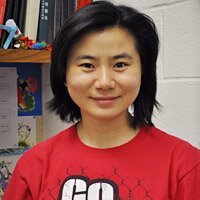 Tracy Feng is a new Chinese teacher.
Tracy Feng
has joined the Upper School language department as a Chinese teacher. She earned her bachelor of arts in Chinese Language and Culture from Fudan University in Shanghai, China. Prior to 'Iolani, she was a a full-time Chinese teacher for international schools in Shanghai, Guangzhou, and Nanjing for eight years. She believes in lifelong learning and feels enriched by teaching. "As a Chinese national, I value the chance to work with 'Iolani students and help them realize their potential," Feng said. In her leisure time, she enjoys jogging, reading, and watching movies and plays.
Sabbatical Awards
Art teacher
Holly Chung
has been granted a sabbatical for the spring semester of the 2011-12 year. She will research the historical development of Western contemporary art and develop strategies to make art history a stronger component of the mixed media curriculum and other courses.
Economics teacher
Dick Rankin
will take a sabbatical in the fall of2011. He will visit Russia and the former Soviet Block countries which are making the transition from communist governments to market economies. He will also compare the economic systems of China and the United States and meet educators from around the world.
Japanese language teacher
Elsie Yoshimura
plans trips to California and Japan during her sabbatical in the spring of 2012. She plans to enhance her Advanced Placement Japanese Language and Culture course through extensive classroom observations and meetings with educators.  
English teacher
Nathan Ze
e has been awarded a sabbatical for the 2011-12 year to complete his dissertation and earn his doctorate degree from the University of Hawai'i at Mānoa. He hopes to incorporate his study of cinema and visual narratives with his English courses on literature.