This Issue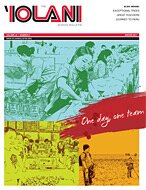 One Day, One Team
Read the full story »
Winter 2011 - Other News
| Alumni
Alumni Association Fall Activities
Mahalo to '79 and '91
The 'Iolani Alumni Association held a mahalo dinner on October 1 at the Pacific Club to thank the Class of 1979 for its hard work on the Alumni Association Golf Tournament and the Class of 1991 for sponsoring and organizing  the successful A Touch of 'Iolani. Each event raised funds for the Alumni Association Scholarship. In turn, representatives from each class presented Headmaster Dr. Val Iwashita with a giant check for $20,000.


Members of the Class of 1991 present a check to Dr. Iwashita, left to right, Ann Nakasone, KimiYuen, Damon Hamura, Sharie Ichiyama Torres, Cammie Russell, Lori Ikeda, Ryan Honbo, Gary Young, Marc Okumura, Chad Mizuta, Dr. Val Iwashita.


Members of the Class of 1979 present a check, left to right, Troy Miyasato, Ron Nishihara, Bruce Fong, Kevin McCrary, Glen Kaneshige and Dr. Val Iwashita.
Pure Joy for WIN


At the recent WIN (Women 'Iolani Network) event: Alisa Iloreta , Naomi Soriano '96, Noelani (Soriano) Kazama '94, Tiki Suan '94 and Kahanu Fung.
The Women of 'Iolani Network (WIN) (along with a few men of 'Iolani) enjoyed an evening of pure relaxation at the "Indulge Yourself" event on November 3 at Amuse Wine Bar. Women and men were pampered with massages and beauty drinks courtesy of Pure Joy Day Spa while socializing over delicious pupu, dessert, and wine.


Jamie (Kimura) Izuka '95, Christy Nishita '95, Lauren Chun '94, and Junko Yuen
Many thanks go to Pure Joy Day Spa for their generous donations of massages, beverages, and gift certificates. Special mahalo goes to to 'Iolani Alumni Association Board member
Kacy Nekoba
'00 who coordinated the event.