This Issue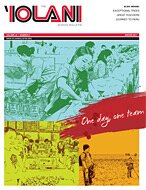 One Day, One Team
Read the full story »
Winter 2011 - Other News
| Alumni
Class of 1975 celebrates 'Snake Pit' 35th Reunion


This snake drawing was the basis for the student center roof top design.
(In the 1974-75 school year, school spirit was so strong that at basketball games, students sat in a cheering section called the "snake pit" to support the 'Iolani team and player Jerry 'Snake' Scanlan '75. Later that school year, some members of the Class of '75 painted a snake on the roof of the student center. Today, the memories of that Snake Pit year stir lively conversations at reunions.)
Pride '75! Snake Pit Frenzy! Thirty-five years later, the Class of 1975 held its Snake Pit 35th Reunion.
The reunion committee (
Angus McKibbin
,
Mike Ako
,
Deano Ishiki
,
Gary Iwamoto
,
Steve Kuriyama
,
Terrence Lau
,
Chris Lee
,
Dave Masunaga
,
Wayne Muraoka
,
Harris Nakamoto
,
Blane Setogawa
,
Peter Tawarahara
,
Owen Terada
, and
Bryan Wong
) planned an awesome and affordable family-oriented three days of events.


Dave Masunaga '75, Robert Bennett '75 and Terrence Lau '75
The Class of 1975 Snake Pit Reunion kicked off on August 5, 2010 at 'Iolani during Alumni Week.
Frank Au
,
Bob Bennett
,
Terrence Lau
,
Dave Masunaga
,
Wayne Muraoka
,
Harris Nakamoto
,
Peter Tawarahara
, and
Kevin
,
Susan
and
Alex Wong
gathered for a Headmaster hosted event. Several classmates participated in the guided tour of the campus. Classmates enjoyed an evening of the abundant buffet of local dishes, Hawaiian entertainment, and fellowship.
The next day, on August 6,
Steve Kuriyama
and
Gary Iwamoto
made arrangements for Snake Pit in the Grass Golf event at the Waikele Country Club. Golfers enjoyed a round of golf prior to meeting the rest of the class at Side Street Inn.


The Class of '75 gathered at Side Street Inn.
The Snake Pit Boys Night Out at Side Street Inn packed the private room with an overflow crowd.
Ted Abe
(Sausalito, California),
Frank Au
(Seattle, Washington),
Bob Bennett
(Alexandria, Virgina), and
Jerry "Snake" Scanlan
(Glendale, Arizona) flew in from the mainland.
Noland Arakawa
,
Nolan Espinda
,
Bruce Hamada
,
Clem Hew
,
Tobin Hirota
,
Kip Kamoto
,
Rick Kiehm
,
Alvin Kishimoto
,
Steve Kuriyama
,
Terrence Lau
,
Chris Lee
,
Les Loo
,
Dave Masunaga
,
Angus McKibbin
,
Keith Merriam
,
Wayne
and
Phyllis Muraoka
,
Harris Nakamoto
,
Bert Oka
,
Blane Setogawa
,
Alan Suemori
,
Peter Tawarahara
,
Owen Terada
,
Dave Toyota
,
Doug Wee
,
Bryan Wong
,
Kevin Wong
, and
Steve Yasui
squeezed into the private room. They enjoyed an evening of Side Street Inn pupu specialties, drinks, bonding, laughter, camaraderie, and numerous surprises. Harris Nakamoto shared an
Eddie Hamada
'46 and One Team DVD with the reunion revelers.


Harris Nakamoto '75, Bruce Hamada '75, Bryan Wong '75, Blane Setogawa '75, Jerry Scanlan '75, Angus McKibbin '75 and Nolan Espnda '75
Classmates received their Snake Pit Reunion active wear order and Snake Pit Reunion gift bag which included an 'Iolani alumni lanyard and name badge, Snake Pit Reunion luggage tags, "I" sticker, Snake Pit Reunion music CD (compiled by Dave Toyota), copy of our Imua 'Iolani senior edition and Cookie Corner chocolate chip cookies (thanks to
Angus McKibbin
and
Jim McArthur
). Thank you goes to 'Iolani archivist
Rosemarie Panko
who provided the copy of our senior edition. It was interesting to hear comments about the small print and classmates' aging eyes.
Boys Night Out ended with most celebrants saying their farewells and heading home. Several classmates continued Boys Night Out as they explored Honolulu's nightlife into the wee hours. They made it home before sunrise.
Ted Abe
headed home on his morning flight to the Bay Area.
Late Saturday afternoon, on August 7, families gathered for the final 35th reunion event, Snake Pit Family on Waikiki Beach at the Outrigger Canoe Club. Perfect weather graced classmates and families who enjoyed the comforts of the Outrigger Canoe Club:
Mike
,
Renee
,
Alana
, and
Mira Ako
;
Noland
and
Sachi Arakawa
;
Malia
,
Caitlin
and
Kamaile Espinda
(minus
Nolan
– too much Boys' Night Out);
Angus
,
Diana
and
Jamieson McKibbin
;
Kevin
,
Susan
and
Alex Wong
and
Alex's friend
;
Dave
and
Jodi Toyota
;
Steve
and
Ann Yasui
;
Peter
and niece
Dara
Tawarahara
'07;
Mark Wong
and
Guy Merola
;
Frank Au
;
Bob Bennett
;
Gary Iwamoto
;
Rick Kiehm
;
Terrence Lau
;
Dave Masunaga
; and
Jerry "Snake" Scanlan
.
Angus McKibbin
made arrangements for a motorized sailing canoe to sail across Waikiki. Everyone enjoyed the awesome ride and majestic views.
Classmates and families gathered on the Outrigger Canoe Club beach and wall in anticipation of the green flash and blazing sunset. They feasted on Noland's ono boiled peanuts; Angus' mouth-watering Cookie Corner cookies; and Outrigger Canoe Club's fantastic barbeque buffet. After dinner the adults sat relaxed, satiated and enjoyed each other's company. The kids headed to the movie room. The school day memories and stories flowed one after another. Dave Masunaga distributed 'Iolani souvenirs. As the Snake Pit Family event came to a close, Bert Oka suggested reuniting prior to the 40th reunion.
Special thanks go to the Snake Pit Reunion Committee: Deano Ishiki for our Snake Pit Reunion and Steak and Shrimp designs for the class active wear; Mike Ako, Outrigger Club General Manager, and Angus McKibbin for hosting the committee planning meetings and Snake Pit Family Day event at the Outrigger Canoe Club; Steve Kuriyama and Gary Iwamoto for planning the Snake Pit in the Grass golf event at Waikele Country Club; Chris Lee for reserving and setting up the menu at Side Street Inn; Dave Masunaga for organizing the alumni souvenirs, give-away items, name tags and sign-in; Angus McKibbin for the mouth-watering cookies and motorized sailing canoe ride; Harris Nakamoto for "volunteering" classmates to join the committee, sharing the One Team DVD, and coordinating our active wear printing; Bryan Wong for convincing "Snake" to attend the reunion; Chris Lee, Dave Toyota and Malia Espinda for tag-teaming Nolan Espinda to attend Boys Night Out; and to all classmates who attended the Snake Pit reunion events, sent "memories and tidbits" and/or ordered  Snake Pit Reunion active wear.
Memories from Classmates
From Peter Sanborn '75:
 "Last night I saw the 1975 Class Notes in the 'Iolani School Bulletin and learned that this year's reunion – 35th – is about the Snake Pit. A lot of memories came flooding back: games at the HIC with the 'Iolani section louder and crazier than any other. I also saw your request for a photo of the snake painted on the cafeteria roof. Chris Hegele, Robert Bradshaw, I think Mark Richardson and I were the ones who painted the Snake on the north roof and the "75" on the south roof. Robert was the original artist.
While I don't have a photo of the roof, I have enclosed a drawing that Robert did and that was published in the 1975 edition of Ad Hoc, one of the school's literary magazines. The drawing was the basis for the roof artwork.
(Correction: Snake was on the makai (south) roof facing Waikiki and '75 was on the mauka (north) roof facing the chapel. An infamous legacy erased when the student center was reroofed in the 1990s.)
From Chris Hegele '75:
"It was a great night when we did the "deed." Sanburn, Dale Fong, Robert Bradshaw, and I think Fred Batkin. Robert was in a creative fog, almost non-communicative, as he set about his task that night. All I did was crouch, looking over into Convention Drive hoping not to see Mr. Lee (then Dean of Students) skulking in the shadows. Occasionally I would glance behind me and see Robert run from one spot on the roof to another. He'd pause, paint furiously, run here, run there. How could someone be so spatially gifted, to place the dimensions and space and size of the snake so perfectly in the dead of night with virtually no light?  
Labor Day 2012
The Class of '75 has tentative plans to meet in Los Angeles for the 55th birthday reunion during the Labor Day weekend, September 1 to 3, 2012. University of Hawai'i will be challenging University of Southern California in the Los Angeles Coliseum on September 1, 2012. Classmates in the southern California area are welcome to join the planning of this reunion.