This Issue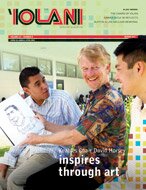 'Iolani's Endowed Chairs: Making a Great School Even Greater
Read the full story »
Spring 2011 - Department
| Alumni Association News
News from the 'Iolani Alumni Association
With the end of another year and the start of a new one, come many hopes, dreams and resolutions. Hopefully, many of you have started to put your new ideas and plans into motion, or started to fulfill those resolutions! One resolution that I made was to simply enjoy and be thankful for those people or things in my life that make me happy.  Sometimes I get caught up worrying about what else I can do, change, or have, and I forget to enjoy the wonderful people or things that are right here in front of me.
I am very grateful for my family and friends surrounding me. They are a diverse group of people, with different personalities and backgrounds, each sharing their own experiences and lessons, and helping me to be a better person. After a Board meeting one evening, as I drove away with a couple of our Board members, the experience reminded me of how the people involved with the Alumni Association have become my friends. I am lucky to have crossed paths with this diverse group. The moment reminded me of how much I simply enjoy their company and attending various 'Iolani events.
As the Call for Nominations for the Board of Directors of the Association goes out, I encourage alumni to consider running for the Board and joining this wonderful team. It's a group of creative, dedicated and good people who not only work hard to bring alumni/ae together, but who support each other and have fun together. Even if you're not interested in becoming a Board member, I invite you to attend the Association's events. Association members spend a lot of time working on a wide range of events that target many different groups and areas of interest, including the upcoming golf tournament, A Touch of 'Iolani, and free summer concert with Brother Noland and various Slack Key artists! Whether participating on the Board or attending an association event, you will find that you will simply enjoy your experience!
A special thank you to
Sherri Iha
'84,
Paul Kennedy
'86,
Sara Murakami
'85 and
Kacy Nekoba
'00, who helped organize fabulous events like the Green Hornet Movie Day and the February Pau Hana at Pearl Ultralounge. Also, a big thanks to
Norman Cheng
'95,
Carter Siu
'92 and our Decade Directors, who have been assisting with the nominations and election process.
In addition, we have to say a big mahalo to a special person, Mike Moses '93, who recently left his position as director of alumni relations. I believe I speak on behalf of all Board members and alumni/ae in saying how incredibly grateful we are for all of the hard work and positive spirit Mike has put forth throughout the years! We will definitely miss him, but also wish him well on his wonderful new journey ahead!
With that, here's to new journeys and hopes, while simply enjoying what we already have.
Sincerely,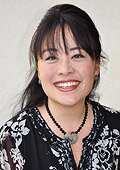 Adrienne Shimonishi Elkind '90
President
'Iolani Alumni Association 2010-11