This Issue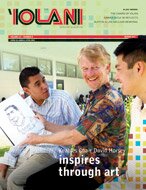 'Iolani's Endowed Chairs: Making a Great School Even Greater
Read the full story »
Spring 2011 - Department
| 'Ohana News
News from the 'Ohana
Aloha 'Aina – Love of the land
It all began with tinted windows! Replacement of classroom lighting with T8 fluorescent bulbs then followed. Back in the late 90s, these were significant steps towards being eco-friendly! Since then, 'Iolani School has steadily embraced what is now referred to as the "green" movement. The school is now evolving to the use of T5 bulbs, CFLs and LEDs for even more efficient lighting!
Other deliberate measures have included the use of white or light-colored rooftop materials, thermal air-conditioning, and in the Weinberg Building — sun tubes (openings which penetrate the roof to let only light in), and light shelves (canopies over the windows to reduce heat). Using variable speed drives for motors around the campus saves energy, as does the solar heating for the pool. Most recently, additional PV (photovoltaic) panels have been added on classroom rooftops to generate electricity. Eventually, a new building, the Center for Applied Studies, will also be LEED (Leadership in Energy and Environmental Design) inspired!
Recycling occurs throughout our campus. Everyone can't help but notice and utilize the "see-through" receptacles for empty bottles and cans (kudos to the Good 2B Green Club)! Perhaps less known about by parents is the paper recycling in the classrooms, faculty workrooms and lounges. The 'Iolani Peace Institute also involves students and faculty in projects and events promoting peace with the natural environment. Various service projects, organized by our new community service coordinator
Allison Ishii
'02, focus on maintaining or improving local areas and ecosystems.
Sustainability and environmental issues are incorporated into the Upper School curriculum, while aquaponics, composting, organic gardening, and other such topics are introduced in the Lower School. Even the Lower School Library has an influx of new books with such engaging titles as
What in the World is a Green School?; The Top 10 Green Ideas; and Think Green, Take Action.
Can we as individuals or as a school make a difference in helping the Earth to thrive? Yes! Believe in the power of "One" – one person, one school, one community, One Team! 'Iolani School has made a commitment to positive action. Let us support and follow this wonderful example! There is still much more to be done, yet, step-by-step, through our conscious, collective efforts we will forge ahead and make a difference!
With "National Green Week" extended from February through "Earth Day" on April 22nd, awareness and inspiration for the cause is current! Every time you toss an empty bottle into a recycling receptacle, or discard trash (that can't be recycled) into a can lined with a biodegradable bag on campus, or read about the important work our students are doing to help the environment, let that be a reminder of 'Iolani School's commitment to do its part. Let us ALL be encouraged to do the same!
Aloha and A Hui Hou!
Cheryl L. Wong
'Iolani 'Ohana President 2010-2011
email:
p

res

i

den

t

@io

l

ani

.

org