This Issue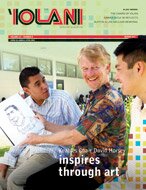 'Iolani's Endowed Chairs: Making a Great School Even Greater
Read the full story »
Spring 2011 - Department
| Reunion News
Reunion News
A Touch of  'Iolani

August 6, 2011
"Celebrate the Arts"
Sponsored by the Alumni Association and Class of '92
On campus at 5 p.m.
Fabulous food from Hawai'i's top restaurants and eateries
Silent Auction
Presentation of the Alumni Service Award
Benefiting the Alumni Association Scholarship
Tickets now on sale $70 each (early bird and reunion class discount $65)
Call (808) 943-2269
More Information & Presale Order Form »
Reunion Weekend Dinner

August 4, 2011 at 'Iolani School at 6:00 p.m.
All members of reunion classes (graduation year ending in a 1 or 6) are invited to this free event. Enjoy campus tours, live entertainment, open bar under the stars, and a sumptuous dinner buffet.
Class of 1981 • 30th Year Reunion
August 6, 2011:
A Touch of 'Iolani
August 12 to 13, 2011:
  Golf, Reunion Dinner Weekend at Hawai'i Prince Hotel, Waikiki
Contact Randy Inaba '81 at
Class of 1991 • 20th Year Reunion
Honolulu
August 4, 2011:
Headmaster's Reception for Reunion Classes
August 6, 2011:
Touch of Iolani
August 7, 2011:
Family Day (more details to come)  
Las Vegas
September 16, 2011:
Cocktail Night
September 17, 2011:
Slot Tournament
September 17, 2011:
UH vs UNLV football game
September 18, 2011 :
Brunch
Information on Vegas packages at the Orleans will be coming soon!  
Class of 1996  • 15th Year Reunion
August 4, 2011, Thursday:
Alumni Dinner Hosted by the Headmaster
August 5, 2011 Friday:
Dinner Party at Chibo Okonomiyaki (Royal Hawaiian Shopping Center)
August 6, 2011 Saturday:
A Touch of 'Iolani
August 7, 2011 Sunday:
Family Beach Day at Magic Island
Please email or contact Bryan Li at (808) 454-3138.