This Issue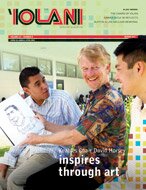 'Iolani's Endowed Chairs: Making a Great School Even Greater
Read the full story »
Spring 2011 - Department
| Headmaster's Column
Headmaster's Column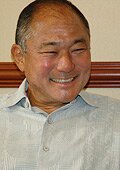 We have recently completed the accreditation process mandated by the Western Association of Schools and Colleges and the Hawaii Association of Independent Schools. We gave ourselves a hard look and then welcomed a visiting team of educators to campus to do the same.
Thorough examinations such as this are never quick or easy, but they do afford us the opportunity to study our school life and to benefit from outside expertise and evaluation.
Our work began over a year ago as Upper School teachers and staff members formed committees to survey constituents, analyze programs and write an exhaustive self study. A team of experienced educators reviewed the information we gave them. Then the team visited us to see for themselves how the school operates.
The visiting team recently completed its work, and I want to share its response with you. At the risk of sounding self-congratulatory, we are, to put it mildly, pleased and proud. The report of the committee gave all of us a lift to our spirits. It affirmed our belief in our school and its mission and ratified the excellent work done by faculty and staff.
Dr.
Harlan Lyso
, Chair of the Visiting Committee and WASC Commissioner, commented that in his thirty visits to schools during his career, not one matched the eleven Major Commendations achieved by 'Iolani School. He and his team were impressed by our programs and processes, and most of all, by our people.


Dr. Harlan Lyso congratulates 'Iolani's faculty and staff for several commendations from the WASC.

The WASC committee and 'Iolani administrators closely examined 'Iolani's curriculum, programs and mission during the visitation from February 6 to 9.
MAJOR COMMENDATIONS
The Visiting Committee commends:
The diverse student body for its dedication to a rigorous academic curriculum, as well as its involvement in extracurricular activities and community service. Students are respectful, courteous, and appreciate the school's leaders, faculty and staff. A sense of school pride is evident in their numerous accomplishments.
The Board of Governors, administration, faculty, staff, parents and students for their commitment to low class sizes, which provides students ample opportunities to speak, perform, participate, and receive individual attention from teachers; maintains the feel of a small and intimate school; and serves as a major point of consensus for the entire 'Iolani community.
The administration for effectively managing school funds in a way that supports the school's mission and Expected Schoolwide Learning Results.
The Institutional Advancement Office for its commitment to support the school through a series of highly successful, efficient fundraising campaigns and for its work to expand participation across all constituencies.
The physical plant personnel, Board of Governors, administration, faculty, staff, and students for maintaining 'Iolani school's facilities, grounds and equipment to provide the clean, safe and welcoming environment that characterizes the 'Iolani campus.
The alumni and parents for enhancing communication and relationships within the school and serving as major sources of support and involvement through a wide variety of activities.
The faculty for their dedication to supporting the success of each student; for their commitment to creating an environment that nurtures academic and creative excellence; for their willingness to embrace new professional experiences;  and for their involvement in co-curricular activities with students and the 'Iolani 'ohana  that extend beyond the school into the local and global communities.
The Board of Governors, administration, faculty, staff, and students for embodying and embracing the Expected Schoolwide Learning Results to such an extent that the ESLRs are an integral part of the 'Iolani learning environment.
The Board of Governors, administration and faculty for enabling 'Iolani students to explore and enhance their talents through an impressive number of after school activities on campus, in addition to participating and/or competing in local, national and international events. Especially noteworthy is the increased opportunity for students to participate in community service programs, helping people of all ages who are in need
The Board of Governors for its dedication to the mission of the school, expertise in a variety of fields, generous support and wise stewardship, active engagement in the life of the school, and for maintaining its focus on the long-term strategic direction and financial sustainability of the school while supporting the Headmaster in his responsibilities.
The faculty and administration for having taken important steps to promote student understanding of and direct involvement in the world beyond 'Iolani through community service, service-learning, student travel, entrepreneurship, project-based learning and other means.
The report includes recommendations as well. Our Major Recommendations targeted "the development of a coordinated technology plan," "the establishment and/or enhancement of processes that foster a school-wide sense of teamwork and collaboration," and the implementation of "a collaborative planning process that will maximize the potential of the Center for Applied Studies."
Every school can improve, and our work on these and other recommendations has already begun. We will pursue these initiatives within the context of an existing exemplary educational program.  Please join me in congratulating and thanking all of the fine men and women, girls and boys, young and old, for their commitment to the school we love.