This Issue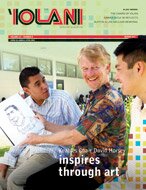 'Iolani's Endowed Chairs: Making a Great School Even Greater
Read the full story »
Spring 2011 - Other News
| Alumni
'Iolani Alumni Events & Activities
ICAN Restores A Part of History
'Iolani Community Action Network (ICAN) members journeyed into the hidden valleys of Honouliuli in Ewa on the island of O'ahu on January 22 to discover and restore a hidden and often forgotten chapter of Hawai'i's part of World War II history.
Honouliuli was the location of the only World War II internment camp built on Hawaiian soil. It housed up to 1,500 internees at its peak, many of them Japanese and Japanese-Americans. It was established immediately following the Japanese attack on Pearl Harbor, and many Japanese of American citizenship were forced into the jail-like military enclosures of the camp with other prisoners of war and those deemed suspicious by the American military.
ICAN members partnered with the Japanese Cultural Center of Hawai'i (JCCH) to restore the historic mess hall slab and former aqueduct of the Honouliuli camp. The impact of ICAN volunteers was significant with the work revealing paths and structures covered by extensive overgrowth of grass and weeds. The ICAN team also constructed a stairway leading to the historic mess hall slab.
The work of 'Iolani alumni will culminate into a Day of Remembrance coinciding with the anniversary of the signing of Executive Order 9066 which forced internees into camps such as Honouliuli after the start of World War II. JCCH representatives were pleased with the ICAN team's work and have invited the 'Iolani group back to participate in the upcoming Day of Remembrance.
- Jon Nouchi '93
Alumni in Japan Celebrate


Alumni living Japan include: (back row) Curtis Wong '85, Kel Ide '88, Frank Song '80, Eric Heenan '92, Kala Ahloy '95, Dean Ushijima '06, Shin Suzuki '97 and Mariko; (middle row) Jon Genka '80, Kyle Nakamura '04, Mitzi Ing '00, Laura Shiraki '03, Alisa Nakamine '01; (front row) Emi Tao '98, Yukiko Matsuzawa, Clinton Matsuzawa '97, Dale Sakata '84, and Akira Kadomoto '97.
The 'Iolani Alumni Gumi in Japan may be overseas during the holidays, but distance failed to dampen their holiday and school spirit. The alumni gathered in Tokyo on December 17 at Pualani, an Italian  restaurant with a Hawaiian touch, for its annual Christmas Party and Bonenkai event. Old and new faces were present as the evening was filled with good conversation, a gift exchange and laughter.
Inspired by the community service efforts of the 'Iolani Community Action Network  and an anonymous donation from a Tokyo-based alumnus, the Gumi held a drive to raise money and collect toys and used clothing for the Wakatake Home, a shelter for abused and neglected children. The Gumi raised over $500 and boxes of clothing and toys were delivered by Christmas.
By simply paying it forward, the Aloha Spirit made life a little warmer in Tokyo this past year. Aloha from Japan!
Brother Noland featured in Summer Concert


Brother Noland will perform in a free Alumni Association Summer Concert on July 9 at 5:30 p.m. in the school's courtyard.
The 'Iolani Alumni Association Summer Concert will feature award-winning musician and composer
Brother Noland
on Saturday, July 9 from 5:30 p.m. to 7:30 p.m. in the school's courtyard. This free concert is open to the 'Iolani community.
Families are welcome to bring their lawn chairs and picnic foods. A concession stand will be open.
Brother Noland is one of the biggest names in the Hawaiian music industry. One of his earliest hits was the song, Coconut Girl. He most recent album was released in 2009 called Hawaiian Man. He is also known as the Father of 'Jawaiian' Music, which blends Hawaiian and reggae sounds. He is known for his traditional Hawaiian music as well.
Brother Noland now joins an impressive line-up of Hawaiian musicians who have performed for the Alumni Association Summer Concert series. Over the years, concerts have featured Na Leo, Cecilio & Kapono, and Hapa. The association aims to bring the 'Iolani community together through these concerts which showcase local talent while celebrating the arts.