This Issue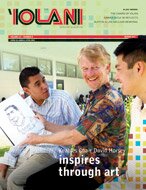 'Iolani's Endowed Chairs: Making a Great School Even Greater
Read the full story »
Spring 2011 - Department
| Faculty & Staff File
Faculty and Staff File
New Appointments Among 'Iolani's Leaders
Kelly Monaco |
Director of Admission
Kelly Monaco
has been named to fill the post of director of admission, succeeding Patricia Liu upon Liu's retirement in summer 2011.  Monaco will oversee the admission department, and will continue to manage the Lower School admission process. Monaco has been the 'Iolani associate director of admission for the past ten years and was previously a counselor in the Upper School for two years. Prior to 'Iolani, she was a college counselor at Sacred Hearts Academy and a college admission counselor at Chaminade University of Honolulu. A seasoned professional who has won the respect of her colleagues, Monaco served as president of the Hawai'i Association of College Admission Counselors (HACAC) in 2001 and was also the chairperson for the Hawaii Association of Independent Schools (HAIS) Admission Directors in 2009 and 2010. She earned her bachelor of arts degree from the University of Oregon and her masters of business administration from Chaminade Univeristy. She and husband
Joe Monaco
'87, an 'Iolani Upper School math teacher, have three daughters
Hailey
'17,
Grace
'23 and
Makena
'23, attending 'Iolani.
Racquel Leong |
Director of Admission - Upper School
Raquel Leong
has been named as Director of Admission for Upper School effective summer 2011. In addition to her lifelong commitment to 'Iolani, she brings more than 23 years of experience as a teacher and administrator to her position. She is currently the 'Iolani counselor for the Class of 2012. Leong worked with the Hawai'i state Department of Education for ten years, beginning as a teacher and then holding administrative positions as a department head and student activities coordiantor. She joined 'Iolani 12 years ago, serving as a teacher, counselor, interim director of counseling and assistant to the director of summer school. She has also been part of the admission process at 'Iolani in her roles on the selection committee and as tester for kindergarten applicants. She earned her bachelor of arts degree from Colorado College and a master's of arts from the University of Hawai'i at Mānoa. Leong has two sons
Timothy
'14 and
Daniel
'15. 
John Tamanaha '87 |
Director of Interactive Media
John Tamanaha
'87, who spent the past two decades in Los Angeles, gaining experience in communications, journalism, public relations and online content management, became 'Iolani's first director of interactive media in January. He is currently overseeing the development of the school's soon-to-be redesigned website and leading an effort to formulate 'Iolani's social networking policies and strategies. Tamanaha received his bachelor of arts degree from the University of Southern California, and later returned to his alma mater to teach within the acclaimed Annenberg School for Communications & Journalism. He also spent four years as USC's director of athletic publications and associate sports information director. More recently, he served as vice president of communications for the Los Angeles Avengers of the Arena Football League. Over the years, Tamanaha has been a freelance journalist for many outlets, including the Associated Press, Los Angeles Times, msnbc.com and NBCSports.com. He and his wife,
Loraine (Kubota)
'87, have a 3-year-old daughter,
Alexa
.
Kira Tamashiro '05 |
Director of Alumni Relations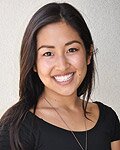 Kira Tamashiro
'05 will assume the position of director of alumni relations effective this summer. She earned her bachelor of arts degree in economics from Claremont McKenna College where she worked as a senior interviewer in the Office of Admissions. Most recently, she stepped in as director of student activities at 'Iolani for the 2010-2011 year while
Kirk Uejio
'98 is on sabbatical leave. She has been a community executive for the Aloha United Way general campaign and a budget analyst for the Hawai'i State Senate Committee on Ways and Means. As a student at 'Iolani, she was class president for four years, played in the band, and lettered in cross country, wrestling and judo.
Retired Faculty and Staff Return
The annual holiday orchestra and chorus concert brought retired faculty and staff back to campus this past December 15. The retirees are special guests of the Headmaster and his wife, enjoying a special luncheon following the concert. 'Iolani's outstanding students performed superbly, thanking the retirees for their special contributions to 'Iolani.
Front row
: Norma Chun, Lori White, Frances Masunaga, Lynette Ono, Sharon Takara, Cecilia Fordham, Millie Taam, June Cummings, Margaret Tom;
back row:
Headmaster Val Iwashita, Rebe Kennedy, Barbara Karimoto, Dan Feldhaus, Les Crandall, Lloyd Kim, Bill Eng, Bill Sumner, Norio Sasaki, Bill Lee '53 and Paul Kennedy '52.