This Issue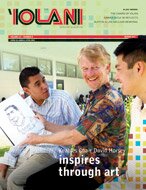 'Iolani's Endowed Chairs: Making a Great School Even Greater
Read the full story »
Spring 2011 - Department
| School in Focus
School In Focus
Students and Darfuri Refugees Communicate Via Live Video
Last school year, several 'Iolani students organized the Camp Darfur learning service project aimed at spreading awareness and garnering aid for refugees suffering in Darfur. One of the many outcomes was 'Iolani sponsoring a school in the Djabal Camp in Chad.
This school year, on December 14, 2010, those students received the opportunity to see and talk to refugees at the school through a live video chat. 'Iolani teacher
Kimi Yasunaga-Frith
'92 and her students worked through i-ACT, an organization that also sponsored the Camp Darfur project and is part of Tracy McGrady's Darfur Dream Team Sister Schools Program www.darfurdreamteam.org.


Students gathered at 5:45 a.m. on December 14 for a live video conference with refugees in school at the Djabal Camp in Chad.
Through a social networking site created by i-ACT, the 'Iolani students upload up to 20 pictures and two videos every month so that the refugees can check them online once a week through a computer set up by i-ACT. The students are trying to raise money for the "sister school" by holding bake sales and other events.
Creativity Recognized by Scholastic Arts Awards
'Iolani students won several awards at the 2011 Hawai'i Regional Scholastic Art Awards Competition in February. Their artwork was on display at the Hawai'i State Art Museum from February to April 2. Artwork receiving Gold Key Awards were entered in the national awards following competition. Art categories include ceramic and glass, computer and digital art, design, jewelry, fiber, drawing, mixed media, painting, photography, printmaking, sculpture, and video & film.
The award recipients included:
Art Portfolio Gold Key Award

Lauren Haggerty '11



Photography Portfolio Gold Key Award

Thomas Hartwell '11



3D Gold Key Awards

Mari Fujimoto (2) '11
Kelsey Hung '12



3D Silver Key Awards

Courtney Choy '15
Brian Freeman '12
Cari Anne Nada '12
Logan Nowack '11
Kelsey Ohira '11
Vanessa Shin '15



2D Gold Key Awards

Kiana Char '11
Kendra Ho (2) '11
Kasie Kashimoto '12
Kelsey Kato '13
Victoria Wong '11
Cordelia Xie '12



Photography Gold Key Awards

Dylan Ale '11
Maile Beal '12
Alicia Buntenbah-Leong (2) '11
Ali Calhoun '12
Jason Loui '13
Math Team Takes First
The 'Iolani varsity math team - led by perfect scorers
Dustin Shigaki
'11,
Cordelia Xie
'12 and
Andrew Wu
'11 - placed first at meet 4 held at Hawai'i Baptist Academy on January 8. The team also included
Trisha Castillo
'11,
Arnold Chang
'13,
Richard Chang
'11,
Hao Chen
'11,
Yun Ji Im
'12,
Mitchell Kwok
'12 and
Teresa Ou
'11.  Kamehameha and Punahou tied for second place.
Led by perfect scorer Michael Mow '13, the JV team scored 97 points to Punahou's 77, McKinley's 76 and Kamehameha's 50. The other JV members were
Nikolai Chen
'14,
Logan Davis
'13 and
Courtney Kobata
'13.
Speechers Qualify for States
Kaitrin Tobin
'11 and
Rachel Uemoto
'13 swept their individual events speech categories at the Kapiolani Community College Speech Qualifying Tournament on February 5. The team also had three third place finishers in Kenneth Lee '14 in United States Extemporary,
Darwin Kwok
'12 in International Extemporary, and 
Ayami Hatanaka
'14 in Impromptu Speaking. Hatanaka now qualifies for the state championships. Lee previously qualified for states at the Neighbor Island Tournament in January.
Lauren Goto
'14 is also headed for the championships with a fifth place finish in Program Reading. Other competitors at this tournament included
Joshua Rasay
'14,
Megan Ching
'14,
Danielle Huang
'13 and
Melanie Teruya
'13.
'Iolani Debate Tournament
The annual 'Iolani Debate Tournament took place on February 18 and 19 with the school opening the campus to 145 debaters and 100 judges and coaches at the second state qualifying debate tournament of the season.
After seven preliminary rounds of argumentation about Wikileaks' threat to United States national security, the treatment of violent juvenile felons in the criminal justice system, and the reduction of U.S. military presence in various areas of the world, the debaters waited anxiously to see if they would proceed to the final rounds and possible state qualification.
After all the excitement and heated contentiousness of the final round was over, 'Iolani qualified five more debaters for the State Forensics Tournament in April. They are
Ayami Hatanaka
'14 (Novice Lincoln Douglas Debate, 2nd place);
Zeke Kearns
'13 (Novice Lincoln-Douglas Debate, 3rd place);
Elvina Zhang
'13 (Championship Lincoln-Douglas Debate, 2nd place);
Darwin Kwok
  '12 and
Kenneth Lee
  '14 (JV Policy Debate, 2nd place).  
A Tribute to Ellison S. Onizuka – NASA Astronaut Daniel Tani Visits 'Iolani Lower School
"Make your life count and the world will be a better place because you tried."
— Ellison Onizuka
What comes to mind when the NASA Space Shuttle Challenger is mentioned? It was a tragedy that took place 25 years ago. On January 28, 1986—73 seconds after launching—the Challenger's explosion took the lives of seven people on board, including Kona boy
Ellison S. Onizuka
. It was a loss not only for the Big Island, but for all of us, as younger brother
Claude Onizuka
eloquently says, "Ellison belonged to the whole State of Hawai'i."
My friendship with Claude Onizuka gave me a deeper understanding. The first Asian-American Astronaugt, Ellison Onizuka spent most of his spare time with children, sharing his dreams and experiences, teaching them to strive for excellence, to never give up trying and to be proud of being an American.
I was honored to introduce the legacy of Astronaut Onizuka to the Lower School students of 'Iolani during a special assembly on January 25. They are inquisitive and very eager to learn. They listened intently as I read "A Message to the Future Generations" before introducing them to Claude who represented his brother.


As a tribute to the late Ellison S. Onizuka, Astronaut Daniel Tani visited schools to speak about the NASA space program, including 'Iolani.
Following Claude, guest speaker NASA Astronaut
Daniel M. Tani
opened his video presentation with a tribute to Ellison S. Onizuka— it portrayed a young boy who grew up in Kona "not from a life of privilege", who studied hard and followed his dream of becoming an astronaut. It was gut wrenching to watch the Challenger explosion replayed, but it was important for our young audience to be educated on what happened and to understand the message Ellison had for all of them.
Daniel Tani prides himself as being the second Asian-American astronaut. And like Ellison, he says he did not "come from a life of privilege." The MIT graduate is a veteran of two space flight missions that visited the International Space Station and has performed six spacewalks: STS-108 Endeavour (December 5-17, 2001) and STS-120/STS-122 Expedition-16 (October 23, 2007 – February 20, 2008).
In his video presentation Astronaut Tani shared his intense training routine prior to, and while living and working aboard the International Space Station for four months. He demonstrated floating and moving in zero gravity, exercising, eating, tooth brushing and sleeping in space. Roars of laughter filled the hall as the students watched "everything floats in space" including socks, utensils, potato chips and candy. They were awestruck by the magnificence of pictures Tani had taken from the Space Station which included Hawai'i, Chicago at night, the Great Lakes, the Egyptian Pyramids, the Aurora Borealis and many more. And it was evident that the students were inspired and loved his presentation by the numerous questions that were asked and answered. There would have been more, but unfortunately, time ran out.
Thank you Claude Onizuka, Astronaut Dan Tani, The Ellison S. Onizuka Space and Learning Center,
Chris Shimabukuro
'85 and Lower School Dean
Gerald Teramae
for making this special visit to 'Iolani School possible. And most of all Astronaut Ellison Onizuka, who we know is somewhere up there watching over all of us, thank you for your dedication and inspiration. 
- Jon Yamaguchi, Class of 1969
Write for Peace


Chanelle Huang '14, Scott Nishimoto and David Pang '15
Students
Chanelle Huang
'14 and
David Pang
'15 were winners in the Write For Peace Contest, ninth through twelfth grade division. The contest was sponsored by
Scott Nishimoto
, a law student at the William S. Richardson School of Law.
"I organized the Write for Peace Contest to encourage our youth to think about peace and arrive at concrete solutions to inequality and injustice in their own communities," Nishimoto said.
Nishimoto presented prize checks the students on January 10.
Campus Candids


Avid alumnus and 'Iolani supporter, Ray Wong '49 visited second grade classes in January to talk about his first hand experiences with the legendary Father Kenneth A. Bray, who founded 'Iolani's athletic program. Wong played basketball under Bray and shared the life lessons he learned as a student and player and that he remembers still: 'Iolani students are taught to be respectful and gracious.


Director of College Counseling Todd Fleming and and college panel share their experiences in selecting colleges and making the transition from 'Iolani. The panel was held on January 4 in Seto Hall with alumni from colleges across the country returning to campus. Following the panel, a college mini-fair was held where seniors could meet recent graduates. The college panel is one of many ways that 'Iolani's college counseling office assists students with applying and selecting colleges.