This Issue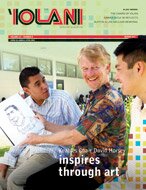 'Iolani's Endowed Chairs: Making a Great School Even Greater
Read the full story »
Spring 2011 - Department
| Alumnus Profile
Alumnus Profile: Dedicated to the Arts, Teaching and 'Ohana


Miami University in Ohio presented Jon Yamashiro with its 2010 Effective Educator Award during a Miami University football game at Cincinnati's Paul Brown Stadium.
Jon Yamashiro '81 received a Miami University Effective Educator Award. This article appeared in the Miami University website. The Miamian Magazine also published an article in its winter 2010 issue about the university's top teaching award recipients, including Yamashiro.
Jon Yamashiro '81


Position:
Associate Professor of Art at Miami University in Oxford, Ohio

Education:
Washington University in St. Louis, B.F.A.; Indiana University, Bloomington, MFA

Family:
Wife Jennifer Pearson Yamashiro, Ph.D.; daughter Lydia, 10; son Luke, 7; parents George and Jane Yamashiro; brothers Guy '91 and Greg
Pasttimes:
Time with family, coaching baseball, working on his 19th-century home, landscaping, gardeneing, cheering on Indiana University basketball, University of Hawai'i football, and Miami University hockey.

Favorite 'Iolani School Memory:
"I don't know if I have a single favorite memory . . . I would like to say that I had some great teachers while I was at 'Iolani. I wasn't always the best student but I remember being challenged and inspired while I was there. I also remember my fellow students being really smart and awesome. I was also fortunate to have the opportunity to teach at 'Iolani for three years with Mr. (Dave) Roberts who became a good friend and colleague. He taught me a lot about being an artist and a teacher. He trusted me and gave me the first opportunity to really be a teacher. Without Dave "Boss" Roberts, I would not be where I am today."
Students in
Jon Yamashiro
's beginning photography course started their second day of class sharing their favorite photos — a smiling baby cuddled by her proud parents, a close-up of an adored family dog, a silly shot of two preschool sisters hugging while sitting cross-legged on the kitchen floor.
As they held up their treasured mementos, the students talked about the photos' unseen significance. One woman, apologizing that the old black-and-white shot was too delicate to remove from its wooden frame, showed a rodeo cowboy in mid-air above a bucking bronco. The cowboy, her grandfather, fell in love with the photographer, her grandmother, married the Virginia beauty and took her out West.
To Yamashiro — the recipient of Miami University's 2009-2010 Alumni Association Effective Educator Award — these photos demonstrated to the class how poignant photography can be. This assignment was also his first step in molding his class into an "'ohana," the Hawaiian word for family.
"I like to think that in photography, you're part of this 'ohana, this family, and that's how I treat you," he said. "We're all here together, we're working it out, let's take some chances and make some art."
He considers it crucial that he build close relationships with students to help them develop their creativity.
"When you're doing critiques in art, you need to build up enough confidence in them so that they are able to create something that is new and then have faith in it, enough to show it to other people. But then you also need to be able to criticize and talk about the things that could be better without crushing who they are."


Jon Yamashiro '81 teaches his college art students to be creative by moving away from their comfort zone.
In his office, the associate professor in the School of Fine Arts surrounds himself with photography taken by his own teachers and mentors, both from Washington University in St. Louis, where he earned a bachelor of fine arts in photography in 1985, and from Indiana University, where he received a master's in the same subject in 1991. A third-generation Okinawan American born and raised in Honolulu, he came to Miami in 1993.
A favorite class project of his takes his seniors to Liberty, Indiana, where Yamashiro lives. Last year his seniors partnered with high school students to create books that told photographic narratives about Liberty's people and places. This year's seniors have already started traveling to Liberty to prepare to take portraits of the high-school and middle-school staff.
"The Liberty project is a good one because it gets us out into the community, and it helps to bring the community together," said Yamashiro, who combines his casual, soft-spoken demeanor with a passion for photography that is contagious.
A former student pulled in by that passion is Dan Long (Miami '05), who nominated Yamashiro for the Effective Educator Award.
On Trust

"My students need to trust themselves enough to have confidence with their ideas. Students come to me and ask, "What do I do?" I say, "Start. If you're thinking about painting, begin by making a mark."


- Jon Yamashiro '81



"I first met Jon while I was touring Miami as a prospective student," wrote Long, who now lives in Jackson, Wyo. "The way that he openly engaged me about my work, the program and the greater state of photography were the deciding factors for me to choose his program over those of many other schools.
"In a time when several schools were eliminating their darkroom programs, Jon had just overseen the remodel of the darkroom labs and was actively researching how to institute a state-of-the-art digital imaging program and lab into the fine arts program. His program gave me the foundation to explore the traditional methods and the cutting-edge tools to learn digital photography at a time when the industry was still experiencing massive growing pains."
To see some of Yamashiro's photography and read his story in his own words, go to www.yamashirophoto.com.
Reprinted, with permission, from Miami University's Winter 2010 Miamian alumni magazine.