This Issue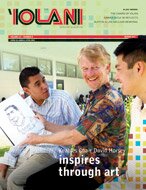 'Iolani's Endowed Chairs: Making a Great School Even Greater
Read the full story »
Spring 2011 - Cover Story
Making A Great School Even Greater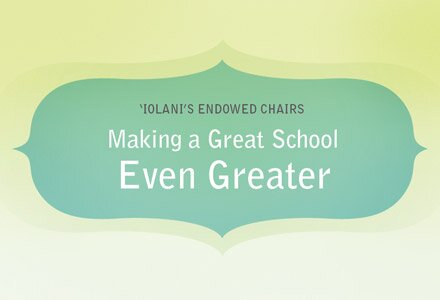 What do Isaac Newton, Lee Cataluna, John Kenneth Galbraith, Stephen Hawking and Isabel Wilkerson have in common? They all have held endowed chairs at great universities such as Cambridge and Oxford or at a few pioneering independent schools such as Exeter and 'Iolani.
An endowed chair is a teaching position supported by the revenue from a fund specifically set up for that purpose.
The earliest endowed chairs were those established in philosophy by the Roman emperor
Marcus Aurelius
in AD 176. In England,
Henry VIII
established chairs at Oxford and Cambridge calling them Regius Professorships. Private individuals followed by endowing chairs in their own names such as the Lucasian Chair of mathematics at Cambridge held by Newton in 1669 and Hawking today.
Endowed teaching positions aid schools by enhancing curriculum with additional faculty members who do not have to be paid out of the operating budget. Endowed chairs aid students by attracting scholars who possess a distinctive area of expertise or background that students might not otherwise experience. They also recognize the work of outstanding teachers who merit such an honor.
'Iolani is one of a small number of schools in America that supports such an enrichment of the curriculum.
The 'Iolani Board of Governors established its first such chair in 1982. It honors the late English teacher
Harold Keables
who taught at 'Iolani from 1965 to 1980. Its endowment was created by and is supported by donations from graduates, teachers, parents and friends of the chair. Every year the Keables Chair brings distinguished teachers to the school for a fortnight or two weeks. The  goal of the Keables Chair is to endow a full time position.
Other chairs at 'Iolani have followed the lead of the Keables Chair in the arts and in economics. They also make significant contributions to the enrichment of academic and artistic life at the school as well as benefit the community-at-large. Several chair holders have held public lectures or visited other schools and organizations.
Chairs are concrete manifestations of the importance of a school's teachers.