This Issue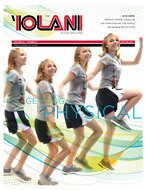 Let's Get Physical - The Importance of Play at 'Iolani
Read the full story »
Winter 2012 - Department
| Alumni Profile
Big Guy Makes Big Difference
By Jolyn Okimoto Rosa  '88
Dominic Ahuna '93


Position:
'Iolani Strength and Conditioning Coach

Education:
University of Puget Sound, bachelor's degree ; Chaminade University, MBA; California University of Pennsylvania, MS

Pasttimes:
Founder, 'Iolani Fellowship of Christian Athletes

S
tudents really obey 'Iolani strength and conditioning coach
Dominic Ahuna
'93. No questions, no long faces, no hands on their knees—even when the prospective varsity boys basketball players he recently worked with were surely tired.
"Don't forget to bend your elbows," Ahuna says
The boys relentlessly jumped one-legged over small training hurdles, doing extra pushups on their own when they knocked over a barrier. Ahuna does not scold or yell. He doesn't need to.
Ahuna competed in football, wrestling and baseball at 'Iolani before graduating in 1993. He is a big guy, nearly 6-feet- tall and a weightlifting champion in the Aloha State Games—"an imposing physical specimen," in the words of football coach
Wendell Look
'78. But Ahuna's quick smile and his ability to listen and provide guidance don't make him seem intimidating. He cares  about the outcome of every jump, every practice, every game. Moreover, he cares about the kids.
"I match my experience in conditioning and training, and I see the value in the students," Ahuna explains. "I teach a lot of character and discipline. Humility, honor... I want to keep those things alive."
Ahuna graduated from the University of Puget Sound with a bachelor's in exercise science and also has two master's degrees—an M.B.A. from Chaminade University and a M.S. in sports performance from California University of Pennsylvania. Ahuna also trains youth and adults through his business Sports Training Hawaii LLC.
"I match my experience in conditioning and training, and I see the value in the students."
When he was looking for a strength coach for the football team, Look thought of, who else, but Ahuna who joined the staff in 2003. Look credits Ahuna with much of the team's success, which includes Division II state championships in six of the last 7 years. (On November 25,'Iolani brought home its most recent trophy after beating Waipahu 34 - 0.)
"He's been the number one reason for our success, hands down. Without him, we wouldn't have taken it to the next level," Look says.
Coach Dom, as he is known, trains the football team twice a week during the season. He also trains 'Iolani's basketball, baseball, wrestling and soccer teams. For football, a key component is Ahuna's off-season training, which typically occurs four times a week all spring and summer, partly on the track.
The important part is the mental toughness he instills, the idea that you need to push yourself, Look says.
"Given the physical size of our kids, which is not usually the biggest, they need to be as strong as they can be," Look explains.
Ahuna knows from experience. Look coached Ahuna nearly 20 years ago. He  recalls him as a smaller defensive lineman, with good physical strength, work ethic, discipline and motivation.
"He gave it all he had," Look says.

Ahuna works with 'Iolani's student athletes in the weight room and on the field.
Since then, he's grown, he adds. "He's evolved, incorporating what he had at 'Iolani ... He is a very spiritual guy. He brings another dimension to our program."
Ahuna founded the 'Iolani chapter of the Fellowship of Christian Athletes, or FCA, which meets once a week during the school year and draws 80 to 120 students. Scripture verses are attached to the shelves of his office, opposite shelves of sports equipment. He can quote the Bible as easily as he recounts the latest sports score.
Ahuna aims to set an example. "The kids will only rise up to the standards their coaches live by."
Andrew Skalman
'10  describes his former coach and mentor as one of the most influential people in his life.
Ahuna aims to set an example. "The kids will only rise up to the standards their coaches live by."
Many coaches stressed fundamentals and skill, Skalman says via email, "but it was Coach Dom who helped me realize that the ultimate foundation of any victory in life is faith."
Skalman worked with Ahuna on the varsity football team as a three-year starter and was a leader in the fellowship for two years. He is attending Washington University in St. Louis, where he is studying business, Japanese and playing football.   
Ahuna says he never envisioned working with kids. Prior to his return to 'Iolani, he had worked as a nightclub bouncer and as a trainer at 24 Hour Fitness, where he earned accolades as one of the company's top trainers nationwide.
"There was something more for me," he says, smiling.
There is also more to sports than just being athletically talented. Coach Dom learned this from Coach Look. Look learned from the late Coach Eddie Hamada '46. And Hamada learned from legendary Father Kenneth A. Bray.
Referring to his team, Look says, "You're football players, but you also want to be good people."
Comments from Readers
Gloria Mitchell

I am so blessed to know that my grandson Harrison Mace is under the influence of Coach Ahuna. Harrison is a terrific young man, but a bit small in stature. But I know he will mature into a "giant of a man in both spirit and stature". Praise God for the godly men in our childrens lives.