This Issue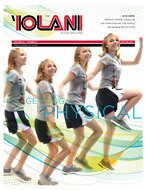 Let's Get Physical - The Importance of Play at 'Iolani
Read the full story »
Winter 2012 - Feature
| One Day One Team
Year 2: One Day One Team
"
We cannot live only for ourselves. A thousand fibers connect us with our fellow men; and among those fibers, as sympathetic threads, our actions run as causes, and they come back to us as effects."
- Herman Melville
"The groundskeeper at the zoo mentioned that they only have 4 staffed employees, and the work we were able to do would take them months to accomplish. Not only did we get our morning workout in by all of our hard work, but we also got to reconnect and meet different alumni and friends who live throughout the Bay Area... I couldn't be prouder to be an 'Iolani alum. 'Iolani No Ka Oi!"
- Pomaikai Shishido '03 on community service at the San Francisco Zoo
The 'Iolani alumni bond grows more powerful each year. This almost super human strength was even more evident on October 8, 2011 when the second annual One Day, One Team global community service project took place. Alumni in 13 different locations around the world surrendered their day off to roll up their sleeves and give back, whether at food banks, nature preserves, or shelters for abused children. One Day, One Team was jointly organized by the 'Iolani alumni office and ICAN ('Iolani Community Action Network). The following pages reveal how alumni, near and far, connected through the spirit of service and made a difference on one day in October and as One Team.
Boston

Boston-based alumni reached out to the Emerald Necklace Conservancy.
Emily Lau
'03,
Lance Hirai
'04,
Maya Tatsuno
'03,
Yasmin Kheradpey
'09,
Shireen Kheradpey
'11,
Kimberly Petko
'04, and
Robert Tamai
'09 gathered at Olmstead Park in Boston where they supported the Emerald Necklace Conservancy by removing invasive species and carrying out soil amendments. Thank you to project coordinator Robert Tamai.
Hawai'i Kai
Nearly 50 alumni, friends, and family gathered at Hanauma Bay Nature Preserve to beautify the picnic area up on the mountainside above the bay. The bulk of the volunteers (about 35) cleared thousands of keawe bean pods that regularly fall onto the picnic area. Before joining the larger group, about a dozen volunteers started their day of service by removing an invasive vine that was strangling the native Hawaiian 'akia shrub. Thanks to project coordinators
Austin Barnes
'06 and
Marcus Kawatachi
'90.
Hong Kong

Stanley Beach in Hong Kong was another One Day, One Team location.
In Hong Kong event,
Nikki Ann Yee
'01,
Brad Punu
'93,
Kam Faiola
'91,
Anthony Dang
'84, and
Tesa Ho
'96 converged upon Stanley Main Beach, partnered with the Boy Scouts of America in a massive beach litter clean up project. Thanks to project coordinators Nikki-Ann Yee and Kam Faiola.
Los Angeles
Over 40 alumni and friends joined at the Los Angeles Regional Food Bank to package boxes of food for regional shelters. Products donated to the food bank require to sorting, cleaning and repacking—a process called gleaning. Volunteers are needed to assist with gleaning everyday.

Alumni in Los Angeles gleaned products at the food bank.
At the end of the day, these ICANers felt good that they helped partially alleviate the hunger problem in their community. Thanks to project coordinators
Jessica Matsumoto
'03 and
Daryl Nishiyama
'88.
Orange County
Alumni in Orange County met on October 15 to make a difference. They spent their day fixing up the grounds of Canyon Acres Children Treatment Center, a place of healing for abused and neglected children. Thanks to project coordinator
Terrence Yacap
'84.
Philadelphia

Alumni and families volunteered at Philabundance.
Alumni (
Kenric Murayama
'76,
Chad Kuwana
'09,
Emily Kuo
'09,
Diana Lu
'09,
Sarah Murayama
X'12,
Michael Murayama
'07,
Norman Murayama
P'07,
Matthew Oishi
'05,
Marisa Kirio
'05 and
Scott Nakamura
'87) and their families partnered with Philabundance, the Food Bank of Philadelphia. They sorted and packed a variety of donated food collected during community food drives and also packed bulk items such as pasta, beans, cereal, and more. Thanks to project coordinators Norma and Michael Murayama, and Matthew Oishi.

Liane Hu '05, Julie Watanabe '05 and Kristine Duong '05 pitch in.
Honolulu
ICANers hiked half a mile into the dense Mānoa rainforest and removed a highly invasive species of bamboo that have been killing native plants, all the while battling terrible mosquitoes. In all, they performed two full week's worth of work! Their labor of love made a significant impact on the daily tasks that the limited staff of five must do to maintain the entire 194 acres in the forest. Mahalo to project coordinators
Mark Ohigashi
'03 and
Derek Kawano
'02.

A large group helped clean the Mānoa rainforest.

City Meals-on-Wheels in Manhattan was where several alumni gathered for One Day, One Team.
New York City
A team of alumni and friends gathered in the heart of Manhattan's Hells Kitchen neighborhood to partner with City Meals-on-Wheels, a non-profit organization dedicated to providing New York's elderly with nutritious meals year-round. Working with the program's staff, teams of ICAN volunteers hand-delivered over 160 nutritionally-balanced hot or frozen meals to senior members of the community while also offering vital human companionship over the course of the early afternoon.
Tokyo

Children at Wakatake Home were overjoyed to be visited by 'Iolani alumni again.
For the second year of One Day, One Team, alumni re-visited the staff and children at Wakatake Home in Saitama to teach hula, make crotchet lei, play basketball and just spend time together.
Kala Ahloy
'95,
Kel Ide
'88 and family,
Mike Lau
'88 and family, Puna Motoyama '04,
Kyle Nakamura
'04,
Kelly Teramoto
'04, and
Ryan Wong
'97. Thanks to
Clinton Matsuzawa
'97 for helping to coordinate the event, and an anonymous alumnus for sponsoring lunch for the volunteers.
Portland

Alumni sorted and packed bags of rice in Portland.
Twenty people partnered with the Oregon Food Bank to help fight hunger. At 29%, Oregon has the highest rate of children in households without consistent access to food. Alumni and friends broke down large bags of rice into 2 pound individual bags for the emergency food boxes. In total, they packaged over 13,000 pounds of rice. Volunteers included
Dina Nishioka
'89,
Scot Bondlow
,
Neil Uyemura
'71,
Marissa Chung
'07,
Forrest Ching
,
Ryan Ohira
'91,
Nancy Southasarn
,
Howard Fan
'02,
Derrick Abe
'87,
Rhett Lee
'86,
Erika Lee
,
Marshall Lee
'88,
Caitlynn Lee
,
Stacey Gonzalez
'89,
Diego Sanchez Torres
,
Cory-Ann Wind
'87,
Tammy Kato
'91,
Brandon Roberts
'90,
John Saito
'88,
Jacob Saito
and
Barry Mau
'87.
San Francisco

San Franciso-based graduated volunteered at the zoo.
In association with Hands On in the Bay area and the San Francisco Zoo, this community service project involved beautifying the San Francisco Zoo by uprooting hundreds of harmful ice plants which endanger native plants and animal habitats. 
Seattle

Alumni living in Seattle turned out at Foodline.
Nine volunteers helped repack nearly two tons of frozen spinach in three hours at Foodline, contributing to over 15,360 meals. The alumni also enjoyed spending time with other alumni in the Seattle area, all while helping to give back to the community.
Washington DC

Alumni and friends at Oxon Hill Farm, left to right, Miguel Marti, Alyssa Ellis Marti '00, Chen Li '06, Alan Lee, Robert Bennett '75, Lanai Ferguson '87, Alan Ueoka '87, Mark Nakagawa '85, Eric Lum '72, Jenny Taoka Hilscher '89, David Hilscher, Bryan Horikami '82. Not pictured: Ji Nakada (spouse of Alan Ueoka '87)
Nine alumni and 4 guests from the Washington, D.C. area gathered at Oxon Hill Farm in Maryland to pick up trash and plastic bottles along the banks of Oxon Creek. The participants collected more than 25 large bags of trash. Afterwards, the group members enjoyed a potluck picnic that included many local entrees such as musubi, teriyaki chicken, Korean style vegetables, Japanese style omelette and more.