This Issue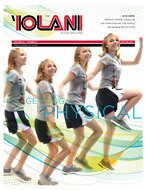 Let's Get Physical - The Importance of Play at 'Iolani
Read the full story »
Winter 2012 - Other News
| Reunion
Class of 1996 Reunites 15 Years Later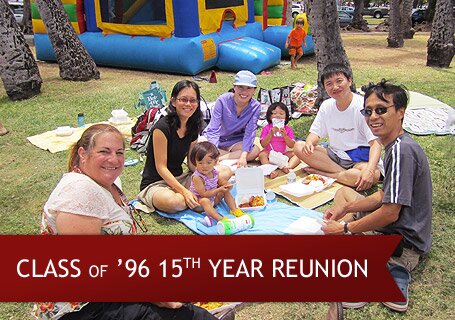 At the Class of '96 reunion, classmates gathered for a picnic at Kaimana beach. Their former teacher Cate Waidyatilleka, left, was invited as well. Also pictured are Annie Lee '96, Bo Yang '96, Jung Yeuh and Owen Chan.
By Ikaika Hussey '96 and Bryan Li '96
O
n the weekend of August 5, 2011, more than 100 friends and classmates from the Class of 1996 came together to celebrate 15 years since their 'Iolani school days.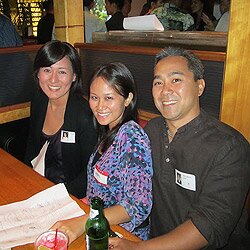 Cori Takesue '96, Sheryl Soriano '00 and Bryson Irie '96
On Friday, months of planning by the reunion committee culminated in a night of food, drink, and friends at Chibo Restaurant at the Royal Hawaiian Center. Chibo's delicious teppanyaki and okonomiyaki were the perfect accompaniments for reacquainting with each other.
Mike Yang
'96 entertained as the energetic master of ceremonies. 
And yes — in case the thirtysomething mind needed coaxing — there were handy name tags sporting our yearbook photos and names.
The celebration wasn't limited nightlife, however. On Sunday, everyone reconvened for a family-friendly party at Kaimana beach park. The keiki caroused and collided in a bouncy castle, and the adults got to finally relax!

Daniel Coda '96, Gordon Ching '96, Michael Yang '96, Michael Takayama '96, Bryan Li '96, Skyler Nishimura '96 (front)

Lisa (Murashige) Leong '96, Jodi (Matsurra) Ching '96, Joelle (Inamine) Miyashiro '96, Brandi (Sonoda) Chung '96, Sherri (Nishiki) Oka '96, Kristie (Ushijima) Kutaka '96
Many thanks to the generosity of sponsors who helped underwrite the weekend: Leather Soul (
Tom Park
'96), Coda Financial (
Daniel Coda
'96), Children's Doctor (
Derek Ching
'96), Touchdown Trucking (
Rodney Kawamura
'96), and
Matthew Okumura
'96.  In addition, many people went home with wonderful prizes including an iPad courtesy of Benn Pacific Group (
Trevor Benn
'92 and
Justin Walthall
'96) and hotel room stays at the Westin Moana Surfrider courtesy of Kyo-ya Management Company (
Michael Takayama
'96) and Hotel Renew (
Bryan Li
'96).