This Issue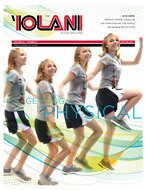 Let's Get Physical - The Importance of Play at 'Iolani
Read the full story »
Winter 2012 - Other News
| Reunion
Eye-Opening Homecoming for 25th Reunion Class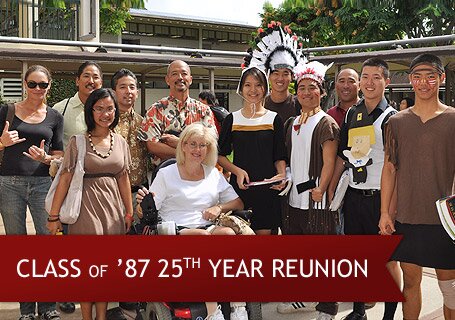 To commemorate their 25th reunion, alumni from the Class of 1987 returned to campus to experience the 'Iolani of today. Their hosts were members of the senior Class of 2012.
C
learly an early highlight to its yearlong "25th Reunion Celebration," the Class of 1987 returned to 'Iolani School on October 27 to take part in Homecoming 2011 "Home for the Holidays."
Six members of the silver anniversary class spent the better part of the day back on campus. Each of them shadowed a senior from the Class of 2012, sitting in on classes and spending time together during free periods.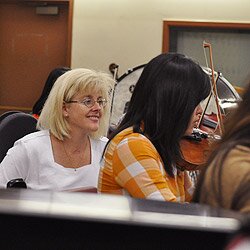 Sandy (Plummer) Stroud was particularly impressed by 'Iolani's excellence in the arts.
It wasn't a time for the young Raider to ask the old "Red Raider" questions about careers or college. It was quite the opposite, an opportunity for the 42-year-old to ask the teenager about what it's like to go to the 'Iolani School of today.
The Class of 1987 alums —
Dean Nakagawa
,
Janelle (Rinnan) Saucedo
,
Corey Shibata
,
Daniel Shiu
,
Sandy (Plummer) Stroud
and
John Tamanaha
— couldn't have been more impressed by their alma mater and gracious Class of 2012 hosts —
Stephen Jordan
,
Kienen Koga
,
Iris Kuo
,
Micah Lau
,
Darin Poei
and
Jen Rasay
.
"The hospitality of the seniors was incredible," Janelle (Rinnan) Saucedo said. "They really went out of their way to include us in their day."
And what a day it was.
"The whole atmosphere at 'Iolani is very positive, challenging and safe," Dean Nakagawa said. "Besides the fact that the campus is a 21st century cutting-edge environment, the school is populated with so many good people. That's what makes it such a special place."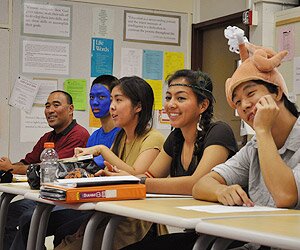 Corey Shibata '87, far left, sat in on a class with current students.
Corey Shibata was amazed by the energy on campus during the penultimate day of Homecoming, which meant a large majority of Upper School students were participating in the Thanksgiving themed "dress day," while many others were preparing for the "Lip Sync Contest" assembly that wrapped up the day.
"The students were always on the go," he said. "It was organized chaos and they all took it in stride. I was really impressed. The students are so well-rounded and really supported each other, even outside their own grade levels, and in and outside of class."
Sandy (Plummer) Stroud was particularly impressed by 'Iolani's excellence in the arts.
"I'm awed by how collegiate the academics and arts are at 'Iolani," said the proud graduate of the University of Michigan School of Music, Theatre & Dance. "It's a blessing to see 'Iolani grow into an even greater powerhouse in personal performance, sports, arts and academia."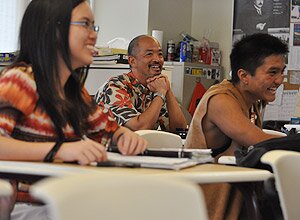 Daniel Shiu '87, center, served as senior class president 25 years ago. Recently, he returned to experience life as a student.
Even for Saucedo, Daniel Shiu and John Tamanaha, who are not strangers to the 'Iolani campus these days, the special visit was illuminating. In particular, the opportunity to sit in on Upper School classes was a mind-blowing experience.
"The quality and passion of the teachers is amazing," said Shiu, who currently has a pair of sons in the Lower School (
Dylan
'18 and
Jordan
'20). "Many of the teachers I visited were teaching way back in 1987, yet they haven't lost their zest for teaching.
"It was such a wonderful opportunity to be able to reflect on my own educational experiences," added Shiu, who served as senior class president back in 1986-87. "It reminded me of how much I learned at 'Iolani."
Whether it was reconnecting with history teacher Mr.
William Milks
'90, who was a freshman known as "Woodie" back in the day, or experiencing eccentric calculus teacher Mr.
Michael Park
for the first time, the in-class experience was something to cherish.
"My memory isn't so good these days, but I don't recall practicing for a Kikaida flash mob before being excused from math class," said Tamanaha, who has been the school's Director of Interactive Media since January 2011. "And that's besides the fact that the instructor was soaking wet and still had mashed potatoes on his face from a lunchtime eating contest."
There was, however, one thing missing for Saucedo.
"It was interesting that I never managed to run into my own kids, no matter how hard they claimed to have looked for me," she said, referring to her two daughters in the Upper School (
Sunshine
'15 and
Mahina
'17).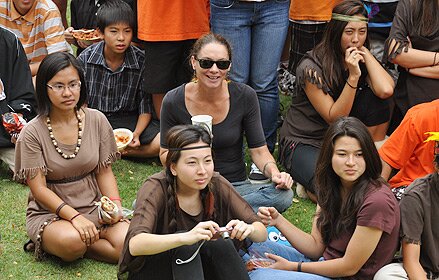 Janelle (Rinnan) Saucedo '87 sits among students on the campus lawn.
Physically, the campus was considerably different back in 1987. Never mind the state-of-the-art Weinberg Building; a quarter-century ago, there wasn't even a Nangaku Building. Nor was there any air conditioning in the Student Center or Lower Gym. There's more room to swim in the pool and many more benches under the library. The list goes on and on.
"And now there's parking and lots of it," Saucedo exclaimed. "Wasn't there tennis courts around there somewhere before?"
Besides the fact that the food in the cafeteria is much improved, Shibata noticed something else.
"The newest building in our time was the Castle Building, and even that got an extreme makeover."
Of course, some things were exactly the same as they were back in the mid-1980s.
"I got busted by
Ige Sensei
for chewing gum," Nakagawa said.
25th Reunion Highlights
The Class of 1987 kicked off its "25th Reunion Celebration" with Lance Tashima singing the national anthem at the Father Bray Football Classic on August 13.

The first official gathering was a community service event on September 17, at Ala Wai Elementary School, where 35 classmates, current students, family and friends pitched in on various beautification and safety projects.

The Homecoming "Senior Shadow" event on October 27, was followed by "Turkey Bowl XVI," an annual flag football extravaganza, which also featured family-friendly activities and a massive potluck at Salt Lake District Park on November 27.

On February 24, the class will participate in its second community service project at Next Step Project, a homeless shelter in Kaka'ako.

Then, a busy summer begins with a Silver Anniversary Graduation Pau Hana on June 6, which will be 25 years to the day after their own 'Iolani graduation.

The class' official reunion week in Honolulu features a special reception at the Headmaster's residence on July 6 (a reward for winning the Annual Giving Alumni Challenge), a big reunion party on July 7 and a family picnic on July 8.

Of course, what would a 25th reunion be without a trip to Las Vegas? The Class of '87 will meet up on the "Ninth Island" from October 11 to 15 this year.

In addition to that gathering, classmates are also organizing six other "regional reunions" on the mainland.

For more information about the Class of 1987 25th Reunion Celebration visit: http://www.iolani.org/class-1987

Comments from Readers
S. Tu Ngonethong

Hi classmates,

I am proud of all of you and I am looking forward to make it back from Laos to our 25th Reunion!

Iolani no ka oi,
S. Tu Ngonethong