This Issue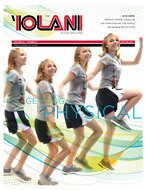 Let's Get Physical - The Importance of Play at 'Iolani
Read the full story »
Winter 2012 - Department
| Reunion News
Reunion News
A TOUCH OF 'IOLANI
August 4, 2012
Sponsored by the Alumni Association and Class of '93
On Campus beginning at 5:00 p.m.
Great food, entertainment, silent auction
Tickets on sale this spring
The organizing committee would like more Class of '93 alumni to get involved! If you would like to help, please contact the committee by emailing  or send a request to join the 'Iolani School Class of 1993 Facebook group.

(We regret that the print version of the 'Iolani School Bulletin erroneously printed August 5.  A Touch of 'Iolani will take place on August 4, 2012.)



HEADMASTER'S SEATTLE RECEPTION
Friday, March 2
6:00 p.m. to 9:00 p.m.
Washington Atheltic Club
For alumni residing in Seattle and Portland,
look out for an email coming to you soon!



CLASS OF 1962 50TH YEAR REUNION
The 50th Year Reunion Class will be invited to participate in the graduation ceremony for the Class of 2012 at 5 p.m. on June 2, 2012. A reception will follow the ceremony. More information is forth coming.



ALUMNI BASKETBALL LEAGUE
2012 Season runs mid-June to mid-July. All alumni are eligible to play in one of the three divisions. Games take place in the Upper Gymnasium in the evening. Last summer, alumni from the Classes of 1979 to 2011 played on 23 different teams. More details to come.



ONE DAY, ONE TEAM
ICAN's One Day, One Team is set for Saturday, October 6, 2012. Last year, 13 cities in three different countries participated in this day of global service. All alumni, family, and friends are welcome. ICAN will determine the city project coordinators in May, but if you're interested now, please contact . Mahalo to those who participated in last year's projects!