This Issue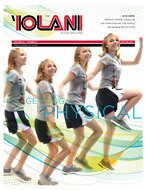 Let's Get Physical - The Importance of Play at 'Iolani
Read the full story »
Winter 2012 - Department
| Slice of Sports
Slice of Sports
Five Sign Letters of Intent

Seated, left to right, were Lorens Chan '12, Marissa Chow '12, Kylie Rae Maeda '12, Kirstyn Namba '12, and Gabriel Vega '12 with their parents standing behind them.
Five 'Iolani seniors on November 9 signed national letters of intent to play college sports. A ceremony was held in the school's board room at 7 a.m. with school administrators, coaches, family and friends of the students attending. The students and their designated colleges follow:
Lorens Chan '12 University of California at Los Angeles for golf
Marissa Chow '12 Pepperdine University for golf
Kylie Rae Maeda '12 Bringham Young University, Provo for basketball
Kirstyn Namba '12 Utah State University for softball
Gabriel Vega '12 Stanford University for volleyball

Football Brings Home Championship Trophy

Jordan Lee '12 runs for a touch down. (Photos by John Tamanaha '87)
The 'Iolani football team defeated Waipahu 34-0 at Aloha Stadium on November 25 to capture its 5th consecutive Division II state championship title. The top-seeded Raiders scored on their first four possessions, rushed for a season-high 283 yards on 45 carries and posted their second shutout of the season.
During a four-game winning streak to close the season, 'Iolani allowed a total of just 22 points, which includes a 17-13 victory over Kapa'a in the semifinals on November 19 at Eddie Hamada Field. Ever since trailing the Warriors, 13-0, the Raiders have scored 51 unanswered points.

Reece Foy '13 passes during the state championship game against Waipahu.
Running backs
Jordan Lee
'12 and
Kody Mento
'13 were dominant versus the Marauders. Lee rushed for 181 yards (and kicked two field goals and three PATs), while Mento scored three touchdowns on the ground.
Raider quarterback
Reece Foy
'13 was 12-of-21 for 158 yards, including a 59-yard touchdown pass to
Tanner Nishioka
'13.
'Iolani has now won six of the last seven D-II state titles.

Together, the group hoists the state championship trophy as One Team.

Jim Rubasch retires after 14 Cross Country Seasons

Jim Rubasch retired from the head coaching position for the 'Iolani boys cross country team. He will remain with the team as an assistant coach.

Troy Esaki '12 is the first 'Iolani runner to win the State Championship for Boys Cross Country.
'Iolani boys cross country coach Jim Rubasch is retiring after 14 seasons. Rubasch, named the ILH co-coach of the year, led 'Iolani to three ILH championships and two state titles (2003 and 2005). During his tenure, the Raiders have produced five ILH individual champions, including
Bobby Kessner
twice. 'Iolani senior
Troy Esaki
'12 won the individual title this year. Rubasch has run the 'Iolani Cross Country Invitational meet at Kualoa Ranch every September, hosting dozens of mainland schools, with more than 1,200 runners participating. Before coaching at 'Iolani, Rubasch spent four years as head coach at St. Andrew's Priory. He has also taught math at 'Iolani since 1994.

Canoe Christened "E.K. Hamada"

Chaplain Diance Martinson-Koyama and Randy Miyamoto '74 preside over the blessing of the E.K. Hamada canoe.
The "E.K. Hamada," which joins the Raiders' fleet of 40-foot fiberglass Mālia canoes, was blessed by Chaplain
Diane Martinson-Koyama
on November 12 at the Ala Wai boat house,

The canoe was painted in 'Iolani colors.
with the assistance of
Randy Miyamoto
'74 who is Mr. Hamada's nephew. Several members of the Raider paddling team and coaches
Chuck Nakoa
'70 and
Bernie Ching
were in attendance to name their newest outrigger canoe and to honor 'Iolani's legendary athletic director, coach, teacher, mentor, and friend who died at age 81 on January 3, 2010.