This Issue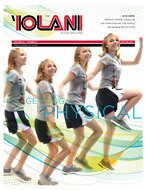 Let's Get Physical - The Importance of Play at 'Iolani
Read the full story »
Winter 2012 - Department
| Pictures from the Past
School Spirit in Yesteryears

This photo was published in the 'Iolani School Bulletin winter 1966 issue following a successful 1965 football season. The photo caption read: "The Class of '66 scored early on Thanksgiving Day by flying a helicopter into Honolulu Stadium. The football team, most of whom were surprised by the stunt, took the advice to heart and dumped Punahou 20-6."
B
ack in 1965, there was no Aloha Stadium.
Games were played in the Honolulu Stadium on the King Street, a mere 15 minute walk from 'Iolani's campus. The Interscholastic League of Honolulu included ten schools (Farrington, Kaimuki, Kalani, McKinley, Roosevelt, 'Iolani, Damien, Kamehameha, Punahou and St. Louis.)
Some memories never fade, like the sight of this helicopter hovering above a victorious football game.