This Issue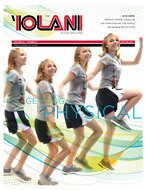 Let's Get Physical - The Importance of Play at 'Iolani
Read the full story »
Winter 2012 - Cover Story
Let's Get Physical
"
Nothing happens until something moves."
— Albert Einstein
L
earning at 'Iolani doesn't solely take place from behind a classroom desk. On the contrary, kids also learn on the field, in the gym, on the dance floor, and on both sides of the net and court. Every day, our smart, well-rounded students are exposed to healthy aspects of exercise in one of education's most basic facets of school curriculum: the mandatory P.E. class.

Even jumping rope can be bonding experience.
Today, in one such mid-day class, an 'Iolani P.E. teacher is walking his kids through the finer points of jumping rope. The pink nylon rope clicks as it smacks against the gym's hardwood floor. Kids look on, huddling in tight-knit groups of three and four. The teacher stands off to one side supervising the scene while the students each take turns attempting to master the skill. Some groups struggle to find their skipping rhythm while one team of lanky, athletic girls master the activity with relative ease, giggling along the way.
Physical Education has evolved over the years. In addition to popular high school sports like football, baseball, basketball, volleyball and soccer, P.E. teachers here in Hawai'i and across the country have had to streamline sports in order to reinforce the basics like running, jumping, hopping, and skipping as well as hand-eye coordination. Sporting life at 'Iolani is no exception.
Timing and coordination are part of P.E.

"Within our program, we teach lifestyle activities and try to create a stress free environment for the students to enjoy," says 'Iolani Physical Education Department Head
Wendell Look
'78. "Our results are based on how much laughter and sweat we get from them by the end of class."
For these ninth through eleventh graders, jumping rope is a simple way to get the heart rate up and the basics down.

These students get a great cardio workout by jumping rope during a physical education class.
The P.E. program also tries to keep classes fresh by teaching cardio-building activities like ball handling, soccer, volleyball, Tae Bo, aerobic dancing, yoga, swimming, broom hockey, and even scooter board games to get as much movement as possible from each individual.
Keeping kids alert and moving is a real challenge. So how does the modern P.E. teacher keep students switched on? Look, who has been teaching at the school for over 29 years, explains that 'Iolani's philosophy on physical education is simple. It's based on promoting a healthy lifestyle.
The P.E. grading system was also changed a few years ago to Pass/Fail in order to focus on student participation and less on a letter grade. When grading, every P.E. teacher must answer a critical question about their students: Are the kids trying to do what we're asking them to do?

A Lower Schooler shows how rock wall climbing under the One Team field house develops strength and coordination.
Over in the Lower School, P.E. teachers are constantly looking for new activities to keep kids excited and learning. One is the recently added rock-climbing wall. Another new activity that seems to be working wonders for students and gaining raves from parents is the introduction of the biathelon. Kids train for weeks to compete in two timed disciplines: swimming 100 yards in the school's pool and then, lacing up and running one-half mile on the track. They're challenged by the teachers to put up a time and then try and beat it.
Twenty-year Lower School P.E. Teacher
Linda Look
recognizes that there's long-term value in this extended activity for the kids. "We've had to become more creative and teach them how to train for it. And we've had quite a few positive comments from parents and children about the biathelon," she shares.
Look continues: "Some people don't realize that P.E. is just as important as the core subjects. It teaches them how to get along with others and deal with setbacks. We talk to the kids about always challenging themselves. And it goes beyond sports."

A student runs during the fifth and sixth grade biathelon.
Lower School Dean of Students
Gerald Teramae
, who joined 'Iolani last year after a long career as a head of school at the elementary, middle and high school level, most recently as Kalani High principal, is encouraged by the recent strides they've made with students: "I can't give our P.E. teachers enough credit for being open to trying new ways of doing things like the biathelon."
Another tactic that 'Iolani has been employing over the years to successfully keep kids moving is the Lower School Dance Program. Launched over 20 years ago by former Headmaster Rev.
David P. Coon
, the current program is organized by Dance Teacher
Lisa Lee Simon
'88 and focuses on the educational and early developmental benefits of dance. The kids who participate are reaping some real rewards.
The Lower School Dance Room functions as a unique Creative and Artistic Learning Lab for nearly 300 kindergarten through third grade students who attend weekly lessons. Students participate in carefully designed activities to integrate movement with intellectual learning. Says Simon: "For example, kindergarteners incorporate their knowledge of the immune system to create a germ dance, first graders use rhythm sticks to practice Singapore Math skills, and third graders interpret literature describing Dr.
Art Costa
's Habits of Mind to design a meaningful dance on meta-cognition."
"Some people don't realize that P.E. is just as important as the core subjects."
This spring, second graders will combine rhythm concepts learned in music class with Garage Band design skills to create musical phrases. The original music will serve as inspiration for innovative dancing. Fourth through sixth graders in the Contemporary Jazz class will collaborate with 2012 Keables Chair
Taylor Mali
to combine movement with slam poetry. "Although these dance lessons are substantively rich, the creative and social elements make them invigorating and fun," comments Simon.
Last summer, Simon attended the BrainDance seminar at the Creative Dance Center in Seattle, Washington that inspired her to rethink and enhance her students' learning experience. "I've redesigned lessons to incorporate more purposeful play, including musical instruments and fun props to spark creativity and imagination. Current class activities also include multi-sensory experiences, collaboration, and reflection for emotional and social development."
Upon her return for the current school year, Simon recently launched a new BrainDance program for all K-3 students. After practicing a brain/body centering exercise, she recalls second grader
Sean Mizo
'22 exclaiming, "I feel like I can do anything!"

Students reach beyond their limits.
Beyond the obvious physical and expressive benefits of movement, these dance activities help students develop intellectual learning, recognize the application of life lessons, and build their own character. "I like to refer to my students as 'creative inventors,' and together we make a big deal about taking risks and using inventive thinking to design movement that is unique and personal," Simon says. "I'm very fortunate to witness these young ones commit their whole selves into becoming fully engaged learners.
After practicing a brain/body centering exercise, she recalls second grader Sean Mizo '22 exclaiming, "I feel like I can do anything!"
Weekly lessons sometimes develop into holistic dance experiences because students often put forth strong effort, trust in each other, and work collaboratively as a team."
Recently, researcher and best-selling author
Michael Gurian
, who was born in Honolulu and attended Kaiser High School, gave a lecture at Seto Hall entitled "Boys and Girls Learn Differently." During his talk, he discussed his desire to bring a new perspective on the sexes using the brain as a lens.

Michael Gurian, author of Boys & Girls Learn Differently, spoke at 'Iolani on October 4 about how differences in the male and female brains influence the way the different genders learn and communicate.
One major distinction he made is the trans-cultural learning differences between men and women. Brain science indicates that females have words centers on both sides of their brain while males only maintain words on the left side. If you were to scan both brains, males would have verbal, reading, writing, and speaking located on the left. Females would have this activity on both sides. Apparently, this difference in function occurs from chromosome markers in utero. So the key question becomes, what are men using the right side of their brain for if it's not meant for verbal communication?
Gurian contends that the answer is simple. Males use the right side of their brain for spatial mechanicals and visual graphics objects moving in space. From as early as four days old, males move their eyes more quickly around the room. On the other hand, female babies tend to hold the gaze of the caregiver. Boys relate, share with each other, and bond together through physical movement. Perhaps that's the reason why many men prefer playing video games with fast moving objects.
Gurian also points to a famous example of our 44th president. "When President Obama was writing policy in the White House, he was throwing a football around with his staffers," says Gurian. "This movement is critical in keeping the right side of his brain stimulated. However, if you're a female, you don't need this stimulation as much since both sides of the brain are active. As a result, males relate differently to each other than females."

The mandatory P.E. class has evolved over the years as educators understand more about young people's need for physical activity.
Gurian also relates another popular anecdote taken from inside the classroom. "Let's say students lose interest in a particular classroom lesson. Boys are more likely to let their mind drift away and miss the lesson. As they do, the male brain goes into a rest state. When he comes back out of rest state, he will have missed directions. On the other hand, girls who lose interest in the lesson will still continue taking notes. They tend to have more access to fail safes for staying engaged."

Imua Chu '16 bounced a soccer ball during an Upper School physical education class.
Essentially, men need movement to regularly stimulate both sides of their brain in order to learn effectively. One approach to that is daily physical activity. "It's important to get boys moving around," recommends Gurian. "Let them move around when they're doing homework. Movement keeps their brain active and out of the rest state.
As a teacher, don't ask a male student 'why can't you sit still?' Instead, ask them 'why can't you get up and move around?' Doodling and fidgeting are activities children use to stay out of the rest state."
As science indicates, movement does have an important role to play in the daily life of the student. Regular physical activity keeps their body and their mind active and healthy. It helps them learn. It helps them relate with others and express themselves. And, as a result, it contributes to them becoming a well-rounded member of society.
Says Wendell Look: "When kids come to P.E. class, they have so many other stressful things weighing on them so we want them to release the stress from the rest of their day. We expect them to put in a good effort and enjoy the results."

Recess and P.E. class allows students to run, play and release energy.
Gerald Teramae agrees: "Kids need to get out and run and jump and play. That leads to better focus and better aptitude. It's a win-win situation for us. They're learning skills they can use in and out of the classroom."
"Physical Education classes are critical in helping students become successful in school," says Lisa Simon. "Thankfully, 'Iolani School is committed to developing kinesthetic learners."
"They're learning skills they can use in and out of the classroom."
Ultimately, play is an essential part of the overall 'Iolani experience. It's where students learn basic skills like following directions and working together as a team toward a common goal. They face challenges. They deal with setbacks. Through these experiences, they develop their own self-confidence, patience, compassion and striving for excellence. It also introduces them to a lifetime of personal fitness so they can be happy, healthy and productive. And these skills transcend sports. They are lessons for life.
Back in the gym where students are attempting to conquer the Double Dutch, the lesson is wrapping up for the day. Kids are turning in their jump ropes, chatting with friends and heading off to their next subject.

Third graders have fun with field games.
"Being active at all stages in a person's life is so important," Linda Look sums it up. "And if kids are exposed to lots of fun activities early in life, that's more power to them."
Jason Black is a Hawai'i-based freelance writer.