This Issue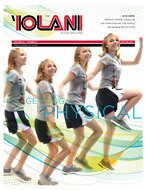 Let's Get Physical - The Importance of Play at 'Iolani
Read the full story »
Winter 2012 - Other News
| Alumni
Latest Buzz from the Alumni Association
Sake 101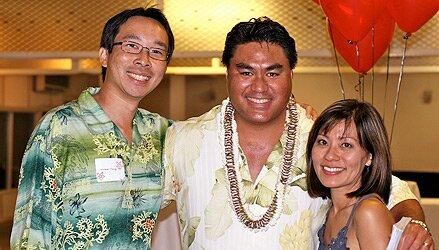 Norman Cheng '95, Liloa Papa and Sara Murakami '85 helped at the Sake 101 alumni event.
More than 80 alumni and their family and friends gathered on September 9 at Natsunoya Tea House to experience Sake 101 hosted by the 'Iolani Alumni Association (IAA).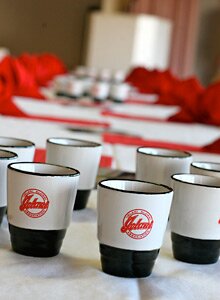 Alumni learned more about the fine art of sake.
Liloa Papa
, a Kamehameha Schools graduate, kindly volunteered his expertise in honor of his father
Richard Papa
'49. Liloa skillfully tempted the palettes as he guided alumni through the world of sake. Guests tasted five different sake, each paired with a special kaiseki dish and topped off with a full dinner buffet. The event pleased everyone who attended, from those who had never tasted sake before to those who consider it their drink of choice. Special thanks to IAA board members
Norman Cheng
'95,
Sara Murakami
'85, and
Sherri Iha
'84 for organizing the event.

Strike! Spare! Split!
Alumni and their families got into the Halloween spirit during an afternoon of bowling.
Nearly 100 alumni and members of their families gathered on October 30 at Aiea Bowl for the spooktacular 'Iolani Alumni Association Halloween Bowling Party and Costume Contest! These spirited Raiders put their best game forth as they bowled in costume, chowing down Aiea Bowl's famously tasty food for lunch in between frames. Parents and children wowed the crowd during the costume contest, with
Delwyn Wong
'91 and his baby son taking home one of the first costume contest prizes. This event, hosted by the IAA, was a fun, relaxing way to enjoy Halloween as a family — and with alumni!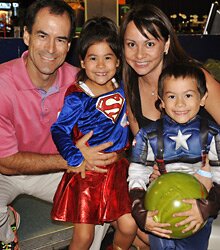 David KDave Kostecki, Dr. Elizabeth Ignacio '89, Grace Kostecki '22, and Michael Kostecki '24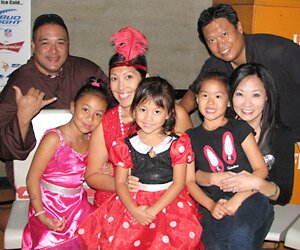 Nelson Moku '91, Marisa Moku '23, Jennifer Moku, Ashlyn Moku, Devyn Young '23, Dean Young '89, and Terilyn Young

Pau Hana at Uncle Bo's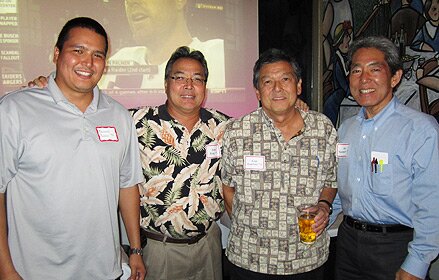 Reinaldo Pacheco '98, John Pang '73, Guy Kamitaki '73, Jay Suemori '73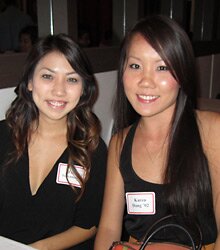 Tasha Tsukamoto '02 and Karen Dang '02.
On APEC Thursday, November 10, 2011, almost four dozen alumni gathered at Uncle Bo's Restaurant in Kapahulu for a fabulous evening of fellowship and free food hosted by the 'Iolani Alumni Association (IAA). Younger and young-at-heart alumni (Classes of 2006 to 1961) reveled in the excitement of seeing so many friendly faces. A special thanks goes out to IAA Board member
Paul Kennedy
'86 for making the event possible.