This Issue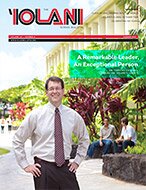 A Remarkable Leader, An Exceptional Person: Dr. Timothy Cottrell Carries on 'Iolani's Legacy
Read the full story »
Summer 2012 - Department
| Faculty & Staff File
Faculty and Staff File
HAIS honors Retiring Administrators  
James Bango, Dr. Lily Driskill, Paul Heimerdinger, Jane Heimerdinger, Cynthia Iwashita and Dr. Val Iwashita gathered at the 2012 HAIS Recognition Dinner.
T
he Hawai'i Association of Independent Schools (HAIS) community honored retiring Heads of Schools, administrators and others who have significantly contributed to the independent school community at its 2012 Recognition Dinner on May 2 at Waialae Country Club.
Among those honored were 'Iolani Headmaster Dr.
Val T. Iwashita
'67, Assistant Head Dr.
Lily Driskill
, and Director of Institutional Advancement
Jane Heimerdinger
. HAIS Executive Director Robert Witt paid tribute to each of them and acknowledged how Dr. Iwashita, during his service as chair of the National Association of Independent School, helped bring national and international attention to Hawai'i's school community.

Mahalo and Praise for Years of Service
L
ongtime 'Iolani teachers who retired at the end of the 2011-12 school year received gifts and praise for the years of service to 'Iolani School.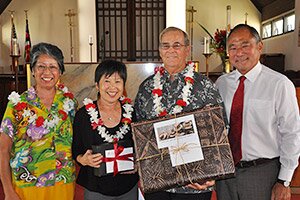 Longtime retiring teachers Mary Jo Segawa, Sandi Fo and Jeff Moses were recognized for their years of service by Dr. Val Iwashita.
These teachers include:
Lower School teacher
Mary Jo Segawa
is retiring after 40 years at 'Iolani. She started as a student teacher in 1970 and eventually taught first and second grade. Among the many programs and project she has brought to 'Iolani is the summer school class Bearable Experiences which focuses on oral communication, reading, listening, writing, music and art through the theme of bears.
Lower School teacher
Sandi Fo
is retiring after teaching kindergarten and third grade for 22 years at 'Iolani. Prior to 'Iolani, she taught at schools under the state Department of Education and at Kamehameha Schoos.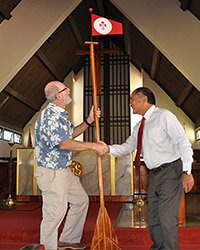 Art department head Dave Roberts presented a handcrafted stand up paddle with an 'Iolani flag atop to Dr. Iwashita at the final faculty meeting of the past school year.
History teacher
Jeffrey Moses
is retiring after 40 years of teaching at 'Iolani. Hired in 1972 by Reverend
David Coon
, he also served as a longtime coach and mentor to countless students. He designed the History of Hawaii course and kept a a fascinating collection of Hawaiian memorabilia in his classroom to spark students' interests.
Mahalo also goes to several dedicated and experienced teachers who are retiring or leaving 'Iolani for new adventures in their lives. They include ESL program founder and teacher
Johanna Guth
, math teacher
Annette Matsumoto
, English teacher and IMUA advisor
Karin Swanson
, Math teacher
Brigitte Visser
, history teacher and former headmaster
Tom Miller
.

A Lifesaver Among Us
H
onolulu Mayor Peter B. Carlisle presented the Honolulu Lifesaver Award to 'Iolani Director of Health Services
Shannon Yonamine
, R.N in a ceremony at Honolulu Hale on May 24.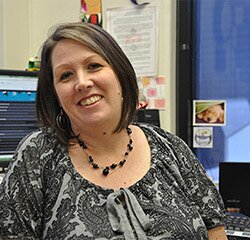 Director of Health Services Shannon Yonamine received the Honolulu Lifesaver Award.
Yonamine was recognized for her performance and quick response in saving the life of an 'Iolani teacher who suffered a cardiac arrest in the middle of a school day on May 4. Yonamine called upon the use of an A.E.D. or automated external defibrillator. Nearby colleagues and teachers, including Athletic Trainer
Louise Inafuku
and Director of the  Physical Education program
Wendell Look
'78, also pitched in to aid the faculty member who was awake when paramedics arrived and has since made a full recovery.
In 2006, 'Iolani was the first O'ahu school to install A.E.D.s and to train faculty and staff in the use of the equipment. Thanks to the diligence and expertise of Dr.
Alson Inaba
'79 who helped bring the program to campus, 'Iolani now has 13 A.E.D.s in visually prominent places.
Peggy Stitham
, who was 'Iolani's director of health services when the A.E.D.s were installed, was also instrumental in training faculty and students on how to operate them.

Ann Yoneshige named Interim Dean of Upper School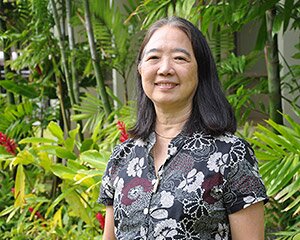 Ann Yoneshige—a teacher, counselor and administrator at 'Iolani for 38 years—will serve as Interim Dean of Upper School for the 2012-13 school year.
'I
olani's new Head of School Dr.
Timothy Cottrell
has named
Ann Yoneshige
as Interim Dean of Upper School for the 2012-13 school year.
Yoneshige has a proven track record as an administrator, having served in her current position as Director of Special Programs and previously as a math teacher and counselor. She joined 'Iolani 38 years ago and has since directed and managed curriculum development, personnel, schedule preparation, discipline, budget, parental concerns and other operational functions.
Yoneshige earned her bachelor of arts degree from the University of Michigan and her masters of education from the University of Hawai'i.  She is also a familiar face at many school sporting events, performances, and campus functions, always looking out for students.  While she serves as Interim Dean of Upper School,
Michelle Hastings
will be Director of Special Programs and continue to oversee the after school programs and Lower School summer school.
History teacher
Erik Yamamoto
'99 will assist Hastings with the after school program and over see the Upper School summer program for 2013.