This Issue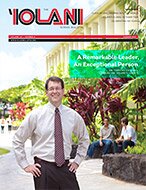 A Remarkable Leader, An Exceptional Person: Dr. Timothy Cottrell Carries on 'Iolani's Legacy
Read the full story »
Summer 2012 - Department
| Reunion News
Reunion News
Alumni Reunion Weekend 2012
August 2, 2012
Reunion Year Alumni
(graduating classes ending in a 2 or 7) and their guests are invited to campus for a tour and dinner
August 4, 2012
A Touch of 'Iolani
- 4:30 p.m. to 8:00 p.m. • 'Iolani Upper Campus
All graduating classes are invited back to campus for this 17th annual event, featuring reconnecting with classmates and friends while enjoying great food, entertainment, and a silent auction.
(Due to construction on campus, this year's A Touch of 'Iolani will be located on the Art Building Lanai.)
See www.IolaniAlumni.org for more info.
Class of 1987 - 25th Reunion in Las Vegas

October 11 - 15
California Hotel/Main Street Station
Visit iolani.org/class-1987 for more information and pictures of all Class of 1987 reunion events!
Class of 1992 - 20th Year Reunion

Hawaii events:
August 2, 2012
(Thursday): Reception at the Headmaster's Residence
August 3, 2012
(Friday): Golf during the day, nighttime event to follow (location to be determined)
August 4, 2012
(Saturday): A Touch of 'Iolani
August 5, 2012
(Sunday): Family Beach Day (location to be determined)  
Las Vegas events:
October 4 to 8, 2012
  (Columbus Day Weekend) (events to be determined)
Orleans Hotel and Casino (events to be determined)
Want to get involved or volunteer? Email
Class of 1992 Reunion Committee
Trevor Benn
Rae Benn
Matt Wagner
Bentley Pai
Carter Siu
Keith Kawamura

Cory Kubota
Nolan Nakamura
Ashley NakanoCavan Scanlan
Kimi (Yasunaga) Frith
Levani Lipton