This Issue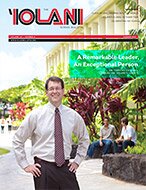 A Remarkable Leader, An Exceptional Person: Dr. Timothy Cottrell Carries on 'Iolani's Legacy
Read the full story »
Summer 2012 - Department
| School in Focus
School in Focus
History in the Making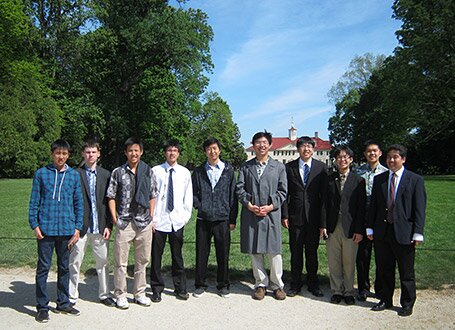 'Iolani students traveled to Washington, D.C. to compete in the National History Bowl and Bee tournament.
T
en 'Iolani students competed in the National History Bowl and History Bee tournament in Washington, D.C. on April 29 and 30 among more than 700 students from across the country and around the world.
The junior varsity team included
Matthew Beattie-Callahan
'14,
Kenneth Lee
'14,
Nicholas Lee
'15, and
Spencer Oshita
'15. The varsity team was made up of
Ken-Ben Chao
'13,
Eden Koo
'13,
Keke Liu
'13,
Jason Loui
'13,
James Teruya
'13, and
Nicholas Yim
'13.
The bowl competition consisted of ten preliminary rounds of four quarters each. Each round had about thirty-six questions. Students used a buzzer system to vie for the right to answer questions. In the bee, students were in rooms with seven other competitors. The student who first answered eight questions correctly won the round. Some of the bowl competition occurred in museums and historic buildings. The junior varsity team competed at Anderson House, the home of the Society of Cincinnati, the oldest patriotic fraternity in America. The varsity team competed at the Spy Museum. The final round of the bee was held at Mount Vernon.
In addition to competition, the 'Iolani students were invited to an 'Iolani alumni reception by
Jenny Taoka Hilscher
'89 at her home in Arlington. About a dozen alumni from the area came to wish the team well. The students also toured the Capitol, the White House, the Air and Space Museum, Mount Vernon, various monuments, Colonial Williamsburg and the College of William and Mary. At the capitol, they met with Senator
Daniel Akaka
and his aide
Keoni Nakoa
'04.
The team is coached by history teacher
John Bickel
. Also traveling with the team were Dean of Students
Tate Brown
'86 and parent
Robert Oshita
'82.

Intel International Science and Engineering Fair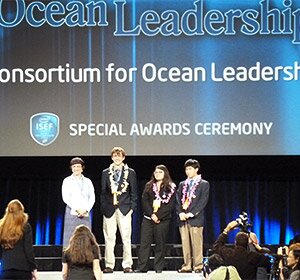 A representative from the Consortium for Ocean Leadership presents the prize to Logan Davis '13, Erin Main '12 and Kyle Flores '13.
'I
olani students were honored with a second place award of $2,000 from the Consortium for Ocean Leadership at the Intel International Science and Engineering Fair in Pittsburgh, Pennsylvania on May 17.
Erin Main
'12,
Kyle Flores
'13 and
Logan Davis
'13 joined 21 other students representing the state of Hawai'i at the fair, which included entries from more than 1,500 students representing 68 countries, territories and provinces. The 'Iolani team researched interactions between marine animals and human-disposed waste, mentored by Dr.
Margo Edwards
, senior research scientist at the University of Hawai'i School of Ocean and Earth Science and Technology. Team advisor is 'Iolani science teacher Dr.
Mark Lindsay
.

National Science Olympiad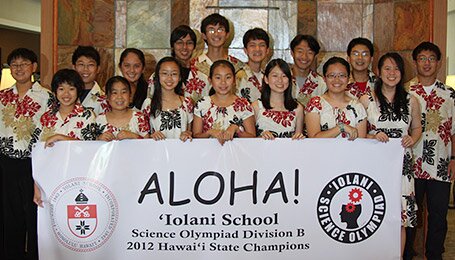 'Iolani's Science Olympiad team represented Hawai'i at the national tournament in Florida.
T
he 'Iolani Science Olympiad Division B team of
Julia Kawano
'15 and
EnZe Ma '15
placed fifth in the Water Quality event, earning Hawai'i's first medal from the National Science Olympiad Tournament.
Overall, the team placed 29th out of 60 teams in the middle school division on May 19 in the 28th National Science Olympiad Tournament in Florida.  
Team members are
Eileen Chen
'15,
Kennan Kaneshiro
'18,
Julia Kawano
'15,
Amanda Ki
'18,
Andrew Kobata
'18,
Christopher Lindsay
'17,
EnZe Ma
'15,
Emi Muranaka
'18,
Lauren Nguyen
'18,
Kimberly Peterson
'15,
Victor Pyun
'16,
Arjun Srirangarajan
'17,
Kaitlyn Takata
'16,
Kai Warner
'16,
Max Wei
'15, and
Winston Wei
'18.

Economics Challenge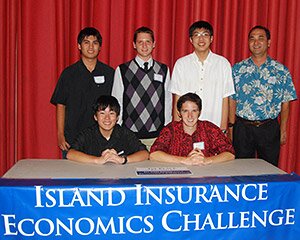 The David Ricardo divisionteam finished third in the National Economics Challenge.
'I
olani students won both the David Ricardo division and the Adam Smith division in the 2012 Island Insurance Companies Economics Challenge.
Hosted by the Hawai'i Council on Economic Education on April 4 at the University of Hawai'i, the spirited competition featured nearly 175 registered students from Hawai'i private and public high schools, showcasing Hawai'i's outstanding high school economics students. Maryknoll, Mililani and Kamehameha School-Kapalama were other finalists in the David Ricardo division. Maryknoll and Kamehameha School-Kapalama were the other finalists in the Adam Smith division.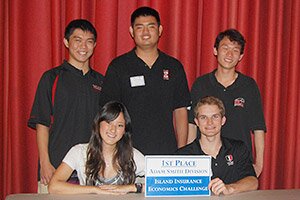 The Adam Smith division team won state and regional titles.
Reigning national champion 'Iolani claimed the Adam Smith division title for the 14th consecutive year. 'Iolani represented Hawai'i in a regional competition, won and moved on to the national finals in New York on May 19 and 20. 'Iolani's David Ricardo team finished third in the nation.
The winners of the Adam Smith division were
Connor Buckland
'12,
Stratford Goto
'12,
Aaron Nojima
'12,
Kirsten Peterson
'12 and
Steven Yee
'12. Winners for the David Ricardo division were J
ack Gregory
'14,
Kenneth Lee
'14,
Evan Lum
'14,
Shane Hayakawa
'14 and
Ross Villiger
'12.

May Day is Lei Day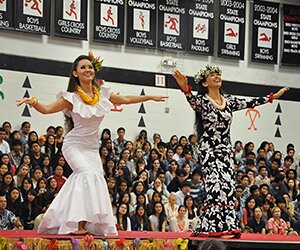 Anela Minuth '12 requested that her mother, religion teacher Linda Minuth, share the stage with her on May Day.
'I
olani celebrated May Day with what many described as one of the best programs ever.
One of the many highlights was May Day Queen
Ê»Ānela Minuth
'12 dancing to Keali'i Reichel's
Maunaleo
with her mother Lower School religion teacher
Linda Miyata
. The fine arts were also celebrated with an original portrayal of canoeing through the ocean and fish sculptures dancing in the dark. Kindergarteners, fourth graders and seniors also combined for a wonderful rendition of
Hawaiian Roller Coaster Ride
.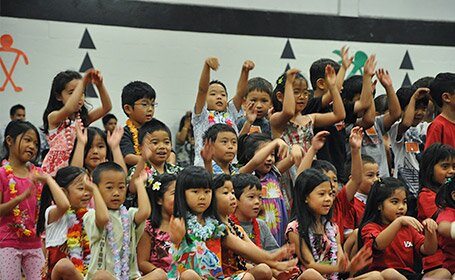 The Class of 2024 performed a favorite tune from the hit Lilo & Stitch.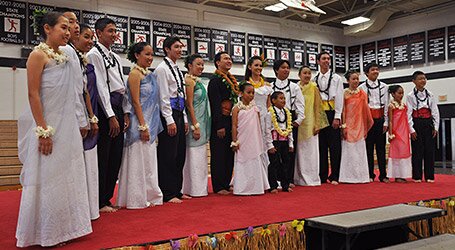 The May Day Court danced a regal hula in honor of Hawai'i's special day.

Big Sister of the Year Award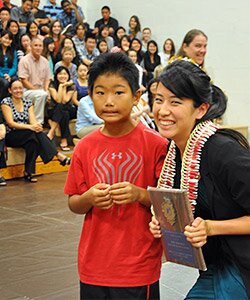 Mari Muraoka '12 was named the 2012 High School Big Sister of the Year. She served as big sister and mentor to Ala Wai Elementary student Rayce.
M
ari Muraoka
'12 received the 2012 High School Big Sister of the Year Award from Big Brothers Big sisters of Honolulu.
Muraoka was recognized for her exceptional involvement with the Big Brothers Big Sisters Program at Ala Wai Elementary. Since 2009, Muraoka has been volunteering at neighboring Ala Wai and mentoring "little brother" Rayce. Their three-year friendship was built through hours of talking story and playing tag. Muraoka also took Rayce to the 'Iolani fair and cheered him at his football game. Muroaka was also cited as a role model, not only for Rayce, but for the younger volunteers. "She has made a positive impact in Rayce's life, and they consider each other best friends," said
Dennis Brown
, president and CEO of Big Brothers Big Sisters of Honolulu. "What a powerful thing to do with one hour a week."

Dedication of Ka Mo'olelo O 'Iolani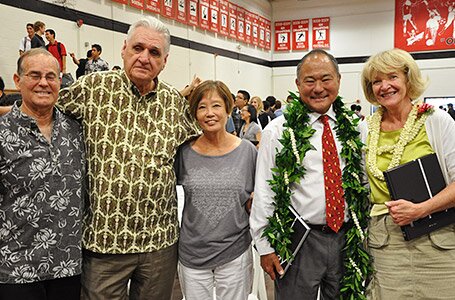 Jeffrey Moses, Jack Kay, Cynthia Iwashita, Dr. Val T. Iwashita '67 and Shirley Longo
T
he 2012 Ka Mo'olelo O 'Iolani year book
Replay
was dedicated during the service awards assembly on May 22 to longtime English teacher and founder of the 'Iolani Film Festival
Shirley Longo
as well as to retired Headmaster Dr.
Val T. Iwashita
'67.
"Ms. Longo brings the same virtues to friendship that she brings to teaching: care, warmth, humor, loyalty, trust," wrote retired Assistant Headmaster Charlie Proctor in a tribute in the year book.