This Issue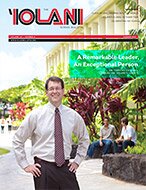 A Remarkable Leader, An Exceptional Person: Dr. Timothy Cottrell Carries on 'Iolani's Legacy
Read the full story »
Summer 2012 - Department
| News from the 'Ohana
The Beat Goes On!
S
ummer is here and the excitement on campus is infectious! It was a great school year filled with new experiences and fond memories!
I have to say the year went by much too quickly. Last September we sat in the art gallery and introduced a new website, new 'Iolani secondary logo, budgets, upcoming events, and class venues, the 'Iolani 'Ohana did an excellent job with every function. The parent volunteers made the year fun and brought new ideas to every meeting. It was my pleasure and honor to experience my year with each and every one of you! You have made a difference by volunteering and being an example to those around you.
To the 'Iolani 'Ohana, thank you for saying, "Yes."
I have learned so much this year by getting involved. I have a better understanding of the importance of the Institutional Advancement Office, I have gotten to know people who have enriched my life and I now call "friends." I will continue to encourage parents to get involved with 'Iolani School; not only for their children but for themselves. 'Iolani is a wonderful community with a welcome mat at its door.
Next year's 'Ohana President
Teri Matsukawa
is already busy preparing for an exciting new year as 'Iolani welcomes new Head of School Dr.
Timothy Cottrell
. Dr.Cottrell will lead the 'Iolani community in celebrating 150 years! Teri will serve her year with officers
Claire Aniya
,
Andrea Ching
and
Tracy Ide
.
As we move forward, I again say to the wonderful parent volunteers: Mahalo Nui Loa.
Aloha and A Hui Hou,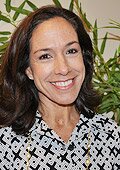 Terry Foy
'Iolani 'Ohana President 2012