This Issue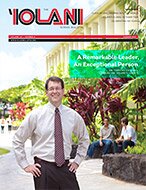 A Remarkable Leader, An Exceptional Person: Dr. Timothy Cottrell Carries on 'Iolani's Legacy
Read the full story »
Summer 2012 - Department
| Head of School Column
A Message From The Head of School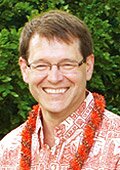 A
s I write this column, I am a month from assuming my second tenure as a school head. When you read this, I will have just begun the role at our school. It is one of the great opportunities of my life to serve the 'Iolani community and I am eager to meet and learn from all of you.
Years ago when I began my career as a head of school, a colleague offered wonderful advice, saying "there are many ways to be good at this job." This is a fortunate truth because schools are truly unique with distinctive cultures, beliefs, values and traditions. Initially, the "fit" as they call it in the language of school leadership, is a matching of school ethos and aspirations to leadership qualities and ability. Over time, this becomes coupled to a continual process of understanding and appreciation that is necessary for positive change. As I know all of you will help me with my understanding of 'Iolani, my thought for this initial aloha is to reciprocate and share some of what I believe in as a head of school.
First and foremost I hold that schools are about people. The best of what education offers is built on relationships. This is one of the reasons why independent schools deliver such a unique and exceptional educational experience. They are populated by people with a passion for learning and teaching and who are given the freedom to care about the growth of their students. These are places where so many look back and say, "That person helped me become who I am." Past and present, our school is filled with such caring and gifted individuals. We are communities of common cause that share a commitment to the education of our children as one of life's highest priorities.  School leadership is responsible to steward the institution so that the people of the school — all of its constituencies — experience the value of what it means to be part of this community.
Schools are remarkable places of creativity and discovery. Even with the traditions in which they are steeped and the momentum of historical practices, each and every day awakens new sparks of learning and innovation: from the "aha, I understand" moments for students and to the "interesting, I could weave that into the fabric of my class" for faculty. They are crucibles in which the special flavor and character of the institution finds resonance with prevailing trends from the external world.
First and foremost I hold that schools are about people. The best of what education offers is built on relationships.
Out of this mix, come new ideas, practices and evolutionary growth.
Another aspect of this role to which I commit a lot of time and energy is communication. At great schools such as 'Iolani, the scope of daily activity and achievement is often breathtaking. Through the stories of this daily life, who we are and what we do are most accessible. It is the responsibility of the school's leadership to make sure that all members of the school community share in our living narrative. This communication is important for our students as they look to the future and see the expanding possibilities of their world and as they revel in the past and find rejuvenation in the happy memories of their experience.  Faculty may look across the breadth of the school and appreciate the many dimensions beyond their specialty in which the "magic" unfolds as it does in their classroom. Parents find reassurance, faith and trust in this partnership that is the education of our children. And for alumni, our stories help keep their ties and memories strong and their commitment to the institution constantly rekindled. In turn, I greatly look forward to learning and hearing more about all of your stories and life at 'Iolani.
On behalf of my family, wife Lisa and sons Connor '20 and Sean '22, please accept our warmest mahalo for welcoming us to the 'Iolani 'ohana.

Dr. Timothy Cottrell