This Issue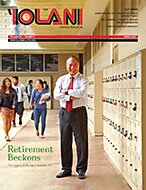 Retirement Beckons - The Legacy of Dr. Val T. Iwashita '67
Read the full story »
Spring 2012 - Department
| Alumni Association News
Thanking You For Making a Difference
I
'd like to welcome
Walter Muraoka
'62 to the Board of Directors of the 'Iolani Alumni Association. Joining the board in December 2011, Walter has served on the board in the past and will represent the decade of the 1960s well.
Many of you, like Walter, are currently making a difference in the lives of alumni and the school, and for that, I thank you. Serving on the Alumni Association Board is a way of giving back to the school we love. If you feel that this is your time to join the board and "to foster and enhance lifelong relationships among all alumni, guided by the principles and ideals of 'Iolani School," then please consider running for the board. Elections take place each summer, and in this issue of the
'Iolani School Bulletin
, you will find a Call for Nominations.
By the time this issue of the
Bulletin
reaches you, 'Iolani Fair 2012: Global Getaway will be a recent and unforgettable memory of camaraderie, fun, and reconnecting with classmates and the school. I want to take this time to thank each of you who has ever worked at the Fair. During my first year in my position, I have been constantly delighted and amazed by the energy that alumni bring forth when are asked to step in, help out, and serve. Volunteering at the Fair means hard work and perhaps multiple shifts in a food booth, but it also means fun: from students who work alongside alumni in food booths to young graduates who return to volunteer, the Fair transforms the childhood experience of running around with friends to an adult experience running around with adult friends!  
I'd also like to thank alumni who give their time and effort to the school in so many ways: from coaching sports, serving as mentors in robotics and mock trial, judging business plan competitions, serving on the Board, and through the countless other acts of love.  
Through your tireless efforts, you consistently set the bar higher for how future generations of alumni will give back to our beloved school and to the world. Thank you for representing all that 'Iolani stands for so well.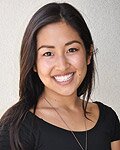 Kira Tamashiro '05
Director of Alumni Relations