This Issue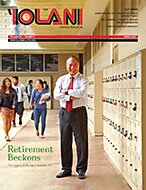 Retirement Beckons - The Legacy of Dr. Val T. Iwashita '67
Read the full story »
Spring 2012 - Department
| Editor's Note
Editor's Note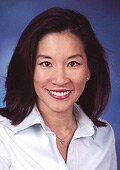 D
r.
Val T. Iwashita
'67 hired me in 1996. I walked into his office armed with my resume, portfolio, and unbridled enthusiasm for sharing 'Iolani's many wonderful stories.
Like all of us fortunate enough to join the faculty or staff here, I was—and wholeheartedly still am—passionate about spreading the news of the limitless accomplishments of 'Iolani's students, alumni, and school community. Not only do 'Iolani's successes make all of us proud, but the benefits of serving others have far-reaching effects beyond campus and around the world. 'Iolani's cup runneth over with stories of students and alumni who achieve their goals due to hard work, diligence, and the lessons they learned during their 'Iolani experience.
Dr. Iwashita's story  is one of 'Iolani's many successes.
This issue's cover story details his rise to Headmaster and pays tribute to his many accomplishments as he steps into the retirement chapter of his life. A lifelong educator who cares deeply about students and the community-at-large, his passion and compassion for empowering others with the tools to learn and grow have propelled 'Iolani forward. He has been dedicated to helping those around him reach their fullest potential, from the administrators, teachers and staff who report to him to the students who are the recipients of his vision for education.
Of all the times I was fortunate enough and had the pleasure of working and talking with Dr. Iwashita, one conversation I distinctly remember resonated with his more personal perspective. It was when he shared his experience of taking his oldest child to college for the first time in Seattle.
It was at a dinner party some years ago when Dr. Iwashita, his wife
Cynthia
, my husband and I happened to be sitting at the same table. When parents get to socializing, the conversation usually drifts to our favorite topic: our kids. So there we were, swapping stories about raising children and the roller coaster ride of parenthood.
Dr. Iwashita remembered being at the University of Washington in the fall of 1994. His son
Chad
'94 was embarking on his first year at the U-Dub. In their rental car, Dr. Iwashita and his son pulled up to the curb in front of the dormitory surrounded by lush foliage and Seattle's trademark pines. They hoisted boxes and suitcases of belongings that any college freshman would pack: twin XL sheets, pillows, a hamper, the assemblage of what  belongs on a desk like a lamp, clock radio, computer, and school supplies.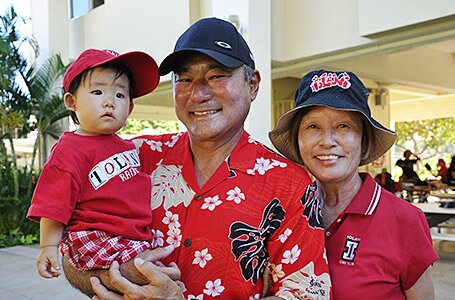 After hugging his son tightly and bidding a bittersweet farewell, Dr. Iwashita returned to the rental car, turned the key in the ignition and drove away, leaving his son to fend for himself and enter a new stage of life.
Perhaps that moment was a little like watching your toddler take his first steps on his own, or witnessing your teenage daughter dressed in an evening gown and trotting off to the senior prom with a date. As we know, leaving for college for the first time is a major milestone. Parents savor these moments with their children because eventually those times will be the memories that affirm how fast kids do, indeed, grow up.
As the distance between the car and the dorm's curbside grew greater, Dr. Iwashita, with his hands on the steering wheel, happened to glance up at the rear view mirror.
He was startled to see in the reflection that Chad was still standing there in the same place where they hugged. The younger Iwashita had not left just yet. The excitement of the dorm, the new roommate, the floor parties, and even the freedom from family could wait, at least until his father was out of sight. There Chad stood, all alone in the brisk air as he watched his father drive away.
As we know, leaving for college for the first time is a major milestone. Parents savor these moments with their children because eventually those times will be the memories that affirm how fast kids do, indeed, grow up.
Part of Dr. Iwashita wanted to pull a fast U-turn and drive back, get out of the car, hug Chad one more time, and reassure him that he loved him and that everything in college would be okay. It would not be 'Iolani, but it would be something new.
Instead, though he was torn, Dr. Iwashita kept driving forward. Sometimes a parent needs to let go so that his child has the opportunity to grow his own wings.
That personal story has stayed with me all of these years. I think it reveals Dr. Iwashita's immense capacity for kindness, compassion, and nurturing, yet also attests to his desire to do the right thing with the broader picture in mind.
Dr. Iwashita has accomplished  much in his past 17 years as Headmaster. His shoes will not be easy to fill. One of many reasons for his success is that his professional and personal missions are one and the same: to treat others with respect and dignity, to provide people with the tools necessary to learn and grow, to nurture, to mentor, and to lead.
On behalf of the entire 'Iolani School community, I wish Dr. Val and Cynthia Iwashita much happiness and joy as they reap the well-deserved fruits of retirement and time with their family and loved ones.
We thank them for all they have done for 'Iolani and for all they continue to do. They have made a positive impact on so many people. They have changed lives for the better, and while it's not easy to say good-bye, their legacy will remain a part of 'Iolani School…forever. 
The story of Dr. Val Iwashita is truly one of 'Iolani's proudest moments.