This Issue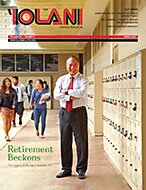 Retirement Beckons - The Legacy of Dr. Val T. Iwashita '67
Read the full story »
Spring 2012 - Department
| Pictures from the Past
Together for the 'Sure Shot'

The 1963 'Iolani varsity basketball team: Terry Lee '64, Ronald Ho '64, Howard Tan '64, Keith Morioka '64, Paul Simpson '63, Sherman Wright '63, Rodney Go '63, Richard Kenney '63, Dennis Morioka, Colin Young '63, Cary Ono '63 and Gary Yee '64.
T
he 1963 'Iolani varsity basketball team was described in the 1963 Ka Mo'olelo O 'Iolani yearbook as "lacking in height" but able to rely on "speed, teamwork and timing developed during practice sessions and the super coaching ability of Mr. Halter."
This team opened 'Iolani's new gym on December 1, 1962, by outscoring an 'Iolani alumni team 46–26. The alumni team back then included members of 'Iolani's championship basketball team of 1951.
The yearbook also described this team as "a unit working well to get the sure shot."