This Issue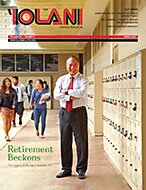 Retirement Beckons - The Legacy of Dr. Val T. Iwashita '67
Read the full story »
Spring 2012 - Department
| Alumni Profile
Serving the Underserved
By Jolyn Okimoto Rosa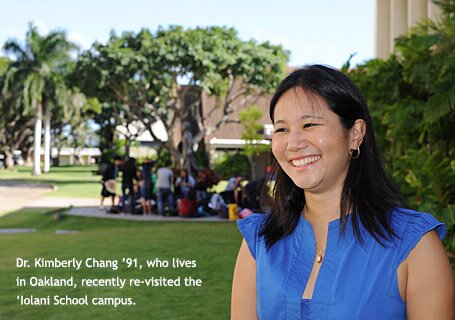 Kimberly Chang '91


Position:
Primary Care Physician

Education:
Columbia College, Columbia University, B.A. in East Asian Languages and Cultures; University of Hawai'i John A. Burns School of Medicine, M.D.; University of California at San Francisco - San Francisco General Hospital, Residency

Pasttimes:
Kickboxing, backpacking

I
f you ask Dr.
Kimberly Chang
'91 what she does for fun, she names kickboxing and backpacking through countries to see how others live. Work as a primary care physician at the Frank Kiang Medical Center of Asian Health Services in Oakland is also fun, she says.
What is fun to Chang might be overwhelming to others. Asian Health Services reaches out to a community Chang describes as the "urban underserved." About 70 percent of Asian Health Services patients  fall  below the federal poverty level. Chang also works at the facility's teen clinic, which provides health care to high-risk youth and young adults, including commercially sexually exploited children and victims of domestic minor sex trafficking.
Why and how does she do it? Chang credits her 'Iolani education.
"I knew I wanted to give back. I always had that social justice bent, even at 'Iolani, though I didn't know that term at the time," she says with a chuckle.
She also got direction from her parents. Her father,
T. Irving Chang
'56, was an attorney with a strong sense of what is right. He passed away in 2010. Her mother,
Jocelyn Chang
, worked as a speech pathologist with children with cerebral palsy before becoming a travel agent. Her grandfather was
Chang Chau
; he attended 'Iolani in the late 1870s and was a trusted ally to Dr.
Sun Yat-Sen
, according to the book
At Thy Call We Gather
. In 1907, Chang Chau (who was the grandfather of Irving) went to China when he received a telegram from Sun asking for help with the revolution.
Perhaps the innate desire to aid the underdogs has been passed down through the generations.
Chang says, "My mom always talked about the patients with such compassion, and we were just in preschool and early elementary school when (she) modeled those values and behavior for me and my siblings." Her siblings also attended 'Iolani:
Timothy
'89,
Allison
'90, and
Jonathan
'94.
After completing medical school at the University of Hawai'i John A. Burns School of  Medicine, Chang completed her family medicine residency at the University of California at San Francisco - San Francisco General Hospital. There she worked with and learned from urban underserved patients and populations.
Her field of medicine is not for the faint-of-heart. Where does she get the motivation and altruistic attitude that make her so special? She sees hope where others might not.
"What gives me hope is that we all have a chance to speak up on behalf of someone who can't—to provide a voice for the underdog, the marginalized, underserved and those without power," she affirms.
Chang tells of how in 2003 she and her colleagues at the clinic were seeing girls with repeated sexually transmitted diseases bringing friends to the clinic. Over time, she noticed changes in their appearance, such as tattoos. Sometimes the young women would come in high on drugs.
"They would deny it, but then they admitted they were selling themselves."
The clients often have a familiar pathology. Families left homelands embroiled in conflict and wars.
"What gives me hope is that we all have a chance to speak up on behalf of someone who can't—to provide a voice for the underdog, the marginalized, underserved and those without power,"
"There is a generational divide," Chang continues. "Some kids can only say a few words in their parents' language. They can't begin to ask, 'Why is that lady standing there on the street? What is she doing?'"
Besides language barriers, families lack support networks, and parents are struggling financially.
In 2004 Asian Health Services helped start a group called Banteay Srei (pronounced Bahn-tea-ay Suh-ray), a nonprofit that provides culturally appropriate intervention for Southeast Asian girls involved in or at-risk of sex exploitation. The site is www.banteaysrei.org.
"The name comes from a temple complex in Angkor Wat, Cambodia, where the walls are decorated in what appear to be goddesses," Chang explains. The group works on issues of self esteem, and works across nationalities to strengthen cultural and family ties. There is a medical part, a part that deals with exploitation and mental health services.
Most funding for youth programs comes through the criminal justice system, not in prevention and wellness. "These are victims and survivors, not criminals," she notes.

The Chang family has been connected to 'Iolani for generations.
Chang travels nationwide, giving talks that advocate for community-based services to support victims before they are arrested and enter the juvenile justice system—to stop the cycle of violence and exploitation. She has trained many clinicians, outreach workers, and educators in the field of commercially sexually exploited children and victims of domestic minor sex trafficking.
In May 2012, she will be recognized by KQED ( the public television station in the Bay Area) as an Asian Pacific American Heritage Month local hero. (See the story at  http://www.kqed.org/community/heritage/asianpacific/heroes/ )
Chang rattles off the names of  'Iolani teachers who influenced her—including Mr. (
William
)
Lee
'53, Mr. "
B
" (
Frank Briguglio
), Mrs. (
Joey
)
Miyamoto
. Her enthusiasm overflows for her time on the speech and debate team. She says the experience not only honed her communication skills but also helped prepare her for medical school and residency.
"Speech and debate under Mrs. Miyamoto was intense!" she writes in an email. "I learned a lot of self-discipline, control and focus. Our team would research day and night, work on weekends, practice relentlessly ... and this was way before the era of high school kids drinking highly caffeinated beverages!"
Miyamoto and Briguglio both recall "Kim" with fondness. Interestingly, both teachers also recall Chang's close-knit family.
Bruiguglio says he isn't surprised at Chang's career path and the challenges she has taken on.
"It all starts with family," he says.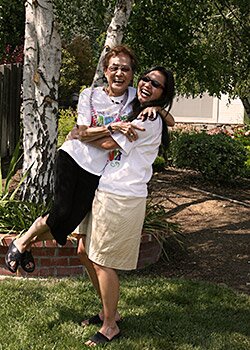 Dr. Chang credits her grandmother, Gladys Yee, '88, with setting an example of how to treat others with kindness and respect.
Chang cites her family as a source of hope, calling them inspiring, good people. Her grandmother,
Gladys Yee
, '88, has been a big influence. For more than 20 years, Yee has made lei for 'Iolani coaches (and University of Hawai'i Wahine  volleyball coach
Dave Shoji
), and asks her friends to donate money to support Chang's efforts on behalf of sexually exploited minors and Asian Health Services.
Even though Chang's work requires so much giving, she is always learning. Recently she met an elderly Cambodian female patient who helps her family despite her own extreme poverty.
"We all have the opportunity to serve, and I see it every day in my patients who literally and materially have nothing, yet they are more generous in spirit than many who have wealth and abundance."
Comments from Readers
Howard Hatayama

As a fellow Iolani alum and long time Oakland resident, I am proud to be supporting Asian Health Services and Dr. Chang's vital work.