This Issue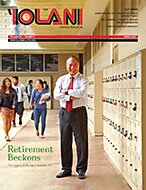 Retirement Beckons - The Legacy of Dr. Val T. Iwashita '67
Read the full story »
Spring 2012 - Department
| St. Alban's Minute
St. Alban's Minute
Jesus said: "Do not store up for yourselves treasures on earth, where moths and vermin destroy, and where thieves break in and steal. But store up for yourselves treasures in heaven, where moths and vermin do not destroy, and where thieves do not break in and steal. For where your treasure is, there your heart will be also.
(Matthew 6:19-21)
L
egacy. Last week my very first iPod stopped working properly. A fourth generation device, with no touch screen and monochrome LCD display, it relied on a "click-wheel" for song selection, which was the part that failed. But the iPod still has all my music. When I took it to the Apple store, the Genius Specialists called each other over to marvel at its sleek chrome and white poly-carbonate lines. Some had never seen one like this. Sadly, I was told it could not be repaired and, as I suspected, is now considered a "legacy" device.
When it comes to our 21st century technological world, the word
legacy
pertains to any old and outdated component of hardware or software that, though still functioning, does not work well or is not supported by current systems. My iPod is now relegated to that great neither region (neither current, neither supported) that begins with "Well, back in my day…" and includes floppy disks (yes, they really WERE floppy), Palm Pilots, the Apple Macintosh, IBM's OS2 Warp, and Windows XP.
Just because something is a legacy does not mean what it offered is not useful today. Today's device, built on the legacy left by portable tape and CD players, has evolved into a smart computing device capable of recording and editing video, as well as browsing the Internet. It  is used as an educational tool by students and teachers alike.
Recently, we commended to God and lay to rest  longtime kindergarten teacher
Phyllis Latimer
. Though retired from ʻIolani many years ago, she was a familiar face on campus as a substitute and summer school teacher. She was 80 years young and held a fighting spirit. At her funeral, students, colleagues, and family spoke of her legacy. Her legacy is known not in material goods. No one talked about the car she drove or the size of house she lived in. Everyone spoke about  her laughter, her cooking, her love of learning, her care and concern for others, and the joy she brought to teaching students. Her most important legacy is now the legions of young men and women, her former students, poised to take on the world.
ʻIolani is at a significant moment as we prepare for new construction, welcome a new Head of School Dr.
Timothy Cottrell
, and give thanks to our retiring Headmaster Dr.
Val Iwashita
and the impact and legacy he leaves behind. Dr. Iwashita's legacy is not just his alone, but continues the legacy passed on to him by his predecessors, Captain
Thomas Miller, Reverend David P. Coon, Reverend Burton MacLean
, and others going back to the vision of
King Kamehameha IV
, who supported 'Iolani's founding. I am grateful to Val for the opportunity to minister to this community and will keep him and
Cynthia
in prayer as they seek out new adventures in retirement.
What is your legacy? What do you leave behind? We must leave things better than when we got them.
ʻIolani has many treasures that belong to its legacy. Our campus will change, buildings will be built and torn down, such is the way of progress. Headmasters, teachers, staff, and students will come and go through history, but the legacy we pass on must be something deep and abiding.
What is your legacy? What do you leave behind? We must leave things better than when we got them. It is prudent that we take care of our families and our charities with the legacy of tangible treasures, but those cannot and should not be the only things we leave behind. These are treasures that moth and rust consume, things of extrinsic value. Just as important are the treasures of the heart, the "treasures in heaven" of which Jesus speaks.
The Rev. Daniel L. Leatherman