This Issue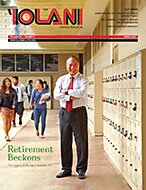 Retirement Beckons - The Legacy of Dr. Val T. Iwashita '67
Read the full story »
Spring 2012 - Department
| School in Focus
School In Focus
One to One iPad Project

Gabi Ah Mook Sang '20 and Olivia Fasi '20 use their iPads to research a school project.
'I
olani's One to One iPad Project was launched in January as the school's 66 fourth graders each received an iPad for engaged learning during the remainder of the school year.
Dean of Lower School Gerald Teramae, Debbie Yoshino of the school's instructional technology department, and other teachers held a meeting for fourth grade parents on January 11 to explain the One to One iPad initiative.

Cole Ichikawa '20, Lima Harbottle '20 and Sage Kanemaru '20 collaborate in class.
Then on January 25, iPads were distributed to students.
Students learned how to use the iPad tutorial, while both students and their parents heard information about keeping safe in cyberspace and signed an Internet Safety Pledge.
How have students reacted to the project?

Max Miyashiro '20 delights in the wonders of technology.
"They are expanding their learning beyond the classroom in every subject," says teacher Candace Young. "So far, they have created keynote presentations and iMovie projects, searched the Internet for information, and typed writing assignments. They practiced math concepts and studied science and religion using interactive applications."
The most commonly used adjective by fourth graders when asked to describe how an iPad enhances learning and studying: "Awesome."

Tsinghua and 'Iolani Exchange Program Begins
Through a newly established educational partnership between 'Iolani and the High School Attached to Tsinghua University, 15 students from China attended 'Iolani for a week in February while 'Iolani students traveled to Beijing to study at Tsinghua during spring break. The mission of the program is to help prepare students for global citizenship by enhancing learning about different cultures and international relations.
Last year, Headmaster Dr.
Val Iwashita
established a sister-school relationship with Tsinghua. Among other aspects of the relationship, Tsinghua's girls and boys basketball teams came to Honolulu this past fall to participate in the 'Iolani Prep Classic against some of the best teams in the United States.
Mahalo to the 16 'Iolani students (from eighth to eleventh grades) and teachers
Rebecca Lin
,
Tracy Feng
,
Kam Monaco
'87 and Dean of Students
Tate Brown
'86, who hosted the visitors.

The Economist as Sleuth and Novelist

Dr. Ken Elzing, served as the 2012 'Iolani School Economics Chair Holder, visiting and teaching classes.
2012 'Iolani School Economics Chair Professor Ken Elzing visited 'Iolani on March 12, teaching classes and then holding a free public lecture, "Economist as Sleuth—Economist as Novelist," in Seto Hall that evening. Elzinga is the Robert C. Taylor Professor of Economics at the University of Virginia. He has received numerous teaching awards, and each fall his introductory economics course attracts over one thousand students, making it the largest class offered at the University of Virginia. An expert in antitrust economics, he has testified in several precedent-setting antitrust cases, including three Supreme Court decisions. The 'Iolani School Economics Chair is supported through donations and supports a visiting teacher each year. By enhancing its core curriculum with guest lecturers who share broad perspectives, 'Iolani School hopes to provide real world experiences to its students and the community.

Thank You to KA'I and 'Ms. Allison'
Fredrick Au
, an eighth grader at Jarrett Intermediate who entered 'Iolani's summer KA'I program two years ago, was the March winner of the "Thank You… Very Much" Award.
He wrote a winning letter to 'Iolani community service coordinator
Allison Ishii
'02. Ishii is the director of the KA'I program (Kukulu Alaka'i 'Iolani or the Creation of Leaders) which is a partnership between 'Iolani and Jarrett Intermediate in which Jarrett students enroll at 'Iolani during the summer. The award was presented to Au at Jarrett Intermediate in front of his classmates.

Jarrett teacher Angela Atkins, 'Iolani Community Service Coordinator Allison Ishii '02, Fredick Akau, and Scott Williams, president of Lex Brodie Tire, Brake and Service Company.
The "Thank You…Very Much" Award—sponsored by Lex Brodie Tire, Brake & Service Company—invites Hawai'i students in fourth through twelfth grade to submit a letter describing their appreciation of someone who impacted their life. The "someone" may be a parent, teacher, friend or anyone who has touched their life in a profound way. The program recognizes one winning student writer per month. The letter was published in
MidWeek
and winners honored on the Perry & Price breakfast show on KSSK radio. The letter recipient also receives a two-night stay at the Sheraton Princess Kaiulani.

Joseph and the Amazing Technicolor Dreamcoat
'Iolani's peformance of Joseph and the Amazing Technicolor Dreamcoat illuminated the stage at Hawai'i Theatre.
See more photos »
Students performing in the annual spring musical did it again. They brought audiences to their feet for standing ovations and thunderous applause. This past March 1 to 3, the 'Iolani Performing Arts Department presented the Broadway musical
Joseph and the Amazing Technicolor Dreamcoat
Hawai'i Theatre.
With music by Andrew Lloyd Webber and lyrics by Tim Rice,
Joseph and the Amazing Technicolor Dreamcoat
is based on the "coat of many colors" story from the Bible's Book of Genesis. The performance is told completely through songs and dances, appealing to people of all ages with its universal themes and catchy tunes. The show has been performed around the world by professional and amateur companies.
Directed by theater teacher Rob Duval with musical direction by band director
Manny Dayao
'97, vocal direction by choral teacher
John Alexander
and choreography by dance teacher
Katherine Jones
'93, the show featured a talented cast of nearly 60 students including
Austyn Lee
as Joseph,
Scott Tan
'12 as Jacob and
Summer Scott
'13 and
Brooke Alcuran
'14 as narrators.

Let's Talk College

At the College Panel were, top row, Director of Alumni Relations Kira Tamashiro '05, Robert Tamai '09, Ashley Yee '11, Reyn Ono '10, Director of College Counseling Todd Fleming; bottom row, Michelle Morioka '08, Cassie Tarleton '11, Matthew Tom '11 and Elisa Nirei '08.
'Iolani's annual College Panel took place on January 4 in Seto Hall with alumni currently enrolled in colleges and universities across the country addressing the senior Class of 2012 and describing their experiences beyond 'Iolani. Students at Harvard, Claremont McKenna, Willamette, Yale, Western Oregon shared their insight with the soon-to-graduate 'Iolani students.

Beijing Educators Visit Mandarin Class

The principal of Beijing No. 19 High School in China and his colleagues observed an 'Iolani Mandarin class.
Administrators from Beijing No. 19 High School in China visited 'Iolani on March 2 and observed teacher Tracy Feng's Mandarin class. They also enjoyed seeing the statue of a young Sun Yat-Sen and hearing about 'Iolani's phenomenal growth over the past 150 years. The educators say they are following 'Iolani's lead in international educational cooperation and hope to emulate the types of programs 'Iolani has established.