This Issue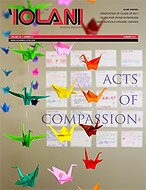 Acts of Compassion
Read the full story »
Summer 2011 - Department
| Alumni Association News
News from the 'Iolani Alumni Association
INCREDIBLE. That is the best word to describe my experiences over the past few months with my fellow alumni/ae. At first, I could not put into words what I felt coming out of events like the February Pau Hana, 'Iolani Fair and the Association's Golf Tournament. But as I sat speechless in front of my computer, pictures from various 'Iolani events started scrolling over my screen, and as I saw the smiles on the faces before me, it came to me…INCREDIBLE. One definition of the term is "so extraordinary as to seem impossible." Perhaps that is why I couldn't find the exact words to describe my feelings, because it is difficult to believe that one school can have such an amazing group of people—the teachers, administration and staff, students, parents, and of course, our alumni/ae—generating the most INCREDIBLE feeling of camaraderie.
I am lucky to personally witness the INCREDIBLE fellowship among alumni/ae serving on the Association's Board—people like
Guy Kamitaki
'73,
Grant Ishikawa
'86,
Ken Kawahara
'87 and
Marnie Hursty
'89, who worked hard in the "One Team" spirit with other board members and alumni/ae on events like the cooking class with Chef
Eric Leterc
at The Pacific Club, fair and golf tournament.
And, the extraordinary generosity and feeling of camaraderie flows not only from board members, but from the general alumni/ae community. All I had to do was walk onto the 'Iolani campus during the fair to feel that spirit. It takes an INCREDIBLE group of people to
want
to come together in the blazing heat to not only catch up with old friends, but to graciously volunteer their time cooking over hot woks and grills for a special school. And, despite the hard work, laughter and joviality filled the air among the alumni/ae booths. I couldn't get enough of it. It was INCREDIBLE!
Then, when I thought it couldn't get better, I attended the association's golf tournament. The
Class of 1980
did an INCREDIBLE job putting together another successful tournament! I didn't even play, but spent the day taking pictures and meeting or catching up with alumni/ae and their friends, and I enjoyed every second of it. Everywhere I went, players were laughing, joking and simply having fun, and at the end of the day, though feeling a teeny bit outnumbered by members of the opposite sex and surrounded by new faces, I felt comfortable, happy and uplifted. I was amazed how a relatively small group of alumni, representing a wide range of classes and decades, could provide such a strong feeling of fellowship. At that moment, as at the fair, I felt so proud to be an 'Iolani alumna and to be able to associate myself with such an INCREDIBLE group of people.
I find it hard to believe that you can find the INCREDIBLE sense of fellowship, camaraderie, friendship and 'ohana you feel among 'Iolani alumni/ae anywhere else. It is too extraordinary to be possible.
Sincerely,
Adrienne Shimonishi Elkind '90
President
'Iolani Alumni Association 2010-11