This Issue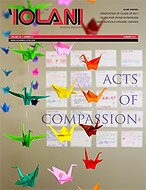 Acts of Compassion
Read the full story »
Summer 2011 - Cover Story
Acts of Compassion
As part of the Socks for Japan drive, Ally Ah Cook '22 brought 11 pairs of new socks and wrote notes of encouragement for people in Japan. The Japanese kanji reads: We are praying for the recovery of Japan. We hope our prayers will reach Japan from Hawai'i.
F
irst grader
Ally Ah Cook
may be missing two front teeth, but somehow that makes her smile even more beautiful. Perhaps it is because the girl behind the smile is doing something to help others. Instead of spending morning recess on the playground, she and throngs of other Lower School students have chosen to write notes to strangers in a foreign country.
These are no ordinary notes. The pages are covered with colorful drawings and heartfelt handwritten phrases. Students in 'Iolani's Lower School are writing messages of hope, love and encouragement to people whose lives were forever changed after the March 11 earthquake, tsunami and nuclear reactor breakdown.


Fifth grade teacher Robyn Hiraki helps collect sock donations.
"Never Give Up" is on the note from Ally.
"God Loves You" is what fellow first grader
Megan Leong
wrote on hers.
As part of the Socks for Japan worldwide project, each note is accompanied by a pair of new socks. People fled their homes, forced to run for their lives, with only the clothes on their backs and bare feet. They had no time to collect belongings and now live in shelters which can be cold and damp. The people are comforted by sincere encouragement, like handwritten notes from children. When volunteers distribute supplies, there is usually a line for socks.
The depth of compassion, concern and care has been limitless. 'Iolani's people are committed to helping and serving others, and their actions show it.
Led by
Edean DeMello
, in the school's performing arts office, and the Lower School student council, 'Iolani collected nearly 2,000 pairs of new socks which were delivered to shelters in Miyagi and Fukushima prefectures thanks to a network of 'Iolani alumni such as
Kimi Yuen
'91,
Mark Okumura
'91,
Kortney Kono
'92 and
Fred Kono
'64.
Participating in Socks for Japan is one of many, many ways the 'Iolani community has poured its heart and soul into reaching out to those suffering in Japan. The depth of compassion, concern and care has been limitless. 'Iolani's people are committed to helping and serving others, and their actions show it.


Liana Schmidt and Ava Schmidt attended 'Iolani from kindergarten to third grade before they moved to Japan. Following the earthquake, they returned to Hawai'i in March and enrolled in Kaimuki Middle School. They reunited with friends from 'Iolani's Class of '17 for a day at Sand Island. Pictured are, left to right, Lucy Park '17, Hailey Monaco '17, Cassidy Wheeler '17, Liana and Ava Schmidt.
"If there's anything we can do, we will do it," said Allison Ishii '02, 'Iolani's community service coordinator.
Students and alumni roll their sleeves up throughout the year for various community service projects. From cleaning graffiti in Mō'ili'ili to holding a book fair for neighboring Ala Wai Elementary, 'Iolani is a steward of service for others.


'Iolani community service coordinator Allison Ishii '02 and Shireen Kheradpey '11 collect donations for the American Red Cross.
For a myriad of reasons, the call to assist Japan is different. The scattering of homes and lives there has touched every person on campus, directly or indirectly.
ESL student
Sally Kishi
'13 was born in Chicago, but her parents were born in Japan. She has cousins who live Niigata and her grandmother lives in Shiba. She constantly worries and volunteered to translate notes from her fellow schoolmates so that people in shelters in Japan could read words of encouragement from Hawai'i.
"Our school is really special," Kishi says. "I really hope the letters and money will help the people in need of it."

Posters surrounded tents on March 29 and 30 where students made donations to the American Red Cross, folded paper cranes and wrote notes of hope.
Gabby Perry
'11 has never been to Japan or beyond the U.S., but watching media coverage of the tsunami made a significant impact. She needed to do something.
"I was watching the news and basically crying because it was so devastating," she said. "All those people dying and losing their livelihoods. But then I thought they don't need my tears. They need my help."
Perry, who attended Jarrett Middle School in Palolo before entering 'Iolani in ninth grade on a Weinberg Foundation scholarship, is a talented musician who plays the tuba with the Hawai'i Youth Symphony. She believes the power of music moves people to take action. She had an idea to turn what was scheduled as a free Hawai'i Youth Symphony concert into a fundraiser for Japan. She posted her idea on Facebook, then dozens of positive responses followed. Through a lot of hard work, phone calls, and last minute program changes, her vision for the April 10 concert brought in $20,000 which was all donated to the American Red Cross.


Student posters in the school's courtyard drew attention to Japan.
Concern for others and productive citizenship in local, national and global communities are important parts of 'Iolani's mission.
"If you are in a position to help anyone, then you do it," Ishii added.
American Red Cross: Japan Earthquake and Pacific Tsunami Fund


'Iolani Weinberg Scholar Gabby Perry '11, second from left, Henry Miyamura, far left, and Chris Yuen, far right, of the Hawai'i Youth Symphony present a check to Coralie Chun Matayoshi of the American Red Cross.
To give something without expecting anything in return is an ability that truly comes from the heart. 
It took only a simple email message and a tent on the 'Iolani courtyard to draw students, teachers, and staff to come forward with outright donations totaling $12,000 for the American Red Cross. On March 29 and 30, the Japan relief tent, with posters created by seventh grade geography students, was a hub of activity. Donations ranging from 65 cents to $1,000 came in. Three seventh graders (
Sammi Yee
'16,
Leia Tashiro
'16 and
Kailee Oshiro
'16) donated $139 that they made through their weekend lemonade stand. Alumni
William Wong
'59 and
Ronald Yonemoto
'65 came on to campus to each make donations. A member of the school's physical plant department gave $100. 
"Whether you have $1 or $100, give what you can and if you can't give money, then you can fold a crane or write a note," Ishii said.
Paper Cranes for Japan


Nicole Yamaguchi '15 folds a paper crane.
Students folded origami cranes to demonstrate their concern and compassion for the people of Japan. The crane is regarded as a cultural treasure in Japan, symbolizing good fortune and longevity. The paper cranes were strung into murals which have been on display in St. Alban's Chapel. They serve as reminders of the 'Iolani community's prayers and thoughts for the people of Japan.
Notes of Hope


Sally Kishi '13 and Merrysha Castillo '12 write prayers and messages of compassion.


Takamichi Suzuki '12 volunteers to translate notes into Japanese.
Students, teachers, and staff on campus gathered together to write notes of hope for the people of Japan. Volunteer parents and students helped translate the notes into Japanese. Some contained simple messages like, "Don't give up" or "We are praying for you." All were written from the heart.


Parents Nathalie Morigami, Kyoko Hatanaka and Kaori Masutani volunteered to translate notes into Japanese.
The notes were sent to 'Iolani alumnus
Lea Okudara
'00 who has lived in Tokyo for three years and works for Hawai'i Tourism Japan. Okudara was among the volunteers who delivered the letters to people living in evacuation shelters. She also led a group of alumni living in Tokyo to write additional notes, supplementing what 'Iolani students wrote.
Soon, she will also work with other alumni in ICAN ('Iolani Community Action Network) on hands-on relief projects. She understands the road to recovery in the Tohoku region will be a continuous and long journey.
"It's important to give back, especially to those in need and those in your backyard. I was especially inspired by everyone in Hawai'i who has been incredibly supportive and has shown so much aloha for Japan."
T-shirts and sticker


Volunteers Keiko Asai, Paul and Mako Tomita, David and Kelly Wong, and Yoshiko Kozuki helped raised nearly $25,000 for the American Red Cross by selling "Ganbare" t-shirts at the 'Iolani Fair.
The 'Iolani Fair is the school's biggest fundraiser, yet it was also the venue for sales of a t-shirt that benefitted the people of Japan.  For a seventh grade community service project, parent
Paul Tomita
organized the design and inventory of a t-shirt with the word
GANBARE
(persevere) silk screened on the chest. Proceeds from sales of the $15 shirts brought in nearly $25,000 for the American Red Cross. Parent volunteers helped sell the shirts at the fair.
Also, student
Drew Uchiyama
'13 created a sticker to benefit Japan that was sold at the fair with proceeds benefitting people in Japan.
Genki Notes


Sponsored by the U.S. Japan Council and the Japan Foundation, Genki Notes is a project designed to share hope and courage with the people of Japan.
'Iolani students participated in the "Genki Notes for Japan" community service project (www.genkinotes.com). Genki means a source of energy and happiness. The project involved schools across the country as students drew pictures and wrote messages of hope which were delivered to people in Japan by the U.S. Japan Council and Japan Foundation.