This Issue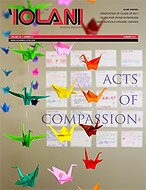 Acts of Compassion
Read the full story »
Summer 2011 - Department
| Pictures form the Past
Tradition of One Team
The 'Iolani varsity basketball team in 1952-53 ended the season with four wins and 12 losses, according to the 1953 Ka Mo'olelo O 'Iolani. Coached by Roland Chinatti and led by co-captains Tamotsu Tanaka '53 and Benjamin Pataray '53, the team faced a strenuous season, playing two rounds for the first time in the league.
"As usual, the Red Raiders (sic) displayed their good sportsmanship throughout the season, win or lose," wrote the editors of the yearbook.


The 1952-53 varsity basketball team displayed courageous effort and improved with each game that season, according to the 1953 yearbook.