This Issue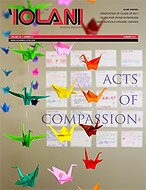 Acts of Compassion
Read the full story »
Summer 2011 - Department
| 'Ohana News
News from the 'Ohana
'Iolani 'Ohana Celebrates Silver Anniversary
In 1985, there were no Nangaku, Ai, or Weinberg buildings on campus—nor an Olympic-sized swimming pool! Our main fundraiser in April was the 'Iolani carnival rather than the fair. Using personal computers and cellular phones was just getting started! It was also during the 1985-86 school year, that a group of dedicated parents from Upper and Lower School came together to form the 'Iolani 'Ohana.
According to the first 'Iolani 'Ohana newsletter, the purpose of this organization was to "promote the One Team spirit (among) parents, students, faculty, administration members, alumni and friends". The organization strived to "foster friendship" and "encourage the participation of the entire family in support of the school."
Although many things have changed in 25 years, today, our 'Iolani 'Ohana is consistent in its original purpose and continues to provide vital support to the school and community. Our council now consists of twice as many participants, and innovative new activities and programs have been established. Additional educational and social opportunities are provided through the 'Ohana Speaker Series, Community Service Projects, Parent Interest Groups, College Life After 'Iolani, and Career Shadows committees.
An Expression of Gratitude
The high expectations held for the 'Ohana during this past school year were met with positive outcomes. Our goals for the year were accomplished as we worked harmoniously to support teachers and the school, as well as engage the 'Iolani community in pertinent activities and discussion. We had fun, though also covered topics of practical and global concerns such as college admission, nutrition, and the support of worthy causes. Ultimately, I believe we helped to improve our overall health and emotional well-being, encouraged support of those in need, and made friends along the way.
A HEARTFELT THANK YOU to all those on the 'Ohana council and to the many other volunteers who have contributed in so many ways! Your time and effort have made an important difference. You are very much appreciated!


Members of the 'Ohana Executive Council include: Lorinda Wong-Lau, Leigh-Ann Yokoyama, Cheryl Wong, Teri Matsukawa, Lisa Hiraoka and Terry Foy.
Congratulations to the 'Iolani 'Ohana on 25 wonderful years of commitment and service! It has truly been an honor and a privilege to serve as part of this vital organization. Here's to 25 more years of success!
Mahalo nui loa!
Cheryl L. Wong
'Iolani 'Ohana President 2010-2011