This Issue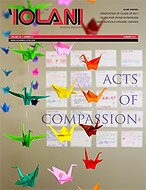 Acts of Compassion
Read the full story »
Summer 2011 - Department
| School in Focus
School In Focus
Economics Champs
'Iolani School won championship titles on April 11 in the 2011 Island Insurance Companies Economics Challenge. As the reigning national champion, 'Iolani claimed the Adam Smith division title for the seventh consecutive year. 'Iolani represented Hawai'i in an online regional competition with regional winners moved on to the national finals in New York on May 21-22.
The winners of the Adam Smith division were:
Richard Chang
'11,
Mark Grozen- Smit
h '11,
Bobby Huang
'11,
Tyler Tokunaga
'11 and
Andrew Wu
'11.
"In a survey of Hawai'i's students, many did not understand current economic principles and concepts," said Council Executive Director
Toni Takeno
. "Students at this caliber deserve special recognition because they are challenging the current statistics," she added.


'Iolani's Adam Smith Division Economics Team included Andrew Wu '11, Richard Chang '11, Mark Grozen-Smith '11, Tyler Tokunaga '11, Bobby Huang '11, and economics teacher and coach Dick Rankin.
During initial rounds of the competition, students tackled fun and challenging written tests of their economic understanding and reasoning ability. The final rounds of the Economics Challenge involved a "first-to-the-buzzer" lightning-fast "Jeopardy Style" format as teams answered questions on complex economic concepts and theories involving micro and macroeconomics, international economics, and current events.
"The knowledge and poise under pressure displayed by all participants were truly impressive," said Nolan Kawano, Senior Vice President and Chief Financial Officer of Island Insurance. "Their exceptional performances show that Hawai'i has many outstanding future economic leaders," he added.
Hosted by the Hawai'i Council on Economic Education at the University of Hawai'i Campus Center Ballroom, the competition included over 150 registered students from Hawai'i private and public high schools.
Orchestra to Perform at Midwest Clinic
The 'Iolani School Orchestra has been selected to perform at The Midwest Clinic, an international band and orchestra conference from December 14 to 17 in Chicago, along with ten other school orchestras from across the country and China. This is a huge accomplishment for the ever-growing, in both numbers and quality, orchestra program as 'Iolani will perform before more than 15,850 educators, performers, exhibitors and clinicians from across the country and around the world. The clinic aims to raise standards of music education, develop new teaching techniques, disseminate information to school music teachers, and to examine, analyze and appraise literature dealing with music. For more information, see www.midwestclinic.org.
Science Olympiad Wins State Championship
'Iolani's newly established Science Olympiad team won the Hawai'i State Championship this past March 2011 and was among 60 teams from across the country to compete in the national finals at the  University of Wisconsin, Madison on May 21. 'Iolani finished with a national rank of 39, the highest rank achieved by a Hawai'i team. The previous highest was rank 52  by Mililani in 2010.
The Science Olympiad challenges students to apply their scientific knowledge and innovative thought to solve a variety of challenges.
Of the 23 different events, 'Iolani finished in the top 10 (out of 60 teams) in the Chemistry Lab event; in the top 20 in four events: Dynamic Planet, Microbe Mission, Sumo Bots  and Towers; and in the top 30 in four events: Astronomy; Forensics; Protein Modeling and Remote Sensing.
The 'Iolani team included the following students:
Eun Ah Cho
'12,
Rachel Ki
'12,
Iris Kuo
'12,
Erin Main
'12,
Kirsten Peterson
'12,
Arnold Chang
'13,
William McQuiston
'13,
Amane Morigami
'13,
Michael Mow
'13,
Christian Rodriguez
'13,
Tara Srirangarajan
'13,
Kevin Suzuki
'13,
James Teruya
'13,
Blake Tsuzaki
'13,
Jasmine Ying
'13.


'Iolani entered the state Science Olympiad for the first time this year and won the state championship.
Discussing APEC with Ambassador Michael W. Michalak
Students and educators, from seven schools including 'Iolani, had the opportunity to meet Ambassador
Michael W. Michalak
in 'Iolani's Seto Hall on April 6. Michalak is a career Foreign Service Officer with extensive knowledge and experience in Asia. He assumed the position of Senior Advisor to the Private Sector Host Committee for APEC 2011 in February 2011. He previously served as United States Ambassador to Vietnam from 2007 to February 2011. Prior to this position, Michalak served as the U.S. Senior Official to APEC, Bureau of East Asia Pacific Affairs. At 'Iolani, he spoke about the history and structure of APEC, and provided an overview of the 2011 U.S. APEC host year. In addition to APEC, students asked questions and learned about topics ranging from U.S.-Vietnamese relations, a career in foreign service, the process of becoming an ambassador, the ambassador's most memorable moments and greatest achievements, and the dispositions and capacities required to be an effective ambassador.
First in Japan Wizards Bowl


The Japan Wizards teams included: Aaron Nojima '12, Micah Lau '12, Dylan Miyasaki '12, Trey Takara '13, Melanie Carlile '14, Brittney Imada '14.
'Iolani entered two teams in this year's Japan Wizards Bowl Competition. The teams took first place in both the upper and lower divisions, a competition that included 126 students from 24 public and private schools statewide and was held this past March at the Kapiolani Community College. Sponsored by the Japan-America Society of Hawai'i, the bowl competition challenged participants to answer questions on language, culture, history, politics, international relations, and contemporary issues. The 'Iolani teams and their advisors will travel this summer to Japan courtesy of the Japan-America Society of Hawai'i and the generosity of its sponsors.
Peace Week Raises Awareness
'Iolani's Spring Peace Week featured several events to raise awareness about how to exist more peacefully in the world.


'Iolani teacher Peter Greenhill and volunteer parent Laura Sprowls stand by a smart car during Peace Week.
The 'Iolani Peace Institute staged a "Go Green, Go Small" Sustainable Transportation Expo on March 1 featuring several small, high-mileage cars (including a hybrid) driven by teachers and an 'Iolani parent and one sponsored by Tony Nissan. Students examined the cars up close and discovered the economic and environmental benefits of the cars, as well as the dangers of over consuming resources. The expo also included a bicycle exhibit.
As an important part of Spring Peace Week 2011,
Austin Barnes
'06 returned to campus to speak to Upper School classes, in Lower School chapel, and in a Seto Hall lecture on "A Buddhist Journey." As an astrophysics major at Harvard, Barnes spent the fall semester of his junior year immersed in Buddhist studies in India through an Antioch College program. He spent four months living in Buddhist monasteries, learning from monks of various Buddhist sects and practicing meditation. The first three months he lived in Bodh Gaya, the city where the Buddha is said to have achieved enlightenment sitting under a bodhi tree. He spent the final month in Dharamsala, near the Himalayas, where the Dalai Lama lives in exile. There he worked on an independent study project on Tibetan Buddhism.
Barnes urged students to remain open to academic and cultural adventures and research study abroad opportunities in college. He described his Indian experience as "life-changing" and encouraged students to not be held back by trepidation about going off the beaten path, even if only for a semester.


Teacher Theresa Falk '86 leads a yoga session.
On March 4, a yoga activity capped off spring Peace Week.  Teachers and office staff were joined by dance students and teacher
Lisa Lee Simon
'88 in a yoga session led by English teacher
Theresa Falk
'86 in the judo room. Students experienced flexibility and inner peace, enhanced by the soothing sound of rain on the roof of the athletic complex. This was the second yoga event this school year open to everyone on campus.
Power of Anyone
Talia Lehman
, CEO and founder of RandomKids, was part of the successful 'Iolani 'Ohana Speaker Series this past school year. She held a keynote presentation in Seto Hall on March 17 while also visiting classes during the school day.


Talia Lehman spoke to 'Iolani students about how even kids can help others.
"You all have the power to make a difference," she told students. "It all just starts with a one person and an idea."
In 2005, Leman and her mentor
Ann Royse Ginther
, reached out to rally youths to help the victims of Hurricane Katrina. Their effort ended up ranking the giving power of U.S. school children with the top FIVE U.S corporations, coming in at over $10 million.
As a 10-year-old, Leman co-founded RandomKid, a unique nonprofit that empowers any random kid to solve real world problems by joining their efforts with other like-minded youth. Through RandomKid, Talia has worked with 12 million youth from 20 countries to provide aid on four continents. Together, RandomKid youth have funded water pumps, built schools, provided medical care, and all the while, fostered peace.
Enchanted Performance of Cinderella
The musical talent of students was as brilliant as a shiny glass slipper in 'Iolani's spring production of Rodgers & Hammerstein's
Cinderella
at Hawai'i Theatre from March 3 to 5. The timeless enchantment of a magical fairy tale was reborn in the production directed by
Rob Duval
, choreographed by
Katherine Jones
with musical direction by
Manny Dayao
. A magical pumpkin carriage created by the art department and a beautifully sounding live student orchestra added to the high caliber of the production. Congratulations to the entire cast and crew.
Photos Around the Campus


Giving back to the community, 'Iolani Girl Scout Troop #2 donated part of their cookie profits to the Ronald McDonald House. Pictured are 'Iolani scouts from the Class of 2021: Rebecca Sakoda, Madeline Heyler, Cameryn Anne Nagaji, Linda Ishikawa (director of philanthropy for Ronald McDonald House), Taysia Morioka, Marrianna Fong, Rachel Shimokawa, Malia Benn, Emily Takamiya, Zoe Omura, Dagny Brand, Heather Elkind, Miya Haga, Haley Hobbs, Molly Palalay. Not pictured: Courtney Lee, Melia Lee, Kiana Hockenberger-Leong, Lauren Ishikawa.


Actor Paolo Montalban, right, and director Greg Zane '81 visited 'Iolani School and spoke to students in Seto Hall about their careers in the performing arts and their experiences on Broadway. Montalban starred in the Diamond Head Theatre production of the "King and I" directed by Zane. He also co-starred with Whitney Houston and Brandy in the movie musical Cinderella. Zane, a talented dancer, actor and director living in New York, also guest taught advanced ballet classes at 'Iolani.


Seventh graders raised more than $28,000 for the American Red Cross Japan relief efforts through sales of Ganbare t-shirts. Students presented a check to Coralie Matayoshi on May 31.