This Issue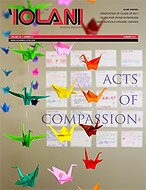 Acts of Compassion
Read the full story »
Summer 2011 - Other News
| Alumni
Sixteenth Annual A Touch of 'Iolani
The sixteenth annual A Touch of 'Iolani will honor two members of the Class of '61 with Alumni Service Awards for 2011.
Morris Lai '61
Morris Lai
'61 has been a member of the graduate faculty with the Department of Educational Psychology and Principal Investigator and Director of Evaluation, Curriculum Research & Development Group for the University of Hawai'i since 1974. He has served on doctoral committees of 51 students who earned their Ph.D.s and 17 students who earned their masters degrees. He obtained and directed $28 million in externally funded grants, most of which have focused on improving educational outcomes of Native Hawaiian students. He holds a B.S. degree from Stanford University, a M.A. from the University of Hawai'i, and a Ph.D. from the University of California, Berkeley.
In 2011, he received the UH Chancellor's award as most outstanding Administrative, Professional, Technical employee and the lifetime achievement award from the UH College of Education. He has also completed a total of 30 marathons and is a Super Donor with the Blood Bank of Hawai'i (donating more than 100 pints).
He has been a longtime volunteer and supporter of 'Iolani. In 1984, he was on the planning committee of "Since Yesterday" and exhibit of 'Iolani's history. He served as the correspondent for the Class of 1961 for more than 35 years. In 1991, he organized the Father Halter Reunion. Partnering with classmate Dick Tsuda, he spearheaded several class fundraising drives, contributing to the successful participation rates in the school's annual giving campaign for the Class of 1961.
He and wife
Lorna
have two daughters,
Lori Lehuanani Lai
'85
and Kristie 'Ilima Lai
'88.


Morris Lai '61 and Dick Tsuda '61 will each receive a 2011 Alumni Service Award at A Touch of 'Iolani.
Dick Tsuda '61
Dick Tsuda
's career has evolved around his love of the outdoors and insects. During his undergraduate years, he worked for the Bishop Museum's entomology department. From 1969 to the present, he has been part of the University of Hawai'i, College of Tropical Agriculture & Human Resources, Entomology Department (now part of the Department of Plant & Environmental Protection Sciences). He is the Insect Identification Specialist for the Insect Diagnostic Clinic listed under both the PEPS Department and Agricultural Diagnostic Service Center. Dick served as President of the Hawaiian Entomological Society in 1987, and has been Treasurer and Business Manager from 1995 to present. He earned his B.S. and M.S. degrees from the University of Hawai'i.
Dick has been an active, supportive alumnus at 'Iolani for many years. Since 1978, he and his classmates have manned food booths at the 'Iolani carnival and now fair. He has also served on the Father Halter Memorial Baseball Tournament committee with classmates Morris Lai '61, Dr. Milton Oshiro '61 and James Miyashiro '61. He was also one of 32 interim directors during the restructuring of the 'Iolani Alumni Association in the early 1990s.
His family is closely tied to 'Iolani and the Priory: Father Dr. T
homas Y. Tsuda
'29, brother Dr.
Roy Tsuda
'57, sisters
Betty Clark
(Priory '59) and
Karen Sakamoto
(Priory '62). He and wife
Cassandra
have two daughters, Dr.
Sheri (Tsuda) Fong
'87 and
Vicki (Tsuda) Bunao
'95. Sheri is married to Dr.
Keith Fong
'86 and they have a daughter
Karalyn
'18. Vicki is married to
Robert Bunao
and they have a daughter
Marisa
, 3.