This Issue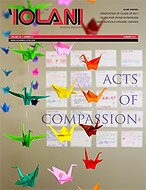 Acts of Compassion
Read the full story »
Summer 2011 - Department
| Editor's Note
Editor's Note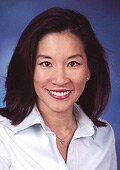 Our alma mater. The colors red, black and white. The official school seal. These are bastions of 'Iolani that will always invoke pride and recognition. Their sound and sight say clearly 'Iolani without having to spell the word.
The seal, like the American flag representing our nation, especially stands for 'Iolani's past, present and future. It symbolizes academic excellence, a caring and spiritual community, and strong leadership. The seal gives our school identity a visual presence.
That presence has always been an important part of a school's message. According to the book
At Thy Call We Gather
edited by
Arlene Lum
, 'Iolani's seal has evolved and improved over the years. Bishop
Thomas Nettleship Staley
's coat of arms was depicted in the 1941 and 1949 yearbooks looking like this.
The official seal of the Bishop and Diocese of Honolulu was then adapted by 'Iolani as the school seal and emblem. The Bishop's miter, the keys of St. Peter and the cross are from Bishop Staley's coat of arms.
The 'Iolani yearbook's centennial edition of 1963 displayed the seal like this with the founding year 1863.
Designer
Clarence Lee
'53 refined the seal in 1969 by rounding the bottom of the shield, simplifying the miter, accentuating the keys of St. Peter, modernizing the cross and enlarging the words.
In 1995, 'Iolani asked Lee to further refine the seal. He simplified shapes and enlarged the miter, the individual turns on the rope border and the dots on the inner circle. This is the seal we know and use today.
The seal is the official mark for all of 'Iolani's formal and ceremonial purposes. It is on our mission statement and molded into metal above our gymnasium doors. Yet there are times when a contemporary emblem of the school would be appropriate. Like a younger sibling to the seal, a less formal logo will also bring instant recognition. 'Iolani is now unveiling a simple mark to inspire school pride.
A team of school representatives met this past year to analyze perceptions of 'Iolani. Working with a professional agency, the team adopted one of their designs as the secondary logo. Soon, you will find it in many places, such as our web page www.iolani.org.
Beneath the surface, we believe in the philosophy of One Team. Now we have a mark that, when used by the whole 'Iolani community, will signify One Team: unselfish cooperation and mutual support, academic excellence, tradition and our Episcopal heritage.
Certainly, you will always see the official seal on 'Iolani diplomas and formal pieces. The seal is not being replaced. This new mark might be what you view on your car's rear window.
'Iolani nō ka 'oi.
— Cathy Lee Chong
Comments from Readers
Stan Sadowski '69

Bravo! I have been waiting for a logo that would be representative of 'Iolani School in athletics. This is the answer. The colors, symbols and font are ideal! Great work and congratulations!