This Issue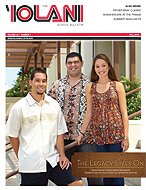 The Legacy Lives On - Eddie Hamada Scholarship Recipients Derrick Low '04, Issac Ickes '04, Leinani Keanini '08
Read the full story »
Fall 2010 - Department
| Alumni Association News
News from the 'Iolani Alumni Association
This past summer, I entered a Master's Degree Program in Private School Leadership, offered through the University of Hawai'i. The intent of the program is to groom a new generation of leaders for Hawai'i's independent schools. For six weeks, 24 cohort members toiled over pages and pages of scholarly literature, wrote more than a dozen papers, and discussed and reflected upon all things related to schools. It was an intense experience, but also intensely valuable.
This experience has led me to reflect upon the leadership of our Alumni Association. This wonderful group of alumni is fully committed to making 'Iolani a better place, and a place that alumni can feel connected to and be proud of. Evidence of that leadership is demonstrated in the myriad of events and programs that board members plan throughout the year, from the annual summer concert, networking events, or special family outings. The entire board sacrifices much to better the relationship between our graduates and the school.
Sherri Iha
'84 has been president of the association for the last two years and has done a terrific job raising the board's visibility by involving board members in activities like Admission information nights and ice cream socials. She has also led an expansion in the breadth and depth of the programs we offer. We are grateful for her service and leadership on the board, and also are very pleased that she'll continue as a member of the board.
Due to term limits and other obligations, each year we are sad to say goodbye to some of our board members, all of whom provided leadership and made great contributions to the Association.  Leaving us were
Tom Campbell
'61,
Darryl Jung
'83,
Erin (Adaniya) Palmer
'91, and
Matt Teho
'85. We are sad to see them go and are thankful to have had the opportunity to work with them. While some members leave, others have joined us, and we are excited about their leadership potential for the Association. Elected over the summer were
Mike Young
'64,
Paul Kennedy
'86,
Marnie (Koga) Hursty
'89, and
Norman Cheng
'95.
Each year, a class has the opportunity to spearhead the Association's flagship event
A Touch of 'Iolani
. The organizing class always shows great commaraderie and unity in planning in this complex event. It takes a huge commitment to pull an event like the Touch off, and my hat goes off to the Class of 1991 under the direction of leaders
Marc Okumura
,
Greg Young
, and
Gary Young
.
Then, there are the unsung heroes, those that provide quiet leadership and serve as role models. At the 47th Annual Father Bray Classic, we honored five individuals who, through their perpetuation of One Team ideals, have been humble servant leaders in their professional and personal lives. Thank you to
Alfred Wong
'48,
Raymond Hatate
'49,
Larry Cundiff, Sr.
'55,
Tommy Oye
'55, and
Ken Yonamine
'55, for proving that adherence to strong principles of teamwork, discipline, and unselfishness reaps many rewards.
There are many more examples of leaders in our alumni community. A school's alumni are its sustaining spirit, a representation of history and tradition, and a symbol of the strength of the institution over time. I am grateful to have the opportunity to work alongside graduates who provide strong leadership to that end, and who inspire me with their dedication and commitment to 'Iolani School. I thank you for all that you do.
Sincerely,
Mike Moses

'93
Director
Alumni Relations