This Issue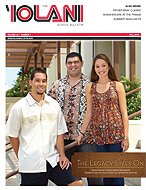 The Legacy Lives On - Eddie Hamada Scholarship Recipients Derrick Low '04, Issac Ickes '04, Leinani Keanini '08
Read the full story »
Fall 2010 - Cover Story
The Coach Who Cared
Coach Hamada stands in the Father Kenneth A. Bray Athletic Complex. Photo taken in 2001 by Clarence Lee '53.
Eddie Hamada '46 led a One Team way of life. 'Iolani's legendary athletic director and football coach inspired his players, and everyone else, with the lessons he learned from his mentor Father Kenneth A. Bray. Though Coach Hamada died on January 3 at the age of 81, his legacy continues. From his name on the scoreboard above the school's field to the countless stories retold by his colleagues, players, and even casual acquaintances, Coach Hamada's memory will never fade.
For the past 19 years, a golf tournament has been held in his honor to raise funds for the Edward K. Hamada Scholarship which benefits students who show great promise in academics and athletics as well as the desire to perpetuate the One Team spirit. 
The following pages feature three 'Iolani graduates who were recipients of the Edward K. Hamada Scholarship. After 'Iolani, each pursued different goals. Yet all share love and respect for Coach Hamada and are deeply grateful for the scholarship in his name.
Through these graduates, the ways of Coach Hamada live on.
Derrick Low
'04,
Leanani Keanini
'08 and
Isaac Ickes
'04 – along with so many other young people - will never forget the coach who took time to share pearls of wisdom or to just say hello. In their own lives, they carry on his good deeds while remembering the coach who cared.
Comments from Readers
Parent

Thank You Coach Hamada! Two of my children were recipients of his scholarship and they would not have been able to attend 'Iolani School without this. God Bless this wonderful man and also to the staff at 'Iolani who make this possible.