This Issue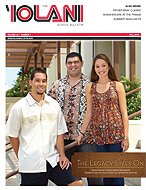 The Legacy Lives On - Eddie Hamada Scholarship Recipients Derrick Low '04, Issac Ickes '04, Leinani Keanini '08
Read the full story »
Fall 2010 - Other News
| Alumni
'Iolani Community Action Network: Community Service for Campus Neighbors
Paint brushes, gardening tools and archival photos were part of summer community service projects that united 'Iolani students and alumni through the Iolani Community Action Network (ICAN).
Recognizing the importance of serving the immediate community surrounding campus, members of ICAN on July 17 rolled up their sleeves to assist Ala Wai Elementary School and the 100th Infantry Battalion Veterans club house.


Stephanie Toriumi '05 paints at Ala Wai Elementary.
Under the direction of Ala Wai Principal
Charlotte Unni
and Ala Wai maintenance staff, ICAN groups painted and landscaped Ala Wai's grounds while learning about the challenges and successes of 'Iolani's next-door neighbor. ICAN team members left Ala Wai with rejuvenated basketball courts, refreshed walkways, and neatly landscaped grounds.
ICAN members continued the day of service at the 100th Infantry Battalion Veterans club house by labeling historical photos and learning more about the wartime experiences of the 100th Battalion. 
After the day's work, the ICAN team hosted a potluck lunch the club house with veterans as well as faculty and staff of Ala Wai Elementary School. It was a unique opportunity to catch up with fellow alumni while learning about the history of the 100th Infantry Battalion through its members who experienced World War II firsthand in a highly-decorated, historically significant military unit.
Through shared work and assisting others, ICAN members and 'Iolani students enjoyed a day of faithful industry while becoming better acquainted with each other and, more importantly, the community that surrounds 'Iolani School.


Kyson Morikuni '05 and Evan Nakatsuka '05 assist Ala Wai Elementary Principal Charlotte Unni with campus improvements.
ICAN is planning a major service project each quarter. Past ICAN projects have helped to clean remote areas of O'ahu including Kawainui Marsh, Waimea Valley on the North Shore, and Lualualei on the Waianae Coast. Upcoming ICAN projects will expand ICAN's philosophy of community service globally to the mainland and foreign countries. 
ICAN strives to build on 'Iolani's philosophy of fostering academic excellence and personal growth by providing avenues and opportunities for learning, social development, and active citizenship through service with the wider community. Recently "One Team, One Day," an 'Iolani alumni global day of service projects, took place on October 2.
For more information or to get involved, contact
Brent Kakesako
'03 () or
Walden Au
'03 ().
Comments from Readers
Kimberly

http://www.facebook.com/photo.php?pid=35266819&l=3589bac444&id=13301412