This Issue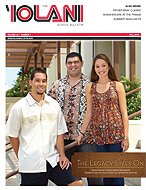 The Legacy Lives On - Eddie Hamada Scholarship Recipients Derrick Low '04, Issac Ickes '04, Leinani Keanini '08
Read the full story »
Fall 2010 - Department
| 'Ohana News
News from the 'Ohana
Aloha and Welcome
Everyone applauded as the plane touched down at Honolulu International Airport. Once through the baggage claim, I stepped out of the terminal and felt the balmy air on my face. I breathed in the sweet scent of plumeria. Soon, we were cruising along the H-1. The clear blue skies, light puffy clouds and chiseled mountains were an awesome sight! I knew I was home and it felt gooood!
As we move forward in this new decade, I trust that our 'Iolani community will experience this feeling of "being home." Whether you are new to 'Iolani School, returning after being away, or have never left, please be assured that the 'Iolani 'Ohana is all about helping you feel welcome, comfortable, and happy.
All parents of current 'Iolani students are members of the 'Iolani 'Ohana. Guided by officers and a council of volunteers, the 'Ohana disseminates information, enables communication and provides social events for its members. Our organization also supports teachers and administration for school activities such as field trips, class projects, Open House, class meetings, the 'Iolani Fair, and more. Keep in contact with your 'Ohana grade-level representatives for current information!
In addition, our 'Ohana committees have organized beneficial programs for all to enjoy. Our Speaker Series includes "hot" topics which will enhance both life experience and knowledge! We heard from Dr.
Minh Luong
in September about preparing our children for college and beyond. On November 18t at 6:30 p.m. in Seto Hall, our Headmaster will present his thoughts on "Making It Real." Then on March 17, Miss
Talia Leman
, a 15-year-old social entrepreneur and philanthropist will share how she has made a difference around the world. Watch for more information regarding such worthwhile events. Other activities for parents to just have fun and get to know one another will be announced as well!
As president, my goals for this year are simple, yet essential.  1) Maintain a positive, nurturing environment within the 'Ohana and the 'Iolani Community;  2) Continue to provide programs and activities which will inform, educate, and foster positive relationships;  and 3) Support our growth and vision in the areas of health, the environment, technology, local and global concerns.
During this fall season, let us come together as a true 'ohana or "family" in the spirit of lokahi "unity and harmony." We are truly blessed to be a part of this remarkable school in beautiful Hawaii nei. Look to the 'Iolani 'Ohana for guidance and support, and to help you feel "at home." Activate your membership! Be present and involved in your child's education. Make new friends and have fun, too! Wonderful opportunities await us in the year ahead. Make the most of it and enjoy!
Aloha and A Hui Hou!
Cheryl L. Wong
'Iolani 'Ohana President 2010 – 2011
You may also contact the 'Iolani 'Ohana at 943-2322 or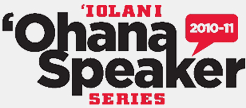 'Iolani parents are invited to join attend the 'Iolani 'Ohana Speaker Series.
The 'Iolani 'Ohana Speaker Series provides opportunities for 'Iolani parents to learn about the latest developments in education and parenting through a variety of forums. The series aims to introduce ideas that inspire our community to think, talk and consider new ways of helping children develop and thrive. 
On September 9, Dr. Minh Luong kicked of this year's series with "Preparing Your Child for College and Beyond." Luong is a founding director for Ivy Scholars Program for high school leaders held at Yale University.
Upcoming speakers include:
November 18, 2010

•

Seto Hall at 6:30 p.m.


Dr. Val Iwashita has served as headmaster of 'Iolani since 1995. A past chairman of the board of the National Association of Independent Schools and a current member of this board, he will talk about creativity and risk taking in "Making it Real."

March 17, 2011

•

Seto Hall at 6:30 p.m.


Fifteen-year-old social entrepreneur Talia Leman is a UNICEF National Youth Ambassador and CEO and founder of RandomKid, a non-profit organization that has raised nearly $11 million for philanthropic causes around the world and helped 12 million global kids help others. She will talk about "The Power of ANYone."
For more information, e-mail .