This Issue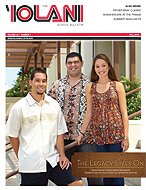 The Legacy Lives On - Eddie Hamada Scholarship Recipients Derrick Low '04, Issac Ickes '04, Leinani Keanini '08
Read the full story »
Fall 2010 - Department
| Slice of Sports
Slice of Sports
National Champion named senior coach for 'Iolani Swim Club


Bobby Brewer has been named senior swim coach at 'Iolani School.
Bobby Brewer, who served as an assistant swimming coach at 'Iolani in 2001, has been named senior coach of the 'Iolani School Swim Club. Brewer will oversee all the senior swimming operations in consultation with the club's general manager and founder Brian Lee.
For the past eight years, Brewer has been vice-president of Premier Management Group, helping manage the careers of several Olympic swimmers and coaches including Aaron Peirsol, Amanda Beard, Eddie Reese and Jack Bauerle.
"I'm really excited about the opportunity to work with Brian again and help continue the championship tradition of the 'Iolani Swim Club," Brewer said. "Brian has been a great resource of knowledge to me. I hope to continue to learn from him and continue to expand on the 'Iolani tradition.
Lee founded the swim club in 1989 and will continue to direct the overall swim program. Lee is also a member of the National Swim Team's coaching staff.
"We are pleased to have Bobby coaching on our pool deck," Lee said. "Bobby has been extremely successful at every level of swimming, competitively, as an administrator, as a consultant to some of the greatest swimming talent in the world, and as a coach. He is a proven winner and leader, and we're confident in his abilities to continue that with this program."
A native of Atlanta, Georgia, Brewer was the 100 meter backstroke National Champion in 1998 and 10-time USA Swimming National Team Member. As an All-American at the University of Georgia from 1994 to 1998, Brewer won three SEC individual titles, while serving as the team captain. He went on to be a professional athlete and most recently was vice-president of marketing for Premier Management Group, an athlete management and marketing company. He is also co-author of
The Olympic Dream and Spirit Volume One: Stories of Courage, Perseverance and Dedication
.
The 'Iolani Swim Club has turned out numerous high school champions, Olympic trial qualifiers and national team members. 'Iolani swimmers have gone on to college teams such as Stanford, University of California at Berkeley, University of the Pacific, Harvard, Northwestern and more. 'Iolani has been recognized by the United States Swimming as one of the top clubs in the country, winning the Club Excellence Award at the Silver Level.
Past and Present Basketball Players
Past and present 'Iolani basketball players were on the court again, but this time as coaches. They gathered for the 2nd Annual Derrick Low Hawaii Raiders Basketball Clinic on June 19 and 20 at Kalani High School.


It was like an 'Iolani basketball reunion.


Sessions for beginners and advanced players were held. The youngest group is pictured.


Derrick Low works with a young player.
The clinic was open to youths from throughout the state who wanted to sharpen their dribbling, shooting, passing and other techniques.
Derrick Low
'04 was an 'Iolani and Washington State standout and now plays professionally.
Low was among many of his former 'Iolani teammates and other 'Iolani players who volunteered to share their experience with the next generation of basketball teammates.